Aerospace Ground Service Equipment Quick Disconnect Couplings | Parker Stratoflex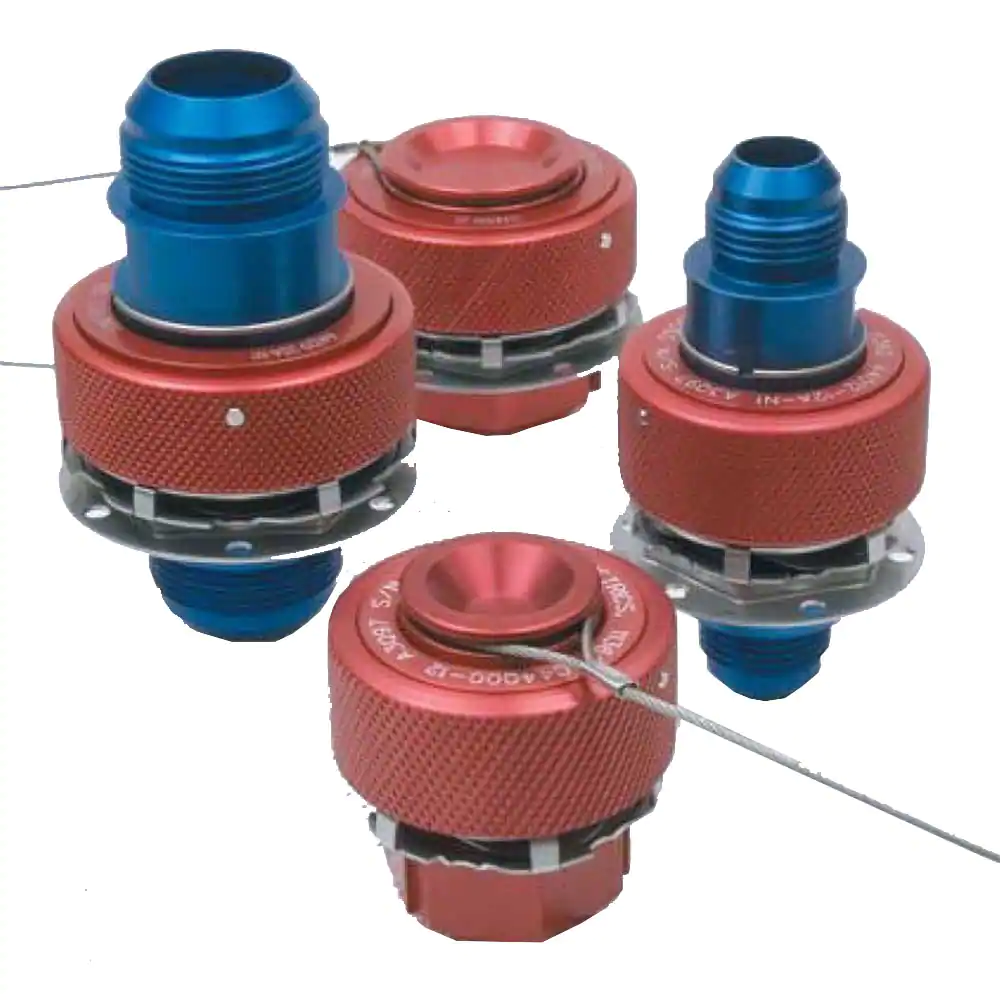 Parker Stratoflex's ground service equipment (GSE) quick disconnect (QD) couplings provide a proven solution for making the connection from the hydraulic ground service cart to the aircraft hydraulic system supporting routine ground maintenance. These GSE QDs are specifically designed as the interface from ground cart to aircraft for 3,000 psig hydraulic systems and are commonly used on both commercial and military programs. The flight side QD nipple half and cap are typically installed on the aircraft hydraulic system service panel or in other locations where appropriate to provide the access point for the hydraulic system servicing connection interface.

The GSE QDs use established engineering and design experience to provide this thread-together style connection with a visual and touch confirmation of proper coupling to improve both time and safety. The design incorporates a ratchet-tooth style latching mechanism to ensure that once the two coupling halves are threaded together and fully connected, they are positively locked in place. The ratchet teeth engage to prevent unintentional disconnection of the coupling halves; they provide a secondary locking feature for added safety and security. To disconnect, the outer actuating collar on the coupler half (ground side) is pulled back, releasing the ratchet teeth engagement and while being pulled back, rotated in the counterclockwise direction until fully unthreaded.

GSE couplings incorporate a self-sealing valve that permits fluid flow with minimum pressure loss and turbulence, plus a flush-faced design minimizes air inclusion or spillage during coupling or uncoupling. The design allows for simple one-handed operation to connect (thread-on) or disconnect (unthread) the coupling halves during ground service and maintenance of the hydraulic fluid system. As the coupling halves are threaded together, the fluid-flow path opens and when in the fully-open position (hand tight, ratchet teeth fully engaged), the GSE QD connection is complete.

The GSE QD consists of two halves, the nipple (441xx series) which is mounted on the aircraft and provides access to the aircraft hydraulic system. The coupler (440xx series) is the interface on the hydraulic ground service cart. The nipple QD half has provision for a latching cap to be installed (C44000 series) to ensure protection of the sealing surfaces during normal aircraft operation. The ground coupler QD half can be protected from foreign object damage, dropping and dragging handling damage in the sometimes harsh ground cart environments using the latching plug (P44000 series). Parker's GSE QDs provide proven reliability for today's standard interface for aircraft utilizing 3,000 psig hydraulic systems.
Tech Specifications:

FOR FLUID TYPE: Hydraulic Fluid (Red Oil, 5606/83282), Phosphate Ester, Skydrol Type IV
MAXIMUM OPERATING PRESSURE: 3000, 1000 psig
MINIMUM OPERATING PRESSURE: -5 psig
PROOF PRESSURE: 4500, 1500
BURST PRESSURE: 7500, 2500 psi
MAXIMUM FLUID TEMPERATURE: 275, 250 °F
MINIMUM FLUID TEMPERATURE: -65 °F
BODY MATERIAL: Aluminum Alloy Anodized
FLOW RATE: 1.2, 3.5, 6.0, 10.5, 16.0, 29.0, 45.0 Gal/min
Features & Attributes
Designed to protect system integrity without restricting fluid flow rate or operation

Engineered, tested, and qualified to provide long-term reliable service for hydraulic service connections on 3,000 psig operating systems

Thread to connect with positive visual and touch indication of fully-connected and latched position

Meets performance requirements of SAE specification AS1709; see 44000 QD qualification

Efficient size and flow-rate combination for hydraulic system applications

Light-weight design

Simple, one hand connect and disconnect operation for ease of use

Range of end-fitting styles and fluid-compatibility options available

Aluminum alloy and stainless steel construction

Approved on U.S. Government selected NSNs

Locking caps C44000 series for use on 441XX series QD nipples (aircraft side)

Locking plugs P44000 series for use on 440XX series QD couplers (ground side)
Applications
Parker's GSE QD provides positive latching with efficient size, light weight, and high reliability to support hydraulic systems in service on today's aircraft. Programs include A-10, C-130, CH-47, H-60, Embraer E170, E190, Bombardier CRJ series and a range of current and new aircraft platforms for both military and commercial jets.
Optional Features
Standard configuration is available in aluminum alloy body construction. Component materials include stainless steel and other materials compatible with specific fluid applications. Contact the Stratoflex Products Division for any other specific material, fluid, or pressure requirements and information.
---
Parker Stratoflex Catalogs & Literature