Aerospace Non Latching Couplings Series | Parker Stratoflex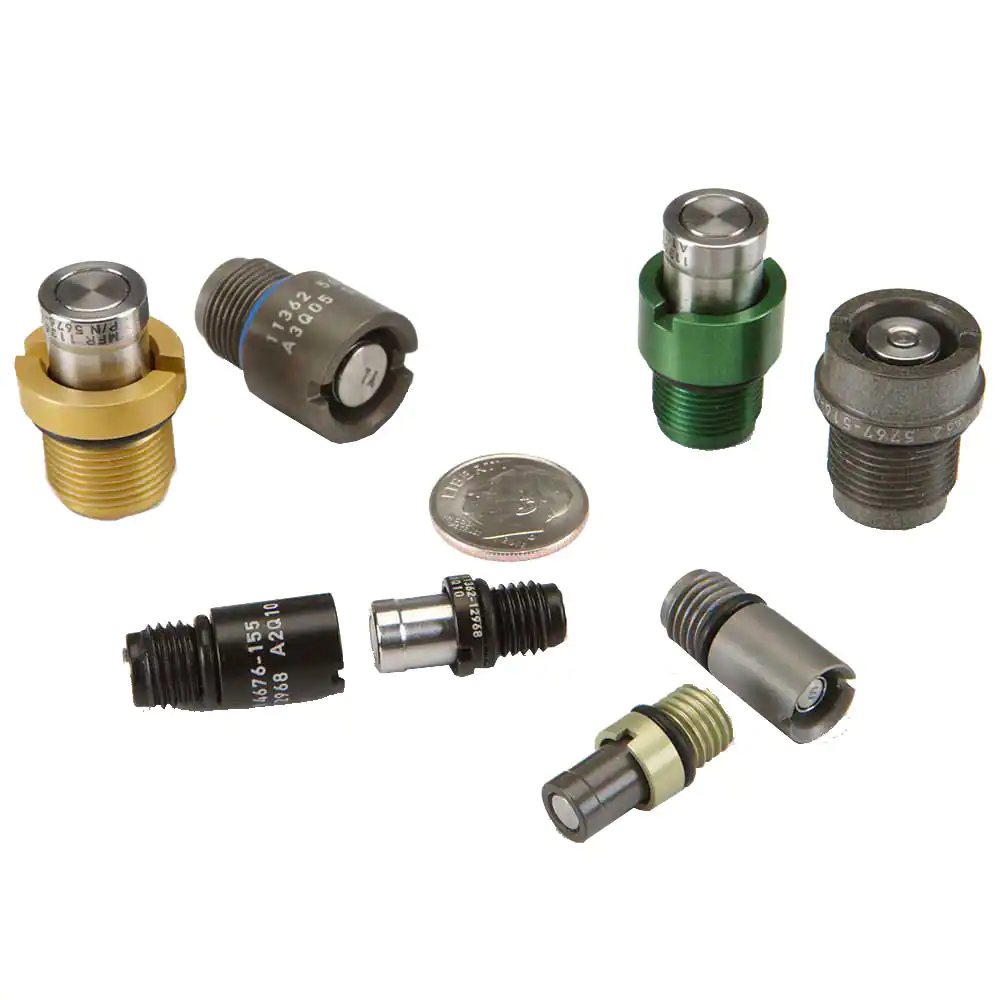 Parker Stratoflex offers a range of non-latching coupling designs, materials, features and sizes for fluid system applications. Non-latching couplings are commonly used in aerospace commercial and military fluid cooling systems providing modularity for key components such as electronics boxes, rack systems and ensure fast, reliable connection to open fluid flow when the coupling halves are fully engaged.

Locking the coupling halves in place typically requires some form of external retention and latch. These couplings are often used in electronic boxes or cards that install into an overall rack or chassis which provides the cooling fluid. These couplings make the connection between the rack coupling half and the module (or box) coupling half to allow fluid flow when fully engaged. Self-aligning valving allows for manufacturing tolerances to be accommodated and the coupling halves to align properly during connection.

Self-sealing valving prevents fluid spillage and leakage when the coupling halves are disconnected. Parker uses our precision valving design, common in many of Stratoflex coupling products to provide optimum fluid flow characteristics.

Stratoflex non-latching couplings have excellent aerospace service history, proven reliability, efficient small envelope size, light weight and low pressure drop to offer the right solution in today's fluid system applications.

The non-latching couplings feature a pressure relief valve built-into the module half and provides the pressure, fluid relief do to thermal expansion when the coupling half is disconnected. The pressure relief valve feature prevents damage from over pressurization on the module side and reseals when the pressure is reduced below the relief valve cracking pressure.

Our couplings also include the pressure relief feature in the module coupling half and specifically designed to enable connection of the coupling halves or sets (inlet and outlet) when the module (coupling) side may contain a locked volume of fluid with little or no area for the fluid to be displaced during connection. This is commonly found on the module or removable box side of electronics cooling system.

These non-latching series couplings use anodized aluminum alloy for light weight body construction. Parker incorporates stainless steel material coupling bodies for applications where this material is preferred.

Consult Parker Stratoflex with specific requirements, to confirm part numbers and for available product information which may meet your application needs.
Features & Attributes
Designed for precision system applications including fluid compatibility, pressure, flow rate, pressure drop, crack and reseat capabilities for aircraft system applications requiring high reliability and precision performance

Precision sealing, no leakage or spillage during connect and disconnect

Self-aligning valving allows for installation and connection alignment within specified values.

Efficient size and flow rate combination for with low pressure drop valving design

Light weight design and material options

Proven service history and reliability

Primary construction in anodized aluminum allow or corrosion resistant stainless steel
Applications
Parker Stratoflex non-locking couplings are currently used on aerospace system applications for cooling fluids including PAO, ethylene glycol-water, propylene glycol-water, HFE, CF, R-134A and other system fluids. Applications include both military and commercial aircraft along with military ground vehicles.

Optional Features
The relief valve feature can be incorporated in the Parker Stratoflex quick disconnect couplings (QDC) for applications which may require pressure and fluid relief for the certain system applications. This feature is typically incorporated in the Module half of the coupling to prevent damage due to over pressurization when disconnected and the internal fluid volume is exposed to elevated temperature.
---
Parker Stratoflex Catalogs & Literature