Aerospace Nutlock | Parker Stratoflex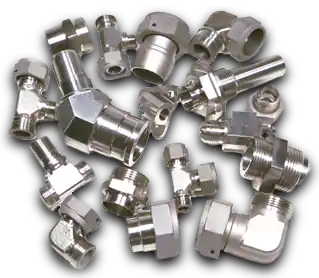 Many aerospace connections have historically required lock-wire or safety wire to ensure the connection does not loosen during operation. Nutlok provides that positive locking mechanism. This eliminates time to install and remove a lock-wire, foreign object damage (FOD, that can happen when the wire is cut off to undo the connection), sharp ends, and installation error.

Designed and manufactured by Parker Aerospace, these fittings employ a unique self-locking system with a positive-locking mechanism and a visual torque indicator ring. The fittings require no specific tools for assembly and can be assembled to any standard male fitting. The self-locking mechanism is self-contained in the female fitting.

Fittings are typically made of corrosion resistant stainless steel (CRES), but can be made of high nickel (Inconel 718) or titanium alloy if the application requires the added temperature and fatigue performance.

Nutlok fittings include a visual torque indicator which is unseen until the fitting is fully torqued. This provides visual confirmation that the fitting has been torqued. This visual indication provides the same assurance the fitting has been torqued as the confirmation when a safety wire has been installed.
Tech Specifications:

Materials of Construction: Stainless Steel, Titanium, Inconel 718
Applications:

This technology is used on systems that typically would require lock-wire to provide secure connection in high-vibration areas and those hard-to-access areas in both military and commercial gas turbine engine applications such as General Electric, Rolls Royce, and Pratt and Whitney engines and on many aircraft including the Bell Boeing V-22 Osprey, F-18 Hornet, and the Lockheed F-35 VTOL lift fan. Applications include military aircraft fuel and hydraulic systems, commercial fuel systems, and helicopter fuel systems.
Optional Features:

Available with or without bulkhead flanges.
Features & Attributes
Reduces chance of FOD

Materials provide cost effective (stainless), durable, high temperature, toughness (Inconel 718) to endure low- and high-cycle fatigue

Tested in accordance with SAE AS85720

Endures numerous torque and untorque cycles (assembly and disassembly) without loss of locking capability
---
Parker Stratoflex Catalogs & Literature