SALE! | Enerpac P-39 Single Stage Hydraulic Pump - $263
Enerpac P-39 is SOLD OUT.

Please consider using a BVA P601S pump instead.



BVA P601S is a Single Acting, Single Speed, 10,000 psi Hand Pump. Includes full metal reservoir and internal pressure relief valve for overload protection.

Download your free BVA Catalog and look under Single Speed Hand Pumps.


Enerpac P-39 is a single stage hydraulic hand pump for use with single acting cylinders.



ON

SALE

for

$263 (regular price: $351). All Enerpac P-39 hydraulic pump sales are final. No Returns, credits or exchanges after purchase. All products are new and covered by the Enerpac Warranty.


Orders & Quotes:
Enerpac P-39 Features:
External load release valve for single acting cylinder operation
Internal pressure relief valve for overload protection
Large oil capacity to power a wide range of cylinders or tools
Enerpac P-39 Specifications:
Maximum Operating Pressure: 10,000 psi
Maximum Handle Effort: 111 lbs
Piston Stroke: 0.81 in
Weight: 13 lbs
Compare to: BVA P601S
Enerpac P-39 - SALE
Regular Price: $351
SALE PRICE: $263
SAVINGS: $88
Enerpac Warranty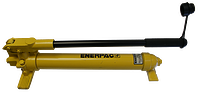 No returns, no refunds, no exchanges
All sales final
Not What You Need?
Any Enerpac Product not listed can be ordered. Regular pricing will apply.