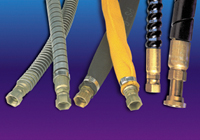 Partek Wrap is a nylon hose sleeve designed for bundling hose assemblies or cables after installation.
The thought of bundling hoses for protection is not always considered during the design for hose applications. Many hose installations would benefit from a sleeve, but it does not become obvious until all the other hoses and components are in place. Then what do you do? Well, Partek Wrap is a great way to protect your investment while the hose connection is in place. Partek comes with a strong Velcro closing mechanism Parker's Partek Wrap can bundle hoses as small as 3" OD to 7" OD.
Part Number

Bundle O.D

Circumference

Open Width

Open Width

(+/- 0.375")

Roll Length

Color

PS-BV-300

3

9.40"

10.90"

50

Black

PS-BV-400

4

12.50"

14.00"

50

Black

PS-BV-500

5

15.75"

17.25"

50

Black

PS-BV-700

7

22.00"

23.50"

50

Black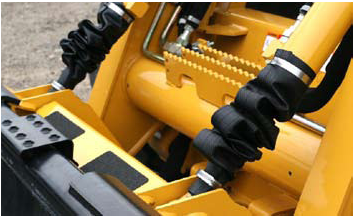 Partek is flexible in motion, light weight and can be cut with household scissors to the overall length needed for your application. Its tight weave pattern prevents the fabric ends from fraying when cut.
Partek Wrap can also be used to protect cylinder rods from damage or contamination. There are many other uses for this simple, fast and easy to install, light weight and flexible sleeving protection.
Posted by Joni Scott