Automotive brake lines now available in Our San Leandro ParkerStore
Written by
Marek Bobik
 | read
Last week, our San Leandro ParkerStore became the final one of our stores to receive inventory of BrakeQuip automotive brake line products. This means that no matter which Motion & Flow Control Products, Inc. location you visit, you will be able to get your brake lines replaced for a fraction of what you would pay at a dealer - and you can have your parts the same day.
We can provide brake lines for any vehicle - car, motorcycle, ATV, go-kart... Bring in your old lines and we will replicate them - or give us your brake hose dimensions and thread specs and we will make you new ones.
You may choose to replace your brake lines with the original manufacturers' quality rubber hoses for a fraction of a dealers' cost or go for stainless steel braided high-performance lines. Our stainless steel braided hoses are D.O.T. approved (street legal) and you will likely still save money compared to buying rubber hoses from your dealer.
So what are the advantages of stainless steel braided hoses?
Reduce your braking distance during a panic stop.
Eliminate pedal sponginess under heavy braking.
Get immediate brake pedal response.
Greatly improve braking force modulation.
Compatible with all brake fluids and D.O.T. approved for street applications.
No matter which hose you select, we test each brake assembly we make to 3,000 PSI to make certain it is safe to put on your vehicle.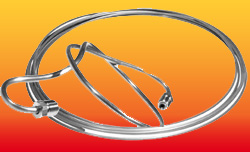 We also stock stainless steel brake tubing. Unlike steel tubing originally installed on most vehicles, it will never rust and does not require tools to bend. Read more about the advantages of stainless steel braided brake hoses and stainless steel tubing on our BrakeQuip product page.
Not sure if your brake hoses need replacing? Check out this blog on how to determine if your brake hoses need replacing.
More information on brake lines:
Posted by Marek Bobik
Published
Mon, Apr 26, 2010 @ 12:07 PM