July 8, 2010 - ThyssenKrupp AG (Reno, Nev.) added the Parker Tracking System (PTS) to its annual hydraulic hose replacement program.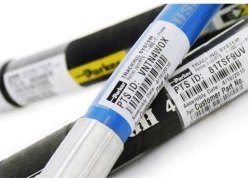 PTS is a tagging and identification system from Parker Hannifin that uses uniquely coded labels and Web-based software to help customers ID, track and replace hose assemblies with greater speed, accuracy and ease than ever before.
California-based Motion & Flow Control Products, Inc., a Parker distributor, is providing PTS-tagged 471TC and 721TC hose assemblies to ThyssenKrupp for a variety of steel fabrication equipment. The integrated materials and technology company likes that the easy-to-read PTS labels provide date-code information that simplifies the process of determining how long a particular hose has been installed on a piece of equipment. ThyssenKrupp notes that this will make its proactive maintenance program much easier.
Since program launch in October 2009, more than 400,000 Parker hose assemblies have been tagged with PTS labels. In use in more than 18 countries, PTS is gaining momentum as distributors worldwide begin to deploy the system.
The Hose Products Division is a unit of Parker Hannifin Corporation's Fluid Connectors Group. The Group is headquartered in Cleveland, Ohio, and is the world's leading producer of tube fittings, rubber and thermoplastic hose and fittings, brass fittings and valves, quick-connect couplings and assembly tools.
With annual sales exceeding $10 billion in fiscal year 2009, Parker Hannifin is the world's leading diversified manufacturer of motion and control technologies and systems, providing precision-engineered solutions for a wide variety of mobile, industrial and aerospace markets. The company employs approximately 52,000 people in 48 countries around the world. Parker has increased its annual dividends paid to shareholders for 53 consecutive years, among the top five longest-running dividend-increase records in the S&P 500 index.
Republished with permission from Parker Hannifin.
© Parker Hannifin