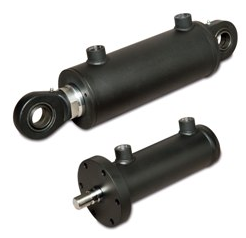 Parker Hannifin's Industrial Cylinder Division released the Series RDH Roundline Cylinder line. The RDH Series is a heavy-duty, industrial-grade repairable welded cylinder. It features robust design, advanced sealing technology and exterior toughness to satisfy demands of industrial applications.
Its cost-effectiveness and short lead times (catalog-standard product) make it a great choice for our industrial customers.
Quick Facts:
Threaded head, welded cap (repairable)
3,000 psi hydraulic service
1-1/2" to 8" bore diameters
5/8" to 5-1/2" rod diameters
Standard strokes to 120"
9 standard mounts (most are NFPA)
Standard temperature -10°F to +165°F
All popular seal compounds
Parker WearGardTM bearings for rod and piston
Many model code options and common modifications
Manufactured in the U.S.A.
Additional information:
Parker Catalog HY08-1320-1
Call our customer service at 888.715.4647
Specifications:
Service: Heavy-duty hydraulic
Construction: Threaded head, welded cap (repairable)
Base Material: Carbon steel and ductile iron
Rod Material: Case-hardened and hard chrome plated high strength carbon steel
Bore Sizes: 1-1/2" to 8"
Piston Rod Diameters: 5/8" to 5-1/2"
Strokes: Available in any practical length, standard up to 120"
Mountings: 9 standard
Rod Ends: 5 standard
Seals: Polyurethane
Bearings: WearGardTM wear rings
Nominal Pressure: 3,000 psi (207 Bar)
Ports: SAE
Fluid Medium: Hydraulic oil
Operating Temperature: -10°F to +165°F (-23°C to 74°C)
Mates with NFPA accessories
Many model code options and common modifications
RoHS Directive compliant
Special heads, caps, pistons, mounts, rods and rod ends
NPTF, BSPP, BSPT and other port types
Port blocks/valve manifolds and flow tubing
Cartridge valves (including counterbalance valves)
Double rod ends
Heavy-duty rod wipers (metallic and non-metallic)
High temperature (to +400°F) and low temperature (to -50°F) service
Seal materials for alternative fluids and low friction
Hi Load piston for extreme-duty applications or side load
Magnetic piston with point feedback (switches on cylinder body)
Mixed-media piston for dissimilar fluids/gasses (i.e. air/oil applications)
Continuous linear position feedback (LDT/LRT)
High pressure service (> 3,000 psi)
Pneumatic service
Submersible design (sub-sea)
Nickel plating
Application-specific paint (marine-grade, salt-spray rated, caustic wash-down, etc.)
Application-specific rod coatings (nano-plating, nickel-chrome, laser clad, etc.)
Stainless steel piston rods
Stainless steel cylinder construction
Metric rod and bore diameters
Additional Options:
Special heads, caps, pistons, mounts, rods and rod ends
NPTF, BSPP, BSPT and other port types
Port blocks/valve manifolds and flow tubing
Cartridge valves (including counterbalance valves)
Double rod ends
Heavy-duty rod wipers (metallic and non-metallic)
High temperature (to +400°F) and low temperature (to -50°F) service
Seal materials for alternative fluids and low friction
Hi Load piston for extreme-duty applications or side load
Magnetic piston with point feedback (switches on cylinder body)
Mixed-media piston for dissimilar fluids/gasses (i.e. air/oil applications)
Continuous linear position feedback (LDT/LRT)
High pressure service (> 3,000 psi)
Pneumatic service
Submersible design (sub-sea)
Nickel plating
Application-specific paint (marine-grade, salt-spray rated, caustic wash-down, etc.)
Application-specific rod coatings (nano-plating, nickel-chrome, laser clad, etc.)
Stainless steel piston rods
Stainless steel cylinder construction
Metric rod and bore diameters


Additional information:
Posted by Marek Bobik