With Parker hose crimpers, anyone can make factory-quality hose assemblies quickly, easily and cost effectively. From high-volume productivity to portable on-site assembly, Parker offers a variety of crimping machines to meet your needs.
Use Parker hydraulic rubber hose, thermoplastic hose, industrial hose and hydraulic fittings to create leak-free hose assemblies whenever and wherever you need them.
Seven Parker crimper models are available for crimping straight or bent-stem fittings from 1/4" to 2" in diameter.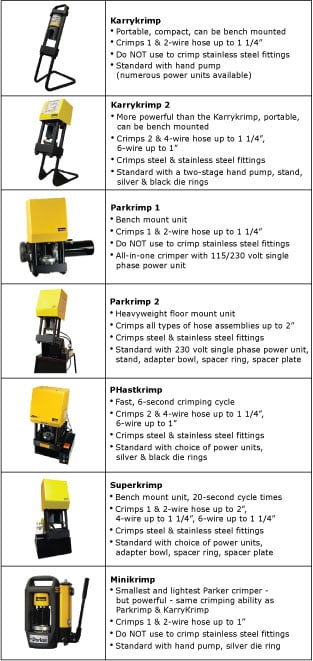 Additionally, Parker offers COS-K series and adjustable crimpers for industrial hose applications.
Parker's crimper system provides users with several key advantages:
• The exclusive Parkalign system ensures a perfect crimp every time enabling operators to feel that the fitting is positioned correctly when it's inserted into the die set
• Bottom-loading design makes it easier to manage long hose assemblies
• Dies are linked together to prevent segments from being misplaced or mismatched, and are color coded by size for easy identification and reduced set-up time
Parker crimper machines are simple to operate and built to provide many years of dependable service.
Parker offers the following products for use with any Parkrimp hose crimper:
● Crimper Dies
● Cut-off Machines
● Marking Machines
● Power Units
● Cleaning Systems and Machines
● Test Benches
● Additional Hose Assembly Tools and Accessories
Questions about Parker Parkrimp crimping systems?
Posted by Linn Martinez