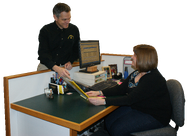 Motion & Flow Control Products, Inc. is looking to fill an Administrative Assistant position in their Marketing Department. Please help us spread the word.
A perfect candidate will be a team player with a strong work ethic, and the ability to learn new skills quickly.
He or she will be proficient in using Microsoft Office applications (especially Excel), and have experience working in an office environment. Previous experience working in a Marketing Department is a plus.
Posted by Marek Bobik