Parker Karrykrimp and Karrykrimp 2 modular crimpers
Great improvement in the versatility of the Karrykrimp and Karrykrimp 2 Parker crimpers!
These Parker modular crimpers now offer the potential for portability OR stability (bench mount). Parker's new modular design enables users to choose between the portability that Parker Karrykrimp crimpers have always offered, with the added option to bench mount these same crimp heads.
The modular design gives users the flexibility of a portable crimper, with the advantage of increased stability and productivity, when mounted to the bench power unit.
Crimping your Parker hose assembly (how to)
Selecting your Parker modular crimper is easy!
Step 1 - Choose your Crimp Head:
Step 2 - Choose your desired mounting method: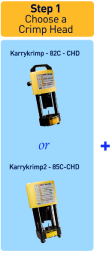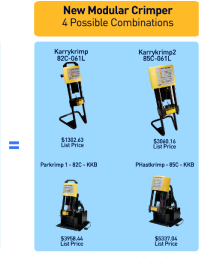 Parker Karrykrimp and Karrykrimp 2 crimper features:
A single crimping unit can be either portable or bench mounted
Increased height enables longer bent tube fittings to be crimped
Cylinder maintenance on the Karrykrimp 2 is now possible
Perfect for use in the field
Bench mount advantages:
Increased stability
Able to perform more crimps (productivity)
Designed to perform approximately 400 crimps per day (exceeding suggested production amount will reduce the life of all crimper components)
Faster cycle times on bench mounted units
Parker Parkrimp system
Both crimpers utilize the Parker Parkrimp system, which has several key advantages:
Parker's exclusive Parkalign system features a positive-stop design that positions the fitting in the crimp die for a perfect crimp every time. Parkalign benefits operators by enabling them to "feel" that the hose is in the right position to be crimped, as compared to "eyeballing" the proper position of the fitting in a variable crimper.
Bottom-loading design makes it much easier to manage long hose assemblies
Parkrimp crimp dies are linked together to prevent segments from being misplaced or mismatched.
Crimp dies are also color coded by size, making identification easy and reducing set-up time.


For more information on Karrykrimp, Karrykrimp 2 or any other crimping machine from the Parker Parkrimp family of crimpers, contact the experts at Motion & Flow Control Products, Inc.
Posted by Vince Lockwood