NEW Labels - Weatherproof and Color
Motion & Flow Control Products, Inc. is proud to announce the development of NEW weatherproof, color bin labels for customers of our Bin Stocking Service.
We believe hose assembly fabricators will enjoy the advantages that come along with these highly practical labels. Anyone can identify the correct crimp die at a glance without having to refer to a crimp chart.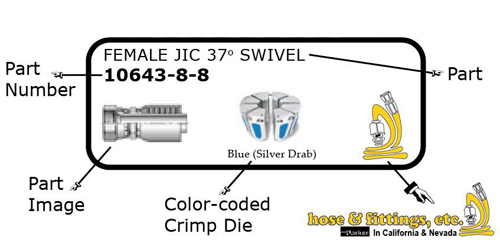 Weatherproofing
Our new bin labels are stronger and last longer. They resist water, dirt, smudges, and can be wiped clean with a damp cloth or light-duty cleaner such as Simple Green. Stronger chemicals, such as brake cleaner, will remove the ink.
Part Number and Description
Each label contains a concise description of the hose fitting, as well as the actual part number.
Part Image

Each part's image is also included on the bin label for easy identification. The part image will help you quickly identify parts (especially unfamiliar parts), and help spot misplaced parts with ease!
Color-Coded Crimp Dies

Every fitting that requires crimping has the individual crimp die with which to crimp that particular hose fitting right on the label. You'll save time, money, and headaches by having the correct crimp die indicated right on your bin labels. Crimp with confidence!
If your organization is interested in crimping custom hose assemblies yourself, we'll even send a Motion & Flow Control Products, Inc. Representative out to your shop. Our customer service experts can assess your needs, help you select the proper crimper and initial inventory, as well as train your staff on proper hose assembly fabrication techniques. They'll even help organize parts, label bins, determine inventory needs, and more.
For more information:
- Fill out the form at the bottom left of this page.
Posted by Vince Lockwood