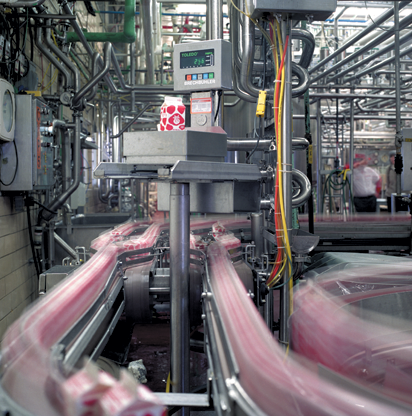 Food production facilities present maintenance challenges for pneumatic systems resulting from high moisture levels, temperature variations, and food plant safety requirements.
High moisture levels and temperature variations make it hard to keep the compressed air in your food plant's pneumatic system free of moisture. A typical 100 CFM compressor, operating 11 hours/day, compresses water vapor from the intake, and can generate 2200 gallons of water/year. Temperature variations found in different processing areas of food plants will either cool or heat piping, which induces condensation. Liquid contamination not only destroys pneumatic valves and cylinders, but corrodes piping and storage systems, adding more rust and scale to the pneumatic system. Components can be affected by moisture through the growth of micro organisms, such as bacteria and viruses.
The maintenance solution is to install Parker moisture control devices outside of the compressor room. Parker offers a variety of post compressor room moisture control devices - drip legs, liquid separators, coalescers, inline desiccant vessels, and point-of-use dryers. A pneumatic system expert from Motion & Flow Control Products, Inc. can evaluate your systems' trouble spots, and suggest appropriate Parker devices to ensure proper pneumatic system maintenance.
A moist environment also presents maintenance problems for electrical components of pneumatic systems.
To combat this challenge, only use solenoids and other electrical components rated to IP65 or higher. They're easier to clean with less downtime, and can meet maintenance hygiene requirements whether in food, splash, or non-food areas.
Certain hygienic pneumatic components may not have been supplied by the OEM. It is possible to upgrade valves, actuators, filters and regulators to increase food safety, ease of maintenance, and overall reliability. Industry regulations, such as the recently enacted Food Safety Modernization Act and ISO 2200, are constantly evolving and becoming increasingly rigorous. Verify the specifications often so you comply with regulations.
Parker offers many pneumatic cylinders, valves and FRLs with corrosion resistant hygienic designs, along with food-grade lubricants when required.
Posted by Steve Coll