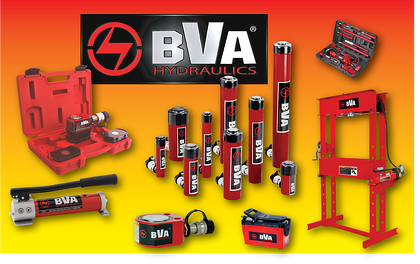 Motion & Flow Control Products, Inc. is an authorized distributor of BVA Hydraulics.
To celebrate our partnership with BVA Hydraulics, we've highlighted the best features. BVA Hydraulics are quickly becoming an industry favorite.
BVA hydraulic cylinders, hydraulic pumps, and hydraulic cylinder kits are available in our stores now.
Many additional BVA Hydraulic products are available for order – check out our complete BVA Hydraulics offering.
Why so Awesome?
Top 8 Countdown:
#8 - All metal construction
Plastic? What plastic? BVA Hydraulics makes heavy duty hydraulic tools and equipment that are built to last. Plastic is for toys!
#7 - They're cool
Check out that red - Industrial hydraulic tools never looked so good!
#6 - High Flow Couplers (included with most cylinders)
High flow couplers come standard on almost all BVA hydraulic cylinders - extremely low profile BVA hydraulic cylinders come with a smaller coupler since they literally are too small for a high flow coupler.
#5 - Fast and easy maintenance
Seals (on BVA hydraulic cylinders) can be replaced in a matter of minutes.
#4 - Hydraulic Oil Versatility
Some competitors force you to buy 'Their' brand of hydraulic oil, usually at a steep price. BVA hydraulic tools, on the other hand, have no restriction on which brand of hydraulic oil you use.
#3 - Availability
BVA keeps a large inventory in the US. That means there is a strong chance your product(s) will ship right away. Stop waiting for a special order!
#2 - Lifetime Warranty
As long as you don't do anything on par with Homer Simpson (be sure to read the terms and conditions of the warranty), BVA Hydraulic tools are covered for life!
#1 - Price
BVA Hydraulics are less expensive than the leading competitors. To find out how much you can save, click on the "Quote" button below and ask for a quote – we'll respond within 2 business hours!
Posted by HFE team