Brake Line | Fitting Identification How-to
Written by
Vince Lockwood
 | read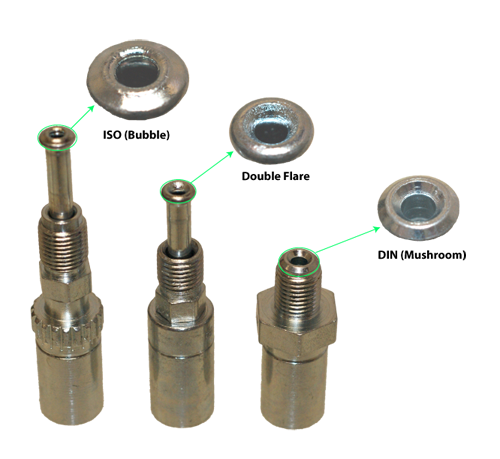 When replacing your brake lines, the replacement brake hose assembly does not need to look exactly the same as the original brake line, but make sure that the brake lines (especially the new brake hose fittings) will fit the surrounding area where they will be installed. Sometimes the brake hose fitting can interfere with another part of your brakes. Pay attention to any tight spots when removing your brake lines and communicate any restrictions to the vendor who will be fabricating your replacement brake lines.
When ordering your brake line, you will need to specify the following:
Material of the brake line – rubber or stainless steel braided (colors available on SS braided)
Inside diameter of the brake line – 1/8" or 3/8" (read our related blog about advantages of stainless steel braided brake hose and smaller inside diameter brake lines)
Overall (end-to-end) length of the hose
Thread size of each hose end (see our related Thread Identification blog)
Fitting type of each hose end and its clocking
Any hose brackets and their clocking
Any desired accessories such as protective springs, strain relievers, abrasion protective sleeves or heat protection sleeves.
Identifying Brake Hose Fittings
Identifying your brake line fittings consists of three steps:
Identify the thread sizes
Identify the end configurations
Identify the fittings group and type
Brake Line Fittings End Configurations:
On rare occasions we come across a pipe thread, but typically brake hose fittings involve a flare. There are three types of flares on brake hose fittings:
ISO Flare (Bubble)

45° ISO Flare (also known as bubble flare) – the female seat angle is 96°

Double Flare

45° Double Flare – the inverted seat angle is 42°

DIN Flare (Mushroom)

31° DIN Flare (also known as mushroom flare) the female seat angle is 120°
Note: The seat angles vary from the tube angles in order to seal the smallest diameter.
Brake Line Fitting Groups:
Banjo
Center Support Fitting (bracket)
Male Fitting
Female Fitting
Other/Special Fitting
Banjo Fittings:
Round Style – Straight
Round Style – Bent
Block Style
Tube Style – Either Side
Tube Style – Left
Tube Style – Right
Center Support Fittings
Male Fittings
Standard mount
Bulkhead mount
Clip mount
Female Fittings
Clip Mount
Bolt-On Mount
Bulkhead Mount
Bracket Mount
Trust the Experts
There are many situations which could prevent you from correctly identifying parts of your brake hose assembly.
The brake hose fittings may include long tubes with complex bends, making it hard to measure the brake line's overall length.
You may not have the necessary tools to accurately measure thread size and pitch – making it easy to confuse metric and imperial threads.
You may not get the clocking just right.
You may want to make an adjustment to your existing brake line because your vehicle is being modified (lifts, wider axles, aftermarket brakes…).
Whatever the situation, you are always safe bringing your old brake lines to one of Motion & Flow Control Products, Inc.'s stores for accurate identification, fabrication, and replacement of old brake lines.
Posted by Marek Bobik & Vincent Lockwood
Published
Fri, Mar 30, 2012 @ 04:43 PM