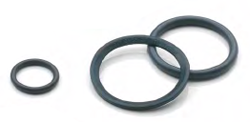 Parker Tube Fittings Division (TFD) started providing a global NBR (Nitrile) O-Ring compound for SAE Straight Thread port ends in July 2009. This change is now being carried over to all round cross-section O-Rings. The addition will be implemented as a running change, effective September 1st, 2012. Parker TFD's NBR O-Ring material will be either N0552-90 (the current TFD standard compound) or N1490-90. This additional compound will provide greater availability of NBR material globally, thus allowing Parker TFD to more effectively service customers throughout the world. Though N0552-90 will still be used throughout this transition, ultimately N1490-90 will become Parker's primary NBR compound.
N0552-90 and N1490-90 Compounds
Both the N0552-90 and N1490-90 compounds meet the same performance requirements and have the exact same specifications, as outlined below. Thus, customers relying upon the proven performance of Parker's N0552-90 compound should see a seamless transition to N1490-90.
| | |
| --- | --- |
| Recommended Temperature Range | -30˚ F to 250˚ F (-34.4˚ C to 121.1˚ C) |
| Recommended for | Petroleum oils, water (up to 212˚ F / 100˚ C), salt & alkali solutions, weak acids |
| NOT Recommended for | Aromatic fuels, strong acids, glycols, ozone polar solvents |
| Color | Black |
Universal Part Number
In the future, a universal part number will be implemented. From a nomenclature standpoint, a more simplified part number will be established by using the suffix "NBR" and is noted in Parker's Catalog 4300 section N. For example, part number 2-011 N0552 will migrate to 2-011 NBR. For those customers that need additional information, a Nitrile O-Ring Data Report is available upon request. Lastly, O-Ring batch numbers and cure dates for complete traceability, a process practiced less frequently in today's marketplace, will still be provided.
Posted by Vincent Lockwood