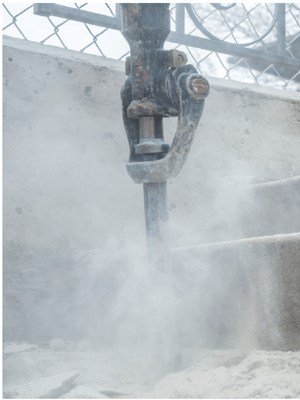 The U.S. Occupational Health and Safety Administration (OSHA) has created a new standard to address the problem of crystalline silica dust control associated with pneumatic jackhammer and breaker operation in the construction industry. The mandated compliance date of the new silica rule has been postponed to September 23, 2017.
In reaction to this new rule, Parker has developed the 7084 Series Twinhammer™, an air-water jackhammer hose which helps companies comply with OSHA's crystalline silica dust control guidelines. Unlike other silica dust suppression systems, Twinhammer™ assemblies are constructed as a unitized, low-maintenance solution that can be easily integrated into construction applications affected by this rule.

Respirable Crystalline Silica Occupational Exposure
What is Respirable Crystalline Silica? RCS is a form of quartz known as respirable crystalline silica (RCS), a substance found in bricks, clay, concrete, mortar, rock, stone, and many other materials common to construction sites.
Why is RCS harmful? When RCS is airborne, it can be inhaled and can embed in the lungs of unprotected workers. This occupational exposure can cause serious health issues or death from conditions such as lung cancer, chronic obstructive pulmonary disease (COPD), kidney disease or silicosis.
Where are workers exposed to RCS? Exposure occurs during many different construction activities. The most severe exposures have occurred during abrasive blasting with sand to remove paint and rust from bridges, tanks, concrete structures, and other surfaces. Other construction activities that may result in severe exposure include: jack hammering, rock/well drilling, concrete mixing, concrete drilling, brick and concrete block cutting and sawing, tuck pointing and tunneling operations.
Minimize RCS Exposure
Know which work operations can lead to silica exposure
Participate in any air monitoring or training programs offered by the employer
If possible, change into disposable or washable work clothes at the worksite; shower (where available) and change into clean clothing before leaving the worksite
Do not eat, drink, use tobacco, products, or apply cosmetics in areas where there is dust containing crystalline silica

Wash your hands and face before eating, drinking, smoking, or applying cosmetics outside of the exposure area
For operations where respirators are required, use a respirator approved for protection against crystalline silica-containing dust
Use type CE positive pressure abrasive blasting respirators for sandblasting
If using respirators, do not alter the respirator in any way.
Do not grow a beard or mustache if you need to use a tight-fitting respirator
Tips for OSHA RCS Regulation Compliance
OSHA suggests a wet method suppression system to limit workers' exposure to airborn RCS. However, some hose-oriented deployment methods are more efficient and effective than others:
Manual Water Spraying
Using a Helper
Independent and Unconnected
Air and Water Hose Lines
Independent and
Mechanically Connected Air
and Water Hose Lines

A dedicated helper holds a water hose with a nozzle, spraying water at the point of contact between the jackhammer tip and work object.

Efficiency is diminished by requiring two workers for one basic operation

Effectiveness depends upon the attentiveness, experience and skill of the

help

er

Hoses typically use bands or clamps to attach fittings, then attach hoses to a retrofitted jackhammer

Effectiveness is hampered by requiring the jackhammer operator to regularly inspect the security of the fittings and hose attachment

Operator must also maneuver hoses around debris, equipment and other obstacles to avoid hose damage and kinking

Hoses typically use bands or clamps to attach fittings, then attach hoses to retrofitting jackhammer
Zip ties, straps, tape or other connectors must be attached at multiple locations along the lengths of both hoses to mechanically connect them

Effectiveness is hampered by requiring the jackhammer operator to: Select and apply zip ties, straps or tape to hoses, regularly inspect the security of the fittings and hose attachment, and maneuver hoses that become snagged by debris, equipment and other obstacles at the job site
Examples of Non-Compliance to OSHA RCS Standards
Wetting down the work area prior to jackhammer operation
| | |
| --- | --- |
| Inefficiently zip tied hose assembly | Inefficiently taped hose assembly |
Parker 7084 Twinhammer Hose
7084 hose helps with OSHA RCS exposure regulation compliance during concrete jackhammer operations
Parker Series 7084 Twinhammer™ Chemically Bonded Air/Water Jackhammer Hose Assemblies are engineered as an integral component of an OSHA-compliant silica dust suppression system.

Twinhammer™ hose dual air and water lines are a stable, unitized construction that allows adjustment to fit your application's needs for easy attachment to air and water sources. The adjustment also provides easy attachment to retrofitted jackhammers on the other end of the hose. Twinhammer™ hose uses a precisely fabricated hose assembly system that incorporates maintenance-free permanent crimped fittings, bonded lines for efficient and effective installation, and kink-resistant handling that easily negotiates debris and impediments.

Parker Twinhammer Chemically Bonded Air/Water Jackhammer Hose Assemblies are easy to route. Use to supply air to compressed air powered equipment like jackhammers, and to water supply. Use an adjustable nozzle to regulate water flow to the operation site.
* For product information, visit our Series 7084 Twinhammer™ product page, safehose.com/breathe-easier or parker.com
* Refer to OSHA's Final Rule to Protect Workers from Exposure to Respirable Crystalline Silica. For additional information visit OSHA's website and Code of Federal Regulations (CFR).