Parker HAS-RDH | Drop-In Actuator
for Solar Tracking in Solar Power Generation Applications
Traditional hydraulic systems deliver excellent power density, but they require large power units, large oil reservoirs, valves, hoses and fittings to make all the components work together. Electromechanical actuators excel at controlling the motion, but they suffer from excessive component wear and lack the power of hydraulics. The Parker hybrid actuation system combines the advantages of both into one drop-in unit.
Parker hybrid actuation system (HAS) is a self-contained system, which does not need an external power unit, oil reservoir, valves, or hoses like a traditional hydraulic system, and it does not suffer from the excessive component wear like electromechanical actuators. It combines the excellent control of electromechanical actuators with the power density, longer life, and resistive force of a traditional hydraulic system; it is ideal for both mobile and industrial linear motion applications.
Parker HAS-HRD is a self-contained hybrid actuation system, specially designed for solar power generation applications like solar panel tracking, wind turbines, and hydro-electric dams.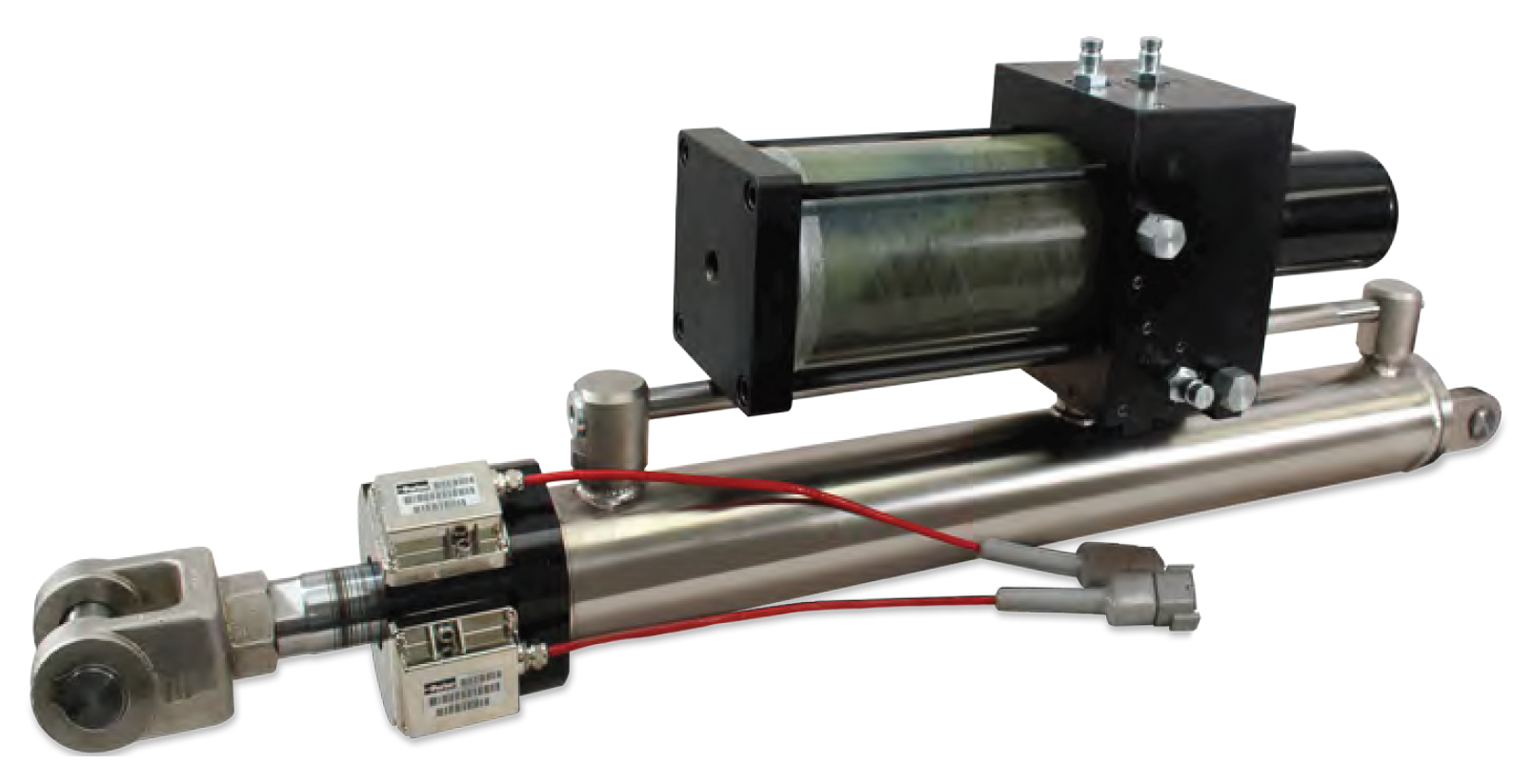 System Highlights
The HAS Solar Actuators are engineered to provide several years of maintenance-free operation. The system can be serviced on site, with Parker's fluid exchange system. Sealed oil reservoir means that there is no need to add fluid - the system comes ready to mount. Chose from many fluid options to meet the application demands - including arctic conditions.
In a Nutshell
Completely self-contained, no need for hydraulic hoses or external power unit
Low power consumption
High locked force to withstand wind gusts
Heavy chrome-plated rods (standard)
Global ShieldTM rod coating and stainless steel rods available for extreme environments
Simple two-wire operation
Chose AC or DC supply voltage
Available in many traditional cylinder mounting styles
Available with IntellinderTM continuous feedback or end of stroke, stroke to go switch options
Solar Tracking Application
The HAS-HRD uses a completely self-contained reversible hydraulic pump and an electric motor that eliminate nearly all leak paths. Using a Parker hybrid actuator in a solar panel pitch system enables the system to move more photo-voltaic panels with fewer actuators and controls. The fewer parts result in lower installation costs and extended service life of the solar field. The design offers clear advantages over comparable electromechanical actuator (EMA) systems because all the internal-wear items are continuously lubricated. The power density of HAS is typically three times that of a comparable electric cylinder. For a typical solar tracking application, expect a 25-year product life. Extended warranty is available.
HAS-RDH Cylinder Technology Highlights
RDH cylinders have proven record of high-performance, long service life, and leak-free performance.
Advanced Sealing Technology:
Tri-lip rod seal features 3 sealing edges
Bi-directional piston seal prevents oil from leaking out and contaminants from getting in
Durable polyurethane material maximizes seal life
Nitrile end seals and backup rings on a smooth bore of the cylinder body provide optimal sealing and eliminate extrusion problems
Composite rod and piston wear rings are internally lubricated for reduced friction and formulated for heavy-duty, load-bearing applications
Standard rod material is case-hardened, hard chrome plated and polished to an optimum finish
All seals have immediate availability in different popular compounds
Composite wear ring strength characteristics meet or exceed characteristics of most metal wear rings
HRD mounts and rod ends accommodate commercially-available NFPA accessories
Switch-Ready:
The Parker ALS Switch is the lowest cost point feedback solution for carbon steel cylinders with a piston magnet ring
Switches can be located anywhere along the stroke and in any orientation
Unique round body brackets minimize installation time
EPS & CLS threaded switches are available for end-of-stroke sensing
Available Mounting Styles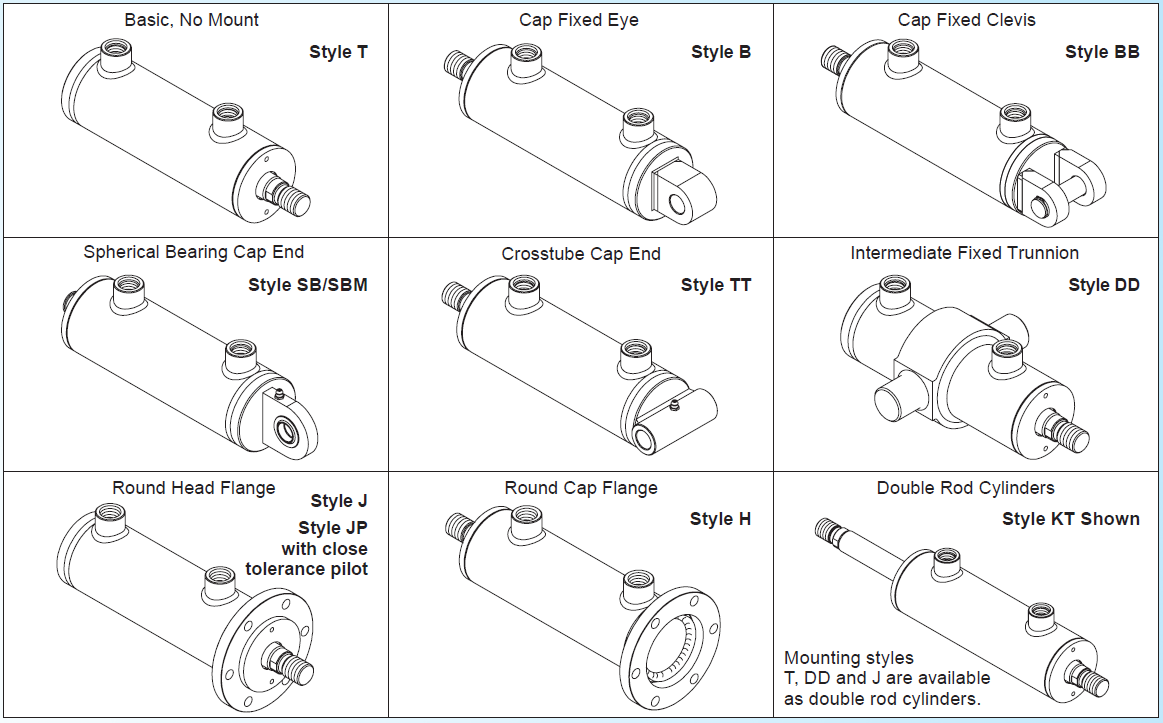 Specifications
Actuator
Type: Hydraulic, double and single acting, (power up gravity down)
Bore Size: 1-1/2" thru 8" bore Motors
Motor Types
12V DC, 245W (M12L)
12V DC, 560W (M12H)
24V DC, 245W (M24L)
24V DC, 560W (M24H)
Other voltages available, contact us
Gear Reversible Pump Displacements
M010 - 0.010 in3/rev (0.16 cc/rev)
M019 - 0.019 in3/rev (0.31 cc/rev)
M025 - 0.025 in3/rev (0.41 cc/rev)
M032 - 0.032 in3/rev (0.53 cc/rev)
Reservoir
Style: Sealed, (standard) Optional Vented
Construction: Aluminum, Composite
Capacity: 3 times piston rod area
Fluid: Parker Duraclean™,Hyken Glacial Blu, other available
Manifolds:
Load holding single and dual pilot operated checks
Load holding single and dual counterbalance valve
Power up, gravity down
Custom solutions available
Operating Temperature -34°C (-30°F) to 65°C (150°F)
Additional Resources
Application Worksheet (Use this worksheet to describe your application to us so we can help you select the correct HAS.)
Hydraulic and Electric Circuit Options
Performance Data - Imperial
Performance Data - Metric
Theoretical Pull Forces
How to Order Basic Model with HAS Pump Motor Code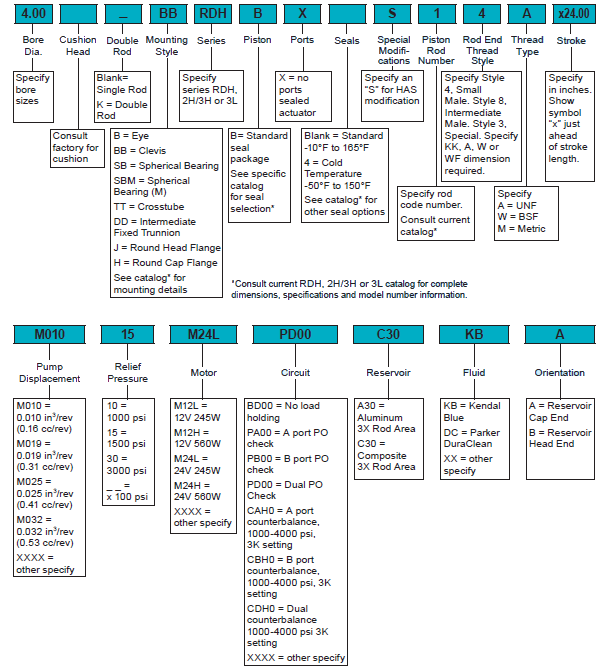 Already have a part number? Get a quote!

WARNING
:
These products can expose you to chemicals including lead and/or DEHP and/or carbon black, which are known to the State of California to cause cancer or birth defects or other reproductive harm. For more information go to
www.P65Warnings.ca.gov