THERM-A-GAP CIP35 | Parker Chomerics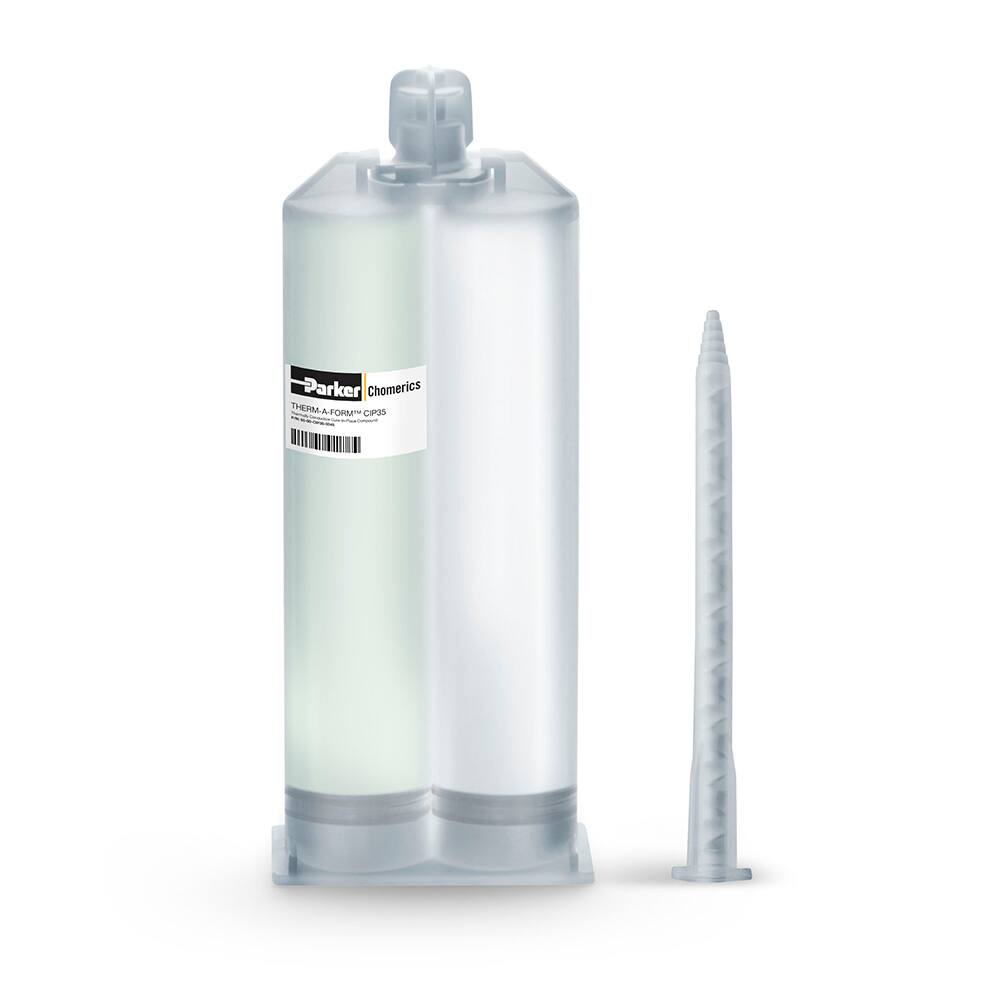 Parker Chomerics THERM-A-FORM™ CIP35 is two component, dispensable thermal compound, with 3.5 W/m-K thermal conductivity, designed to cool electronics without excessive compressive force in sensitive cooling applications.

This versatile liquid can be hand or robotically dispensed and then cured into complex geometries for cooling of multi-height components on a printed circuit board (PCB) without the expense of a molded sheet.

CIP35 is available in ready-to-use cartridge systems, eliminating weighing, mixing, and degassing procedures.
This product has a thermal conductivity of 3.5 W/m-K and a hardness of 55 Shore A.
Technical Specifications
POLYMER MATERIAL OPTIONS: Silicone
FILLER MATERIAL: Aluminum Oxide/Boron Nitride
SPECIFIC GRAVITY: 2.87
DUROMETER: 55 (Shore A)
DYNAMIC VISCOSITY: 5000 (poise)
THERMAL CONDUCTIVITY: 3.5 W/m-K
HEAT CAPACITY: 1 J/g-K
COEFFICIENT OF THERMAL EXPANSION: 150 ppm/K
OPERATING TEMPERATURE: -67 to 392 °F (-55 to 200 °C)
DIELECTRIC STRENGTH: 10 kVac/mm (250 Vac/mil)
VOLUME RESISTIVITY: 1.0 x 10^14
DIELECTRIC CONSTANT: 8 @ 1000 kHz
DISSIPATION FACTOR: 0.010 @ 1000 kHz
FLAMMABILITY RATING: UL 94 V-0
OUTGASSING TOTAL MASS LOSS: 0.22% (0.06% CVCM)
SHELF LIFE: 12 Months
MAXIMUM CURE TIME (AT ROOM TEMPERATURE): 30 min @ 150ºC or 180 min @ 100ºC or 48 hrs @ 23ºC
Features & Benefits
Dispensable form-in-place gap filling, potting, sealing, and encapsulating

Excellent blend of high thermal conductivity, flexibility, and ease of use

Conformable to irregular shapes without excessive force on components

Ready-to-use cartridge system eliminates weighing, mixing, and de-gassing steps

Variety of kit sizes and configurations available to suit any application (handheld twin-barrel cartridges, Semco® tubes, and pneumatic applicators)

Vibration damping

Long shelf life, no settling or degradation of cure

Sag resistance. Maintains shape during cure
Typical Applications:
Automotive Electronic Control Units (ECUs)

Power Supplies & Semiconductors

Memory & Power Modules

Microprocessors / Graphics

Processors

Flat Panel Displays & Consumer Electronics