SensoControl Service Master Plus | Parker K-SCM-500-01-01-ENG
Service Master Plus - Digital Diagnostic Meter | Part # K-SCM-500-01-01-ENG
The Parker Service Master Plus is a premiere portable diagnostic tool. It incorporates data measurement, display, and on-screen analysis in one package.

---
The Service Master Plus meters can be purchased individually or in kits. For Service Master Plus kit, please see the bottom of this page. Other SensoControl meters and gauges are available, please go to SensoControl Meter Selection to compare different SensoControl meters.

User Manuals:


Service Master Plus Instrucciónes para el manejo

Service Master Plus Bedienungsanleitung

Service Master Plus Mode d'emploi

Service Master Plus Gebruiksaanwijzing

Service Master Plus Istruzioni per l'uso

Capabilities:

Hand held diagnostic meter

Measure and Display:

Pressure
Flow
RPM (rotations per minute)
Temperature
Auxiliary Inputs
Features:
26 Sensor Inputs
Auto Sensor Recognition
CAN open sensors
Full Color Data Display
SensoWin Software Utility
Store Data on the Device, PC or micro SD Card
Rugged Design
1-ms Scan Rate
Configurable as FASAT-mode analog inputs - 0.1-ms Scan Rate
Connection Diagram | Service Master Plus K-SCM-500-01-01-ENG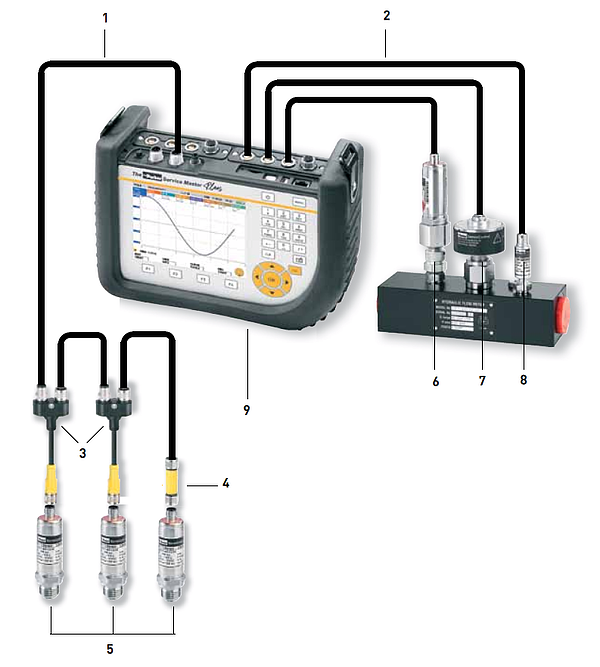 Key
Description
Part Number
1
CAN Connection Cable (2M, 5M & 10M)
SCK-401-02-4F-4M
SCK-401-05-4F-4M
SCK-401-10-4F-4M
2
Analog Connection Cable (3M)
SCK-102-03-02
3
CAN Y-Junction
SCK-401-0.3-Y
4
CAN Terminating Resistor
SCK-401-R
5
CAN Pressure/Temperature Sensor
PDXXXXX-XXXX-CAN
6
Analog Pressure/Temperature Sensor
PDXXXXX-XXXX
7
Analog Flow Sensor
SCFT-XXXX-XXX
8
Analog Temperature Sensor
SCT-150-04-02
9
Service Master Plus Instrument
K-SCM-500-01-01-ENG
-
CAN Flow Sensor
SCFT-XXXX-XXX-CAN
SensoControl Service Master Plus Kit
Service Master Plus Kit Contents

Case (SCC-500-ENG)
Service Master Plus meter (K-SCM-500-01-01-ENG)
2 Transducers (see below)
2 Cables, 5 m (see below)
Power Supply (SCSN-460)
SensoWin Software 6.0 (SC-CD 4082)
USB PC Cable (SCK-318-02-35)
SensoWin Software
Instructions Manual
CAT 5 LAN Cable

Code for Ordering Service Master Plus Kits

PDSMP-50-C-TT-TT-XXX

C

- Coupling style:

2 = PD style
6 = EMA 3 style (female)

TT

- Transducer pressure range (psi)
(Order either one or two)

01 = -14.5 - +235 (Blue)
06 = 0 - 870 (Green)
15 = 0 - 2175 (Yellow)
40 = 0 - 5800 (Orange)
60 = 0 - 8700 (Red)

XXX

- Technology

CAN = CAN Bus
Leave blank for Analog
SensoControl Service Master Plus Support
Hose & Fittings, Etc. supports its customers during and after the purchase of SensoControl Service Master meters. Our in-house expert is available to train your mechanics at your location (anywhere in Northern California and North-Western Nevada). If you prefer, training can also be arranged in Hose & Fitting, Etc's West Sacramento headquarters.
TECHNICAL DATA
Service Master Plus
K-SCM-500-01-01-ENG
FUNCTIONS
Measures actual, Min, and Max quantities
Displays numerical values, bar graph, pointer, and curve graph (function)
Remote operation via Ethernet
Acustic event notifications
Displays: pressure, temperature, flow and rotational speed

Pressure - PSI and Bar
Temp. - °F and °C
Flow - GPM and l/min
Speed - RPM

Differential Value Mesaurement
Min/Max Memory
Online Data Transfer
Batery Level Indicator
Auto Power-Off
Color Display

115 x 86 mm Screen
640 x 480 px
INPUT/OUTPUT
2 CANbus Networks with 8 Inputs Each (16 Total)
6 Senso Control Sensor Inputs
Parker Automatic Sensor Recognitioin
5-Pin Push-Pull Connections
2 Auxiliary Analog Inputs for Measuring Current
and Voltage
Configurable as FAST-Mode Analog Inputs (0.1 ms Scanning Rate)
Digital Active High I/O 7 to 24 V (DC)
Digital Active Low I/O < 1 V (DC)
Input Impendance - 1 k-Ohm
Output Current - 20 mA
MEMORY
Internal - 64 MB
External Micro SD Slot
External USB Mass STorage Slot
6 Million Data Points per Measurement
1 Billion Data Points Total Storage
POWER

Internal Lithium-Ion Pack
External 110V/240V AC
8-Hour Battery Life
3-Hour Charge Time
AMBIENT CONDITIONS
Operating Temperature 32°F - 112°F
Storing Temperature -10°F - 140°F
Relative Humidity < 80%
HOUSING
ABS/PC (Thermoplastic) Casing
Housing Protective Sleeve Material: TPE (Thermoplastic Elastomer)
Protection:

IEC60068-2-32, (1 m Free Fall)
IP64 (to EN60529, unconnected)
IP54 (connected)
DIMENSIONS
Related Products & Info
Senso Control METERS
Senso Control ACCESSORIES