Parker E6MK4 | K4 Swivel Nut Union Elbows
K4 Swivel Nut Union Elbows

Part #: E6MK4
Manufacturer: Parker


60° Swivel / 60° Swivel
TUBE

FITTING

PART #

END SIZE

L

(mm)

Y

(mm)

Dynamic
Pressure

(x 1,000 PSI)

1

BSPP

2

BSPP

S

4E6MK4

1/4 - 19

1/4 - 19

30.5

14

5.1

6E6MK4

3/8 - 19

3/8 - 19

33.0

19

5.1

8E6MK4

1/2 - 14

1/2 - 14

38.8

22

2.9

10E6MK4

5/8 - 14

5/8 - 14

39.4

22

2.9

12E6MK4

3/4 - 14

3/4 - 14

42.3

27

2.9

16E6MK4

1 - 11

1 - 11

49.0

33

1.7

20E6MK4

1 1/4 - 11

1 1/4 - 11

58.2

41

1.5

24E6MK4

1 1/2 - 11

1 1/2 - 11

63.3

48

1.5
Related Resources
Parker K4 BSP Adapters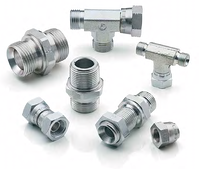 Parker K4 (BSP) adapters are typically used as hose adapters on equipment designed and/or manufactured in Europe, especially equipment with ties to the UK, Scandinavia, the Netherlands, Spain and Italy. BSP cone adapters are similar in function to NPSM (07 Adapters) but with BSPP threads.

The metal-to-metal sealing is achieved by a single line of contact between the conical surface of the 60° cone seat and the corresponding surface of the ball nose. K4 adapters are manufactured in accordance with BS5200 standards. The 60° internal seat is designed for sealing with BSP hose swivel connections offered by many manufacturers.

K4 adapters mate with Parker hose fitting series D9/92, B1, B2, and B4. K4 adapter male BSP cone end can also be used as a port adapter in ISO 1179-1 / DIN 3852 ports. This is accomplished with the addition of a bonded seal (often referred to as a "Dowty®" seal).