Parker HMKA | Komatsu Male Unions
Komatsu Male Unions

Part #: HMKA
Manufacturer: Parker


30° Flare
TUBE
FITTING
PART #

END SIZE

H
HEX
(mm)

L
(mm)

Dynamic
Pressure
(x 1,000 PSI)

1
(in.)

2
Metric Thread

S

4-4HMKA

1/4

M14 X 1.5

17

39.4

4.0

6-6HMKA

3/8

M18 X 1.5

22

43.4

4.0

8-8HMKA

1/2

M22 X 1.5

24

47.5

4.0

10-10HMKA

5/8

M24 X 1.5

27

52.1

4.0

12-12HMKA

3/4

M30 X 1.5

32

63.2

4.0

16-16HMKA

1

M33 X 1.5

38

72.1

4.0
Related Resources
Parker Komatsu Style Adapters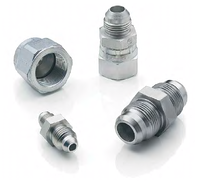 Parker K4 (BSP) adapters are typically used as hose adapters on equipment designed and/or manufactured in Europe, especially equipment with ties to the UK, Scandinavia, the Netherlands, Spain and Italy. BSP cone adapters are similar in function to NPSM (07 Adapters) but with BSPP threads.
The Parker 30° flare, metric thread adapters, also known as the Komatsu style flare fittings, are one of the most common specialized OEM mobile equipment fittings in the marketplace. Parker offers a line of caps, plugs and conversion adapters to mate with these specialty connections. Parker's line of Komatsu style adapters is referred to as "KA" adapters.
The Komatsu style connection is generally rated at 4000 psi (280 kg/cm2 or 27.5 Mpa). Parker's caps, plugs and conversion adapters are rated at the full pressure rating in sizes 4-16, with slight pressure reductions in the less common sizes of -20 and -24.
Parker's offering of Komatsu style adapters allow for more aftermarket flexibility. Parker's caps and plugs enable technicians to protect critical sealing surfaces of hoses and adapters from damage and contamination. This protection is important during testing, repair and/or installation and removal.
Parker's line of Komatsu style conversion adapters helps in emergency situations, field repair, or "plumbing in" hydraulic attachments and options. Parker's exclusive swivel nut design minimizes the sealing surface damage to mating components.