Parker 20 Series Pneumatic Couplings | General Purpose - Manual Connect
Sleeve type couplings, such as Parker 20 Series, are widely used to connect air lines. Parker 20 Series Couplings can also be used with low pressure fluids such as water, grease, or paint.
20 Series Coupling's compact and economical design uses a ball locking mechanism consisting of captive steel balls that engage the locking groove on the mating nipple. The sliding spring loaded sleeve on the coupler must be manually retracted in order to connect or disconnect the nipple. It is easy to do, but two hands are normally required.
Common applications:
compressed air, water, grease, paint, limited vacuum and limited gases.
Parker 20 Series Couplings Specifications & Performance
Body Size (in.)
1/4
3/8
1/2
Rated Pressure (PSI)
300
300
300
Temperature Range (Std. seals)*
-40° to +250° F.
Locking Device
4 balls
8 balls
8 balls
Vacuum Data (inches Hg)

Disconnected (coupler only)

Connected

Not Recommended
27.4
27.4
27.4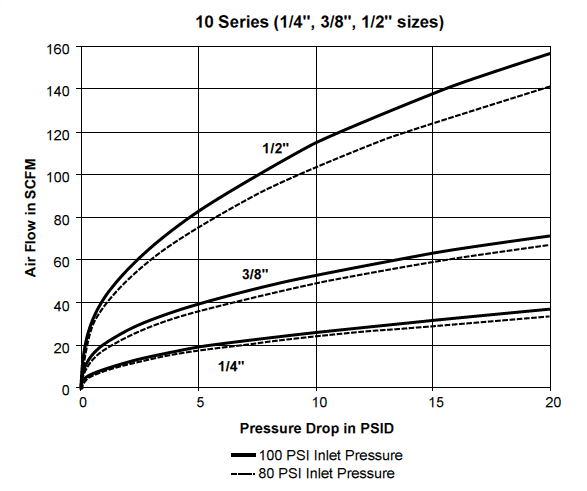 Parker General Purpose Pneumatic Coupling Repair Kits
The repair kits below are for Parker 10, 20, 30, 50, 70, & TL Series Pneumatic Couplings.
Body


Size

Seal


Material

Part


No.

1/4
Nitrile
21K
1/4
Ethylene Propylene
21KW
1/4
Fluorocarbon
21KY
3/8
Nitrile
14K
3/8
Ethylene Propylene
14KW
3/8
Fluorocarbon
14KY
1/2
Nitrile
16K
1/2
Ethylene Propylene
16KW
1/2
Fluorocarbon
16KY
3/4
Nitrile
38K
3/4
Ethylene Propylene
38KW
3/4
Fluorocarbon
38KY