Parker Crosses | EO-2
The EO-2 progressive ring fitting is a Parker flareless fitting for metric tubing similar to the EO series. The difference between EO fittings and EO-2 fittings is the additional elastomeric seal (on EO fittings), which provides leak-free operation without re-tightening - even under severe conditions.





Another difference is an EO-2 functional nut, which incorporates both the ferule, and the elastomeric seal. The EO-2 functional nut simplifies the EO-2 connection assembly.






Available Configurations | Parker EO-2
Union Cross

Part Number: K
Manufacturer: Parker
---
Tube Fittings
Flareless Fittings with Seal
for Metric Tubing | Parker EO-2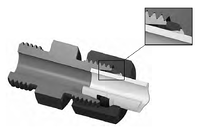 The EO-2 series are high-pressure metric tube fittings combining bite type technology with elastomeric seal on all joints.
The EO-2 fittings are true metric design, conforming to 24° bite-type standards such as ISO 88434-1, DIN 2353 or DIN 3861. The EO-2 fittings come in three series: LL, L and S (very light, light, standard/heavy)
The EO-2 is similar to EO – it consists of a body, a progressive ring (ferrule) and a nut – with an addition of elastomeric seal. The elastomeric seal is located between the inner cone of the fitting body and the tube surface, blocking the only possible leak path.
EO-2 fitting bodies are available in over thirty configurations. The shaped products (i.e., elbows, tees, crosses) are hot forged, then machined to the stringent EO-2 fitting specifications. The forging process used by Parker further improves the strength and metallurgical properties of the fitting material.