Parker Seal-Lok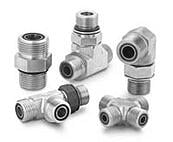 ORFS Tips
How Seal-Lok Works - Learn how Parker's ORFS fitting function.
ORFS Assembly - Learn the proper way to prepare tube ends for use with Parker Seal-Lok fittings, and correct way of assembling the ORFS connectons.
ORFS Troubleshooting - Got a leak? Learn how to find the cause - and the cure.
Our Blog - Get industry tips - sign up for Hose & Fittings, Etc. blog!
Seal-Lok Lite - combines the traditional versatility of Seal-Lok fittings with adaptability to Parker's new Flex Flange product line. A link coming soon...
ORFS Crosses | Parker Seal-Lok
Seal-Lok tube fittings (also known as flat face, O-ring face seal or ORFS fittings) have been proven to be very effective in eliminating leakage at higher pressures found in today's hydraulic systems. Parker Seal-Lok fittings meet or exceed the requirements of SAE J1453 and ISO 8434-3.

Parker Seal-Lok fittings feature a captive O-ring groove (CORG) design for optimal sealing, and prevention of O-ring fall-out prior to final assembly.

Parker O-ring face seal tube fittings are available in steel, stainless steel and 316 stainless steel.

Select a link below to get details for each ORFS part.

Union Cross

KLO
---
Union Cross Metric Hex

KMLO
---
Questions? Please call us at 888.715.4673, email us at hfe@hfeweb.com, or click on Ask Question button on this page.