Parker CR | Male Pipe Elbows
This Section contains adapters with thread types including NPT, NPTF, BSPT, BSPP, SAE UN/UNF, and Metric. All the threads in this section are made to industry specifications with conformance shown in table on the right.

| | |
| --- | --- |
| Thread | Standard |
| NPT | ANSI B1.20.1, FED-STD-H28/7 |
| NPTF | SAE J476, ANSI B1.20.3, FED-STD-H28/8 |
| BSPT | BS 21, ISO 7/1 |
| BSPP | BS 2779, ISO 228/1 |
| Metric | ISO 261, ANSI B1.13M, FED-STD-H28/21 |
| UN/UNF* | ANSI B1.1, FED-STD-H28/2 |

*Class 2A or 2B
Parker Pipe 90° Elbow Configurations
Male Pipe Elbows

Part #: CR
Manufacturer: Parker


NPTF / NPTF

SAE 140237*
TUBE
FITTING
PART #

END SIZE

N
(in.)

N1
(in.)

Y
(in.)

Dynamic
Pressure
(x 1,000 PSI)

1
NPTF

2
NPTF

-S

-SS

-B

1/8 CR

1/8 - 27

1/8 - 27

0.78

0.78

7/16

6.0

6.0

3.9

1/4 CR

1/4 - 18

1/4 - 18

1.09

1.09

9/16

6.0

6.0

3.9

3/8 CR

3/8 - 18

3/8 - 18

1.22

1.22

3/4

6.0

6.0

3.9

3/8 x 1/4 CR

3/8 - 18

1/4 - 18

1.22

1.22

3/4

6.0

6.0

3.3

1/2 CR

1/2 - 14

1/2 - 14

1.47

1.47

7/8

6.0

6.0

3.9

1/2 x 3/8 CR

1/2 - 14

3/8 - 18

1.47

1.28

7/8

6.0

6.0

3.3

3/4 CR

3/4 - 14

3/4 - 14

1.59

1.59

1 1/16

4.0

4.0

2.6

3/4 x 1/2 CR

3/4 - 14

1/2 - 14

1.59

1.47

1 1/16

4.0

4.0

2.6

1 CR

1 - 11 1/2

1 - 11 1/2

1.97

1.97

1 5/16

3.0

3.0

1.9

1 x 3/4 CR

1 - 11 1/2

3/4 - 14

1.97

1.78

1 5/16

3.0

3.0

1.9

1 1/4 CR

1 1/4 - 11 1/2

1 1/4 - 11 1/2

2.22

2.22

1 7/8

2.5

2.5

1.6

1 1/2 CR

1 1/2 - 11 1/2

1 1/2 - 11 1/2

2.34

2.34

1 7/8

2.5

2.5

1.6
*Not shown in SAE J514, but coded per SAE J846.
Parker Fittings and Port Adapters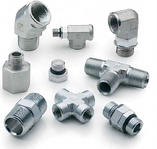 Parker pipe fitting shaped products (elbows, tees and crosses) are hot forged and machined. Parker straight pipe fittings are manufactured from cold drawn barstock. Where applicable, the fittings are made in conformance with SAE J514, J530. All Parker steel pipe fittings are zinc plated with silver chromate (zinc chromium 6 free). Stainless steel pipe fittings are passivated.