Hybrid Actuation System | Parker HAS-500
Traditional hydraulic systems deliver excellent power density, but they require bulky power units, large oil reservoirs, and hoses and fittings to link all the components together. Electromechanical actuators excel at controlling the motion, but they suffer from excessive component wear and lack the power of hydraulics.
Parker HAS is a self-contained system, which does not need external power unit, valves, or hoses needed to make a traditional hydraulic system work, and it does not suffer from the excessive component wear like electromechanical actuators. It combines the fine control of electromechanical actuators with the power density, longer life, and resistive force of a traditional hydraulic system; it is an ideal drop-in actuator for both mobile and industrial linear motion applications.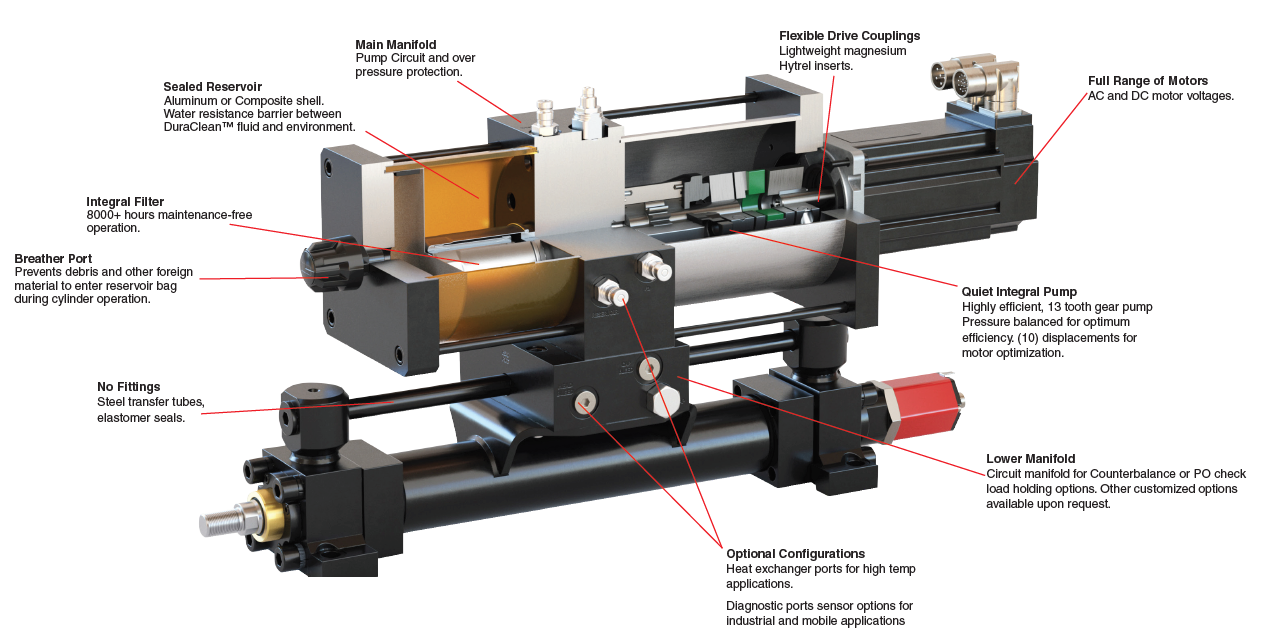 How does it work? An electric motor powers a hydraulic pump. The hydraulic pump forces hydraulic fluid from a sealed oil reservoir through internal valving to energize a hydraulic cylinder. All components are contained in one unit, which can be located wherever it is needed. The HAS system is one-third of the size of a traditional hydraulic system with the same power, and it produces three times the power density of a similarly sized electromechanical system.
Watch a Video to See How Hybrid Actuation System Works
Best in Drop-In/Plug-And-Play Actuation
Simple speed, direction, and force control via analog inputs or serial bus communications
230/460V AC, 24-48V DC power options
Flushed to ISO 16/14/11 and filled with Parker's DuraClean™ premium hydraulic fluid
Chrome Plated Rod standard, Global Shield and stainless are also available. (HY08-4000-B2)
Load Holding options include Counterbalance and PO check valves
Allows for various traditional cylinder mounting styles and stroke lengths
Available in NFPA Mounting configuration (HS2), with continuous feedback devices (HS2X) and Round line construction (HSR)
Crown wiper for the dirty environment to ensure fluid integrity
How to Order
To configure your HAS-500 actuating system, follow the diagram below. Use this code to order your system!
The page numbers in the diagram refer to the Parker Catalog HY08-4005-1NA.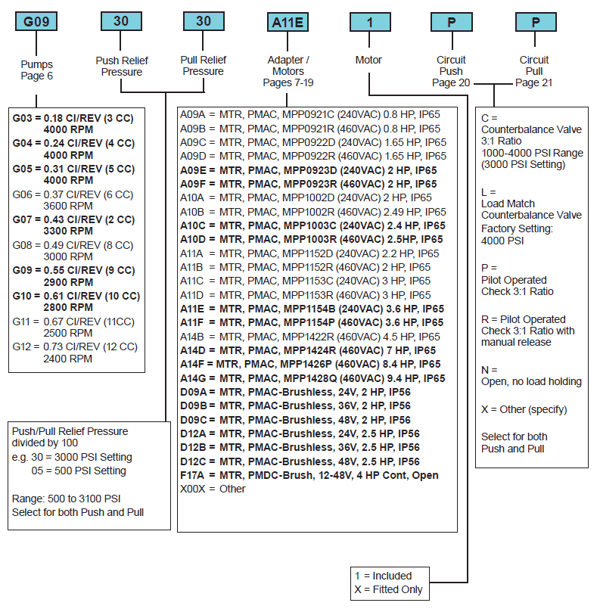 WARNING
:
These products can expose you to chemicals including lead and/or DEHP and/or carbon black, which are known to the State of California to cause cancer or birth defects or other reproductive harm. For more information go to
www.P65Warnings.ca.gov