Stainless steel braided brake lines - custom made
Motion & Flow Control Products, Inc.'s Parker Store in San Leandro, CA is your local one stop shops for all custom brake line needs.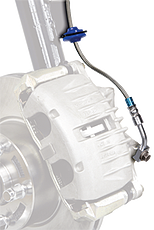 Typically, people who invest in stainless steel braided brake lines are enthusiasts who demand the highest performance from their vehicles. The truth, however, is that any driver can benefit from a better performing brake system, and stainless steel braided brake lines are the best bang per buck when it comes to increasing performance. In most cases, you can outfit a car with stainless steel brake lines for around $250.
Stainless steel braided brake lines outperform their rubber counterparts in three main areas:
Reduces your vehicle's braking distance
Provides faster brake pedal response
Greatly improves braking force modulation
As you can see, stopping in a shorter distance is only one part of the story. Engaging your brakes quicker and having better control over how hard you brake are equally important in emergency stops and avoidance maneuvers.
We custom make each brake line to your exact specifications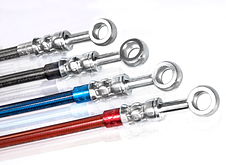 Our stainless steel braided brake lines are compatible with all brake fluids and are D.O.T. approved for street applications. Each brake hose assembly we make is tested to 3,000 PSI to make sure it is safe to install on your vehicle. Plus you get to choose your desired color – black, silver, red or blue.
We not only replace the OEM rubber brake hoses with stainless steel braided lines, we can custom make any brake or clutch hose to your specifications. If your vehicle is modified and the original OEM brake hoses do not fit, Motion & Flow Control Products, Inc. is your place to get your custom brake hoses. How much can you expect to pay? Far less than a dealer's price.
Our offering is not limited to just cars and motorcycles – if it has hydraulic brakes, we can make a brake hose assembly for it. We can fabricate brake lines for your trucks, ATVs, rock crawlers, go-carts or any other vehicle.
Automotive Plumbing Products
Stainless Steel Fittings
Automotive Plumbing Tools
---
RELATED INFORMATION: