Petroleum Transfer Hose | Parker 2100 Series
Petroleum Transfer Hose - Series 2100
Parker Petroleum Transfer Hose Sizes & Specifications
Inner Wire: Galvanized steel (G)
Inner Liner: Polypropylene fabric
Hose Wall: Multiple layers of fabric/film/tubes
Cover: Blue PVC-covered polyester
Outer Wire: Galvanized steel (G)
Temp Range: -40°F to +212°F (-40°C to +100°C)
Brand Method: Black text on gold stripe
Brand Example: PARKER SERIES 2100 PETROLEUM TRANSFER HOSE XXX PSI MAX WP MADE IN USA
Design Factor: 4:1
Industry Standards: American Bureau of Shipping (ABS) Certificate of Design Assessment 2009 Steel Vessels Rules
Applications: Marine, plant processing, rail car, ship-to-shore, tank truck. NOTE: Not for dry material service.
Vacuum: Full
Compare to: Apollo 100P; Dantec Danoil 7 GG; Peraflex GGP Hydrocarbon; Tift 901 Fuelmaster; Uni-Chem Uni-Oil GG; Wilcox 1091/1151 GG
Standard Wire: G (Galvanized) inner and outer
Available Wire Options: See table below
Coupling Rec: Permanently attached one-piece male pipe or flanged ends; cam and groove.
Assemblies: Per customer requirement; hydrostatically tested to 150% of the rated working pressure.
Part Number

ID
(in)

ID
(mm)

Approx Wt
(lbs/ft)

Min Bend Rad
(in)

Max Rec WP
(psi)

Max Lg
(ft)

2100GG-1000

1

25.4

0.8

5.0

250

75

2100GG-1500

1-1/2

38.1

1.0

6.0

250

75

2100GG-2000

2

50.8

1.2

6.5

250

75

2100GG-2500

2-1/2

63.5

1.6

8.0

250

75

2100GG-3000

3

76.2

2.0

9.5

250

70

2100GG-4000

4

101.6

4.4

16.0

250

70

2100GG-6000

6

152.4

7.0

20.0

250

65

2100GG-8000

8

203.2

10.0

29.0

250

65

2100GG-10000

10

254.0

23.0

40.0

150

50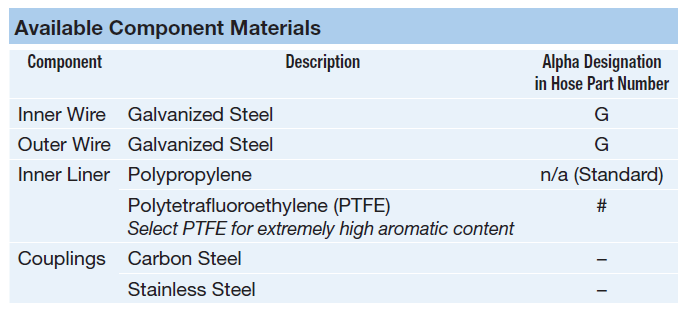 WARNINGS!


"It is the responsibility of the user to determine if the hose is suitable for the application. Elevated temperatures can change the chemical resistance ratings. Many chemicals will become more aggressive as temperatures increase, reducing the ability of hose materials to withstand them. Refer to the Safety and Technical section for safety, handling and use information. Refer to the Composite Hose table in the Chemical Guide section to determine compatibility with specific chemicals. If no data exists, users are required to perform compatibility testing at the desired temperature.
"