Air & Multipurpose Industrial Hoses | Parker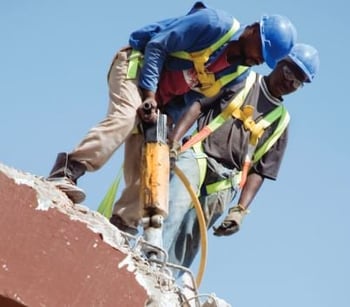 Parker Hannifin is a premier world-wide supplier of Industrial Hose for wide range of industrial applications. New hoses are continuously being developed for emerging and established industries alike. For special applications, custom hoses are also available.
Air & Multipurpose Industrial Hoses are designed for the delivery and transport of air, water, oil and mild chemicals. These versatile hoses have a flexible constructon and superior coupler retention, with multiple plies of textile reinforcement.
GST® II - General Service - 7031(R) (Green) / 7057 (Blue) / 7092 (Red) / 7093 (Black) / 7096 (Yellow) Series
TUBE
Black EPDM; ARPM Class C oil resistance

REINFORCEMENT

Multiple textile plies

COVER

Black, blue, green, red, or yellow EPDM; smooth finish

TEMPERATURE RANGE

-40°F to 212°F (-40°C to 100°C)

DESIGN FACTOR
4:1

INDUSTRY STANDARDS
ARPM Class C oil resistant tube; ARPM IP-7 (7031R only)

APPLICATIONS



Air (including oil mist), mild chemicals, water

Agriculture, construction, general industrial


VACUUM
Not recommended

COMPARE TO

Boston Bosflex A/W; Gates Adapta Flex; Thermoid Valuflex GS; Veyance Horizon General Purpose

PACKAGING
Reels; cartons

Parker GST® II 7031R / 7057 / 7092 / 7093 / 7096 Hose Details
Parker GST II 7092 Factory Hose Assemblies & 7093 Factory Hose Assemblies
SUPER-FLEX® GS - General Service Air & Water - 7322 (Red) & 7323 (Black) Series
TUBE
Black EPDM; ARPM Class C oil resistance

REINFORCEMENT

Multiple textile plies

COVER

7322: Red EPDM, wrapped finish

7323: Black EPDM, wrapped finish

TEMPERATURE RANGE

-40°F to 212°F (-40°C to 100°C)

DESIGN FACTOR
4:1

INDUSTRY STANDARDS
ARPM Class C oil resistant tube

APPLICATIONS



Air (including oil mist), mild chemicals, water

Agriculture, construction, general industrial


VACUUM
Not recommended

COMPARE TO
Gates AdaptaFlex; Veyance Horizon

PACKAGING
Coils, reels ("A" part numbers)

Parker SUPER-FLEX® GS 7322 / 7323 Hose Details
MPT® II - Multipurpose, Oil Resistant Air & Water Hose (Nonconductive) - 7094 (Red) & 7095 Series
TUBE
Black nitrile; ARPM Class A oil resistance

REINFORCEMENT

Multiple textile plies

COVER

7094: Red chloroprene, smooth finish

7095: Black chloroprene, smooth finish

TEMPERATURE RANGE

-20°F to 212°F (-29°C to 100°C)

DESIGN FACTOR
4:1

INDUSTRY STANDARDS
ARPM Class A oil resistant tube; electrically nonconductive with a minimum resistance of one megaohm per inch at 1000 volts DC

APPLICATIONS



Air, mild chemicals, oil, water

Cooling lines for electric furnaces and pot lines; lubrication systems

Agriculture, construction, foundries, general industrial


VACUUM
Not recommended

COMPARE TO
Boston Shock Safe; Gates PremoFlex/19B; Veyance Ortac/Wingfoot

PACKAGING
Reels, cartons

Parker MPT® II 7094 / 7095 Hose Details
SUPER-MPT® II - Multipurpose, Oil Resistant Air & Water Hose (Nonconductive) - 7396 Series
TUBE
Black nitrile; ARPM Class A oil resistance

REINFORCEMENT

Multiple textile plies

COVER

Red chloroprene, wrapped finish

TEMPERATURE RANGE

-20°F to 212°F (-29°C to 100°C)

DESIGN FACTOR
4:1

INDUSTRY STANDARDS
ARPM Class A oil resistant tube; electrically nonconductive with a minimum resistance of one megaohm per inch at 1000 volts DC

APPLICATIONS



Air, mild chemicals, oil, water

Cooling lines for electric furnaces and pot lines; lubrication systems

Agriculture, construction, foundries, general industrial


VACUUM
Not recommended

COMPARE TO
Gates Duroflex; Veyance Ortac 250

PACKAGING
Coils, reels ("A" part numbers)

Parker SUPER-MPT® II 7396 Hose Details
GRIZZLY™ 500 - Multipurpose Hose (Nonconductive) - 7107 Series
TUBE
Black nitrile; ARPM Class A oil resistance

REINFORCEMENT

Multiple aramid plies

COVER
Yellow nitrile/PVC; smooth finish

TEMPERATURE RANGE

-40°F to 212°F (-40°C to 100°C)

DESIGN FACTOR
4:1

INDUSTRY STANDARDS
ARPM Class A oil resistant tube; electrically nonconductive with a minimum resistance of one megaohm per inch at 1000 volts DC; MSHA

APPLICATIONS



Air, mild chemicals, oil, water

Agriculture, construction, foundries, general industrial, mines


VACUUM
Not recommended

COMPARE TO
Boston Mineforce; Gates Terminator; Veyance Gorilla

PACKAGING
Reels, cartons

Parker GRIZZLY® 500 7107 Hose Details
JIFFY™ - Push-On Multipurpose Hose - 7212 Series
TUBE
Black nitrile

REINFORCEMENT

One textile braid

COVER
Black, blue, gray, green, red or yellow chloroprene; smooth finish

TEMPERATURE RANGE

-40°F to 212°F (-40°C to 100°C)

DESIGN FACTOR
4:1

INDUSTRY STANDARDS
MSHA

APPLICATIONS



Air, mild chemicals, oil, water; biodiesel (to B20 in dedicated service), diesel, ethanol, gasoline

Air operated paint systems, air tools, transfer lines, vacuum lines

Agriculture, construction, general industrial; automotive/factory color-coded assembly equipment


VACUUM
1/4" to 1/2" @ 28" Hg; 5/8" to 3/4" @ 15" Hg

COMPARE TO
Gates Python Plus; Thermoid Flex Loc 300; Veyance Autogrip

PACKAGING
Reels

COLOR CODES

BK (black), BL (blue), GN (green), GY (gray), RD (red), YL (yellow)
Parker JIFFY™ 7212 Hose Details
Parker JIFFY 7212GY Factory Hose Assemblies & 7212BL Factory Hose Assemblies
SUPER-LOK GS™ - Push-On Hose - 7211 Series
TUBE
Black EPDM; ARPM Class C oil resistance

REINFORCEMENT

One textile braid

COVER
Black, blue, gray, green, or red EPDM; smooth finish

TEMPERATURE RANGE

-40°F to 212°F (-40°C to 100°C)

DESIGN FACTOR
4:1

INDUSTRY STANDARDS
ARPM class C oil resistant tube

APPLICATIONS



Air (including oil mist), mild chemicals, water

Air operated paint systems, air tools, transfer lines, vacuum lines

Agriculture, construction, general industrial; automotive/factory color-coded assembly equipment


VACUUM
28" Hg

PACKAGING
Reels

COLOR CODES
BK (black), BL (blue), GN (green), GY (gray), RD (red)

Parker SUPER-LOK™ GS 7211 Hose Details
JIFFY FLEX™ 250 - Push-On Multipurpose Hose (Nonconductive) - 7161 Series
TUBE
Black nitrile; ARPM Class A oil resistance

REINFORCEMENT

Multiple textile plies

COVER
Black, blue, gray, green, or red chloroprene; smooth finish

TEMPERATURE RANGE

-20°F to 180°F (-29°C to 82°C)

DESIGN FACTOR
4:1

INDUSTRY STANDARDS
ARPM Class A oil resistant tube; electrically nonconductive with a minimum resistance of one megaohm per inch at 1000 volts DC; MSHA

APPLICATIONS



Air, mild chemicals, oil, water

Air operated paint systems, air tools, transfer lines, vacuum lines

Agriculture, construction, general industrial; automotive/factory color-coded assembly equipment


VACUUM
Not recommended

COMPARE TO
Boston Easy Couple; Thermoid Flex-Loc Push On; Veyance InstraGrip 250

PACKAGING
Reels

COLOR CODES
BK (black), BL (blue), GN (green), GY (gray), RD (red)

Parker JIFFY FLEX™ 250 Hose Details
DAY-FLO® - Multipurpose Hose - 7134 (Red) & 7187 (Black) Series
TUBE
Black nitrile; ARPM Class A oil resistance

REINFORCEMENT

One or two multiple textile braids

COVER

7134: Red chloroprene, smooth finish


7187: Black chloroprene, smooth finish

TEMPERATURE RANGE

-20°F to 212°F (-29°C to 100°C)

DESIGN FACTOR
4:1

INDUSTRY STANDARDS
ARPM Class A oil resistant tube

APPLICATIONS



Air, mild chemicals, oil, water

Agriculture, construction, general industrial


VACUUM
Not recommended

COMPARE TO
Boston Easy Couple

PACKAGING
Reels

Parker DAY-FLO® 7134 / 7187 Hose Details
ARCTIC EDGE™ - Low Temperature Multipurpose Hose - 7102 Series
TUBE
Black nitrile

REINFORCEMENT

Multiple textile plies with static wire

COVER

Black chloroprene; smooth finish


TEMPERATURE RANGE

-70°F to 212°F (-57°C to 100°C)

DESIGN FACTOR
4:1

INDUSTRY STANDARDS
None applicable

APPLICATIONS



Air, mild chemicals, oil, water; biodiesel (to B20 in dedicated service), diesel, ethanol, gasoline

Agriculture, construction, foundries, general industrial


VACUUM
Not recommended

COMPARE TO
Thermoid Glacier Multipurose; Veyance Arctic Ortac

PACKAGING
Reels

Parker ARCTIC EDGE® 7102 Hose Details
WHIPPET® 200 - Multipurpose Hose - 7137 Series
TUBE
Black nitrile

REINFORCEMENT

One textile braid

COVER

Black chloroprene; smooth finish


TEMPERATURE RANGE

-40°F to 180°F (-40°C to 82°C)

DESIGN FACTOR
4:1

INDUSTRY STANDARDS
None applicable

APPLICATIONS



Air, mild chemicals, oil, water

Air tools, hose whips

Assembly lines, general industrial


VACUUM
Not recommended

COMPARE TO
Boston Easy Couple

PACKAGING
Reels

Parker WHIPPET® 200 7137 Hose Details
Medium Duty Multipurpose Discharge Hose - SS110 Series
TUBE
Black nitrile

REINFORCEMENT

Multiple textile plies with static wire

COVER

Black SBR; perforated wrapped finish


TEMPERATURE RANGE

-40°F to 180°F (-40°C to 82°C)

DESIGN FACTOR
4:1

APPLICATIONS



Air, mild chemicals, oil, water

General industrial, oil field


VACUUM
Not recommended

PACKAGING
Coils

Parker Medium Duty Multipurpose Discharge Hose SS110 Details
Heavy Duty Multipurpose Discharge Hose - SS131 Series
TUBE
Black nitrile

REINFORCEMENT

Multiple textile plies

COVER

Blue synthetic rubber; perforated wrapped finish


TEMPERATURE RANGE

-40°F to 180°F (-40°C to 82°C)

DESIGN FACTOR
4:1

APPLICATIONS



Air, mild chemicals, oil, water

Abrasion resistant, very high pressure discharge

General industrial, oil field


VACUUM
Not recommended

PACKAGING
Coils

Parker Heavy Duty Multipurpose Discharge Hose SS131 Details
DRAGON BREATH® - Hot Air Blower Hose - SW360 Series
TUBE
Black EPDM

REINFORCEMENT
Multiple textile plies with dual wire helix (one-wire helix for 6" size)

COVER

Blue EPDM; wrapped finish


TEMPERATURE RANGE

-40°F to 350°F (-40°C to 177°C)

DESIGN FACTOR
4:1

APPLICATIONS



Hot air blower systems

In-plant transfer; delivery, loading/unloading

General industrial, transportation


VACUUM
Full

COMPARE TO

Eaton Boston Wildcat Hot Air; Gates Hot Air Blower; Veyance Plicord Torrid Air

PACKAGING
Coils

Parker DRAGON BREATH® SW360 Hose Details
SPARTAN™ - Hot Air Blower Hose - SW560 Series
TUBE
Black EPDM

REINFORCEMENT

Multiple textile plies with dual wire helix

COVER

Blue EPDM; wrapped finish


TEMPERATURE RANGE

-40°F to 350°F (-40°C to 177°C)

DESIGN FACTOR
4:1

APPLICATIONS



Hot air blower systems

In-plant transfer; delivery, loading/unloading

General industrial, transportation


VACUUM
Full

PACKAGING
Coils

Parker SPARTAN™ SW560 Hose Details
MAXIMAIRE™ - Heavy Duty Air Hose (Nonconductive) - 7201 Series
TUBE
White chloroprene

REINFORCEMENT

Multiple textile plies

COVER

Green nitrile/PVC; wrapped finish


TEMPERATURE RANGE

-20°F to 180°F (-29°C to 82°C)

DESIGN FACTOR
4:1

INDUSTRIAL STANDARDS

Electrically nonconductive with a minimum resistance of one megaohm per inch at 1000 volts DC

APPLICATIONS



Air, mild chemicals, oil, slurries, water

Heavy duty air tools, compressors

Construction, general industrial, mines, quarries


VACUUM
Not recommended

COMPARE TO

Boston Shock Safe, Mineforce; Veyance Ortac 400

PACKAGING
Coils

Parker MAXIMAIRE™ 7201 Hose Details
MAXIFLEX® - Lightweight Air Hose - 7308 & 7308E Series
TUBE
Black SBR

REINFORCEMENT

Multiple textile plies

COVER

Yellow SBR; wrapped finish


TEMPERATURE RANGE

-20°F to 212°F (-29°C to 100°C)

DESIGN FACTOR
3:1

INDUSTRIAL STANDARDS
None applicable

APPLICATIONS



Air, water

Heavy duty air tools, compressors

Construction, general industrial, mines, quarries


VACUUM
Not recommended

COMPARE TO
Veyance Plicord Air 300

PACKAGING
Coils

Parker MAXIFLEX® 7308 / 7308E Hose Details
MPW-1000® - High Pressure Wire Braid Multipurpose Hose - 7204 Series
TUBE

Black nitrile

REINFORCEMENT
One wire braid

COVER

Black chloroprene; perforated wrapped finish


TEMPERATURE RANGE

Steam: -20°F to 368°F (-29°C to 187°C), saturated steam to 150 psi max WP

Other: -20°F to 300°F (-29°C to 149°C)/ 350°F (177°C) intermittent

DESIGN FACTOR
4:1 (10.1 Steam)

INDUSTRY STANDARDS

None applicable

APPLICATIONS

Air, mild chemicals, oil, water; hot asphalt, glue, tar and wax; biodiesel (to B20 in dedicated service), diesel, ethanol, gasoline

High pressure washdown; cleaning containment vessels and manufacturing equipment; cleaning and heating processing equipment

Construction, general industrial, refineries


VACUUM
Not recommended

COMPARE TO

Boston Hot Tar Pumping; Gates 319MB Gold Master; Veyance Pyroflex

PACKAGING
Reels

Parker MPW-1000® 7204 Hose Details
THORO-BRAID® - Medium Pressure Wire Braid Multipurpose Hose - 7251 Series
TUBE
Black chloroprene

REINFORCEMENT

One or multiple wire braids

COVER

Yellow nitrile/PVC; perforated wrapped finish


TEMPERATURE RANGE

-20°F to 212°F (-29°C to 100°C)

DESIGN FACTOR
4:1

INDUSTRIAL STANDARDS
MSHA

APPLICATIONS



Air, mild chemicals, oil, water

Heavy duty air tools, compressors; bull hose, drill hose

Construction, general industrial, mines, quarries


VACUUM
Not recommended

COMPARE TO
Gates 500 MP/Air Drill; Kuriyama T130AK; Veyance Ultrabraid Steel Air

PACKAGING
Cartons

Parker THORO-BRAID® 7251 Hose Details
STINGER® II - High Pressure Wire Braid Mine and Multipurpose Hose - 7268E Series
TUBE

Black nitrile

REINFORCEMENT

One wire braid

COVER

Yellow nitrile/PVC; perforated wrapped finish


TEMPERATURE RANGE

-20°F to 212°F (-29°C to 100°C)

DESIGN FACTOR

4:1

INDUSTRY STANDARDS

MSHA

APPLICATIONS

Air, mild chemicals, oil, water

Heavy duty air tools, compressors; drill hose, dust suppression in mines


Construction, general industrial, mining, quarries

VACUUM
Not recommended

COMPARE TO

Boston Concord Yellow Jack; Gates 1000MP/Mine Spray; Veyance Minespray, Super Ortac

PACKAGING
Reels, cartons

Parker STINGER® II 7268E Hose Details
YELLOW BIRD® - High Pressure Wire Braid Mine and Multipurpose Hose - 7284 Series
TUBE

Black SBR

REINFORCEMENT

One wire braid

COVER

Yellow nitrile/PVC; perforated wrapped finish


TEMPERATURE RANGE

-20°F to 212°F (-29°C to 100°C)

DESIGN FACTOR

4:1

INDUSTRY STANDARDS

MSHA

<
APPLICATIONS

Air, mild chemicals, water

Heavy duty air tools, compressors; drill hose, dust suppression in mines


Construction, general industrial, mining, quarries

VACUUM
Not recommended

COMPARE TO
Boston Concord Yellow Jack; Gates 1000MP/Mine Spray; Thermoid Hercules 1000

PACKAGING
Reels, cartons

Parker YELLOW BIRD® 7284 Hose Details
E-Z FORM™ GS - General Service Hose - 7395 Series
TUBE

Black EPDM

REINFORCEMENT
Multiple textile plies with wire helix

COVER

Black EPDM; Greek corrugated finish

TEMPERATURE RANGE

-40°F to +257°F (-40°C to +125°C)

DESIGN FACTOR

4:1

INDUSTRY STANDARDS
SAE J20R2-D1 performance

APPLICATIONS

Air, coolant, mild chemicals, water

Coolant systems, drain lines, vacuum service

SAE-performance in engine coolant service, general industrial

VACUUM
Full

PACKAGING
Coils

Parker E-Z FORM™ GS 7395 Hose Details
E-Z FORM™ MP - Multipurpose Hose - 7219 Series
TUBE

Black nitrile

REINFORCEMENT
Multiple textile plies withl wire helix

COVER

Black chlorophene; Greek corrugated finish


TEMPERATURE RANGE

-20°F to 200°F (-29°C to 93°C)

DESIGN FACTOR
4:1

INDUSTRY STANDARDS

None applicable

APPLICATIONS

Biodiesel (to B20 in dedicated and non-dedicated service), diesel, ethanol, gasoline, oil

Oil suction/return lines; vehicle fuel fill connector lines

Agricultural equipment, construction equipment, off-road equipment


VACUUM
Full

PACKAGING
Coils

Parker E-Z FORM™ MP 7219 Hose Details
Parker Factory Hose Assemblies