Chemical Industrial Hoses | Parker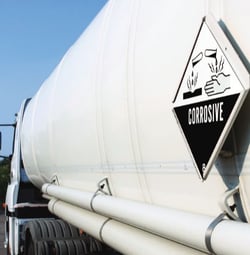 Parker Hannifin is a premier world-wide supplier of Industrial Hose for wide range of industrial applications. New hoses are continuously being developed for emerging and established industries alike. For special applications, custom hoses are also available.
Chemical hoses are designed to handle delivery and transport of commonly used acids, chemicals and solvents. These hoses often incorporate specially formluated polyethylene tubing that prevent contamination of the material being conveyed.
BLUE THUNDER® - UHMWPE Chemical Hose - 7373T Series
TUBE

Translucent ultra high molecular weight polyethylene (UHMWPE)

REINFORCEMENT
Multiple textile plies with dual wire helix
COVER
Blue EPDM; corrugated wrapped finish
OUTER WIRE

Galvanized steel (G)

TEMPERATURE RANGE

-40°F to 250°F (-40°C to 121°C)

DESIGN FACTOR
4:1

INDUSTRY STANDARDS
None applicable

APPLICATIONS

Acid, chemicals, solvents

In-plant and storage tank transfer

Delivery, transport


VACUUM
Full

COMPARE TO
Boston Chemcat; Gates Renegade; Veyance Fabchem

PACKAGING
Coils

Parker BLUE THUNDER® 7373T Hose Details
TITANFLEX® - UHMWPE Chemical Hose - SWC693 Series
TUBE

Translucent ultra high molecular weight polyethylene (UHMWPE)

REINFORCEMENT
Multiple textile plies with dual wire helix
COVER
Green EPDM; corrugated wrapped finish
TEMPERATURE RANGE

-40°F to 250°F (-40°C to 121°C)

DESIGN FACTOR
4:1

INDUSTRY STANDARDS
FDA, USDA, 3-A

APPLICATIONS

Non-fatty and non-oily foods and liquids, potable water, sanitaryproducts

Acids, chemicals, solvents

In-plant and tank transfer, delivery, transport

VACUUM
Full

PACKAGING
Coils

Parker TITANFLEX® SWC693 Hose Details
SPARTAN™ - UHMWPE Chemical Hose - SW593 Series
TUBE

Translucent ultra high molecular weight polyethylene (UHMWPE)

REINFORCEMENT
Multiple textile plies with dual wire helix
COVER
Green EPDM; wrapped finish
TEMPERATURE RANGE

-40°F to 250°F (-40°C to 121°C)

DESIGN FACTOR
4:1

INDUSTRY STANDARDS
None applicable

APPLICATIONS



Acids, chemicals, solvents

In-plant tank transfer

Delivery, transport

VACUUM
Full

PACKAGING
Coils

Parker SPARTAN™ SW593 Hose Details
POLY-CHEM™ - XLPE Corrugated Chemical Hose - 7274 Series
TUBE

Translucent cross-linked polyethylene (XLPE)

REINFORCEMENT
Multiple textile plies with dual wire helix
COVER
Green EPDM; corrugated wrapped finish
TEMPERATURE RANGE

-20°F to 160°F (-29°C to 71°C)

DESIGN FACTOR
4:1

INDUSTRY STANDARDS
None applicable

APPLICATIONS



Acids, chemicals, solvents

In-plant tank transfer

Delivery, transport

VACUUM
Full

COMPARE TO

Boston Panther Chemical Transfer; Veyance Blue Flexwing

PACKAGING
Coils

Parker POLY-CHEM™ 7274 Hose Details
POLY-CHEM™ - XLPE Chemical Hose - 7276 Series
TUBE

Translucent cross-linked polyethylene (XLPE)

REINFORCEMENT
Multiple textile plies with dual wire helix
COVER
Green EPDM; wrapped finish
TEMPERATURE RANGE

-20°F to 160°F (-29°C to 71°C)

DESIGN FACTOR
4:1

INDUSTRY STANDARDS
None applicable

APPLICATIONS



Acids, chemicals, solvents

In-plant tank transfer

Delivery, transport

VACUUM
Full

COMPARE TO

Boston Panther Chemical Transfer; Veyance Blue Flexwing

PACKAGING
Coils

Parker POLY-CHEM™ 7276 Hose Details
TITANFLEX® - Modified XLPE Chemical Hose - SWC683 (Black) & SWC683G (Green) Series
TUBE
Tan modified cross-linked polyethylene (MXLPE)

REINFORCEMENT
Multiple textile plies with dual wire helix
COVER

SWC683: Black EPDM; corrugated wrapped finish

SWC683G:Green EPDM; corruguated wrapped finish

TEMPERATURE RANGE

-40°F to 250°F (-40°C to 121°C)

DESIGN FACTOR
4:1

INDUSTRY STANDARDS
None applicable

APPLICATIONS



Acids, chemicals, solvents

In-plant tank transfer

Delivery, transport

VACUUM
Full

COMPARE TO
Gates Mustang

PACKAGING
Coils

Parker TITANFLEX® SWC683/SWC683G Hose Details
RELIAMAX™ - Modified XLPE Crush Resistant Chemical Hose - SMC683 Series
TUBE
Tan modified cross-linked polyethylene (MXLPE)

REINFORCEMENT
Multiple textile plies with dual monofilament helix and dual static wires
COVER

Black EPDM; corrugated wrapped finish

TEMPERATURE RANGE

-40°F to 250°F (-40°C to 121°C)

DESIGN FACTOR
4:1

INDUSTRY STANDARDS
None applicable

APPLICATIONS



Acids, chemicals, solvents

In-plant tank transfer

Delivery, transport

VACUUM
Full

PACKAGING
Coils

Parker RELIAMAX™ SMC683 Hose Details
EXACT-CHEM™ - Modified XLPE Chemical Hose - SW383 Series
TUBE

Tan modified cross-linked polyethylene (MXLPE)

REINFORCEMENT
Multiple textile plies with dual wire helix
COVER
Blue EPDM; wrapped finish
TEMPERATURE RANGE

-40°F to 180°F (-40°C to 82°C)

DESIGN FACTOR
4:1

INDUSTRY STANDARDS
FDA, USDA, 3-A

APPLICATIONS



Non-fatty and non-oily foods and liquids, potable water, sanitary products

Acids, chemicals, solvents

In-plant and tank transfer

Delivery, transport

VACUUM
Full

COMPARE TO

Boston Panther Chemical Transfer; Gates Mustang 45HW; Veyance Blue Flexwing

PACKAGING
Coils

Parker EXACT-CHEM™ SW383 Hose Details
LIGHT-N-BRIGHT™ - Modified XLPE Chemical Hose - SP483 Series
TUBE

Tan modified cross-linked polyethylene (MXLPE)

REINFORCEMENT
Multiple textile plies with static wire
COVER
Blue synthetic rubber with external orange PVC helix
TEMPERATURE RANGE

-40°F to 180°F (-40°C to 82°C)

DESIGN FACTOR
4:1

INDUSTRY STANDARDS
None applicable

APPLICATIONS



Acids, chemicals, solvents

In-plant tank transfer

Delivery, transport

VACUUM
Full

PACKAGING
Coils

COUPLINGS

Requires SP100 Banding Coils
Parker LIGHT-N-BRIGHT™ SP483 Hose Details
FEP Chemical Hose - SW373 Series
TUBE
White fluorinated ethylene propylene (FEP)

REINFORCEMENT
Multiple textile plies with dual wire helix
COVER
Yellow EPDM; wrapped finish
TEMPERATURE RANGE

-40°F to 300°F (-40°C to 149°C)

DESIGN FACTOR
4:1

INDUSTRY STANDARDS
FDA, USDA, 3-A

APPLICATIONS



Non-fatty and non-oily foods and liquids, potable water, sanitary products

Acids, chemicals, solvents

In-plant and tank transfer

Delivery, transport

VACUUM
Full

PACKAGING
Coils

Parker FEP Chemical Hose SW373 Details
TITANFLEX® - FEP Chemical Hose - SW574 Series
TUBE
White fluorinated ethylene propylene (FEP)

REINFORCEMENT
Multiple textile plies with dual wire helix
COVER
Blue EPDM; wrapped finish
TEMPERATURE RANGE

-40°F to 300°F (-40°C to 149°C)

DESIGN FACTOR
4:1

INDUSTRY STANDARDS
FDA, USDA, 3-A

APPLICATIONS



Non-fatty and non-oily foods and liquids, potable water, sanitary products

Acids, chemicals, solvents

In-plant and tank transfer

Delivery, transport

VACUUM
Full

PACKAGING
Coils

Parker TITAN-FLEX® SW574 Hose Details
Anhydrous Ammonia Hose (Nylon Reinforced) - 7262 Series
TUBE
Black EPDM

REINFORCEMENT
Multiple textile braids
COVER
Black EPDM; perforated wrapped finish
TEMPERATURE RANGE

-40°F to 180°F (-40°C to 82°C)

DESIGN FACTOR
4:1

INDUSTRY STANDARDS
ARPM IP-14

APPLICATIONS



Anhydrous ammonia

In-plant and tank transfer, transport and delivery; fertilizer dispensing

Agriculture

VACUUM
Not recommended

COMPARE TO

Goodall N2000

PACKAGING
Coils

Parker Anhydrous Ammonia 7262 Hose Details
Anhydrous Ammonia Hose (Stainless Steel Reinforced) - 7261 Series
TUBE
Black EPDM

REINFORCEMENT
One or more multiple stainless braids and one textile braid

COVER
Black EPDM; perforated wrapped finish
TEMPERATURE RANGE

-40°F to 180°F (-40°C to 82°C)

DESIGN FACTOR
5:1

INDUSTRY STANDARDS
ARPM IP-14

APPLICATIONS



Anhydrous ammonia


In-plant and tank transfer, transport and delivery; fertilizer dispensing

Agriculture

VACUUM
Not recommended

COMPARE TO

Goodall N2595

PACKAGING
Coils

Parker Anhydrous Ammonia 7261 Hose Details
THORO-SPRAY® - High Pressure Chemical Spray Hose - 7180 Series
TUBE
Black nitrile

REINFORCEMENT
Multiple textile braids

COVER

Green nitrile/PVC; wrapped finish


TEMPERATURE RANGE

-20°F to 180°F (-29°C to 82°C)

DESIGN FACTOR
4:1

INDUSTRY STANDARDS
None applicable

APPLICATIONS

Fertilizers, pesticides

Agricultural, commercial and residential sprayers


VACUUM
Not recommended

PACKAGING
Reels

Parker THORO-SPRAY® 7180 Hose Details
Paint Fluid Hose - 7108 Series
TUBE
Translucent nylon

REINFORCEMENT
Multiple aramid plies
COVER
Blue chloroprene; smooth finish
TEMPERATURE RANGE

0°F to 200°F (-18°C to 93°C)

DESIGN FACTOR
4:1

INDUSTRY STANDARDS
None applicable

APPLICATIONS



Lacquers, light chemicals, paints, solvents, thinners

Connector, mixing, transfer service

VACUUM
Not rated

COMPARE TO:

Boston Nyall; Gates 77B; Veyance NR Spray

PACKAGING
Reels

Parker Paint Fluid 7108 Hose Details