Composite Industrial Hoses | Parker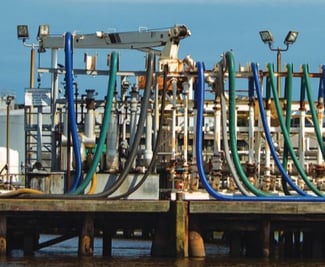 Parker Hannifin is a premier world-wide supplier of Industrial Hose for wide range of industrial applications. New hoses are continuously being developed for emerging and established industries alike. For special applications, custom hoses are also available.
Composite hoses
are available with customizable inner and outer steel wire components for chemical transfer and vapor recovery service. These durable hoses are more flexible and easier to bend and install than conventional rubber hoses, with high kink and vibration resistance to keep the hose in place.
Vapor Recovery Hose - 1000 Series
| | |
| --- | --- |
| INNER WIRE | Galvanized steel (G) |
| INNER LINER | Polypropylene fabric |
| HOSE WALL | Multiple layers of fabric/film/tubes |
| COVER | Yellow PVC-covered polyester |
| OUTER WIRE | Galvanized steel (G) |
| TEMPERATURE RANGE | -40°F to 212°F (-40°C to 100°C) |
| DESIGN FACTOR | 4:1 |
| INDUSTRY STANDARDS | USCG 33CFR 154.810 |
| APPLICATIONS | Petroleum and petrochemical vapor recovery in bottom loading, ship-to-shore and tank truck transfer |
| VACUUM | Full |
| COMPARE TO | Apollo 110P, Dantec Danoil VR; Peraflex GGP-VRH; Tift 944 Chemflex VRH; Uni-Chem Uni-VR; Wilcox 1321 |
| COUPLINGS | Permanently attached one-piece male pipe or flanged ends; cam and groove. |
| ASSEMBLIES | Per customer requirement; hydrostatically tested to 150% of the rated working pressure. |
Parker Vapor Recovery Hose 1000 Details
Petroleum Transfer Hose - 2100 Series
| | |
| --- | --- |
| INNER WIRE | Galvanized steel (G) |
| INNER LINER | Polypropylene fabric |
| HOSE WALL | Multiple layers of fabric/film/tubes |
| COVER | Blue PVC-covered polyester |
| OUTER WIRE | Galvanized steel (G) |
| TEMPERATURE RANGE | -40°F to 212°F (-40°C to 100°C) |
| DESIGN FACTOR | 4:1 |
| INDUSTRY STANDARDS | American Bureau of Shipping (ABS) Certificate of Design Assessment 2009 Steel Bessels Rules |
| APPLICATIONS | Marine, plant processing, rail car, ship-to-shore, tank truck |
| VACUUM | Full |
| COMPARE TO | Apollo 100P, Dantec Danoil 7 GG; Peraflex GGP Hydrocarbon; Tift 901 Fuelmaster; Uni-Chem Uni-Oil GG; Wilcox 1091/1151 GG |
| COUPLINGS | Permanently attached one-piece male pipe or flanged ends; cam and groove. |
| ASSEMBLIES | Per customer requirement; hydrostatically tested to 150% of the rated working pressure. |
Parker Petroleum Transfer Hose 2100 Details
Bottom Loading Hose - 4500 Series
| | |
| --- | --- |
| INNER WIRE | Galvanized steel (G) |
| INNER LINER | Polypropylene fabric |
| HOSE WALL | Multiple layers of fabric/film/tubes |
| COVER | Blue PVC-covered polyester |
| OUTER WIRE | Galvanized steel (G) |
| TEMPERATURE RANGE | -40°F to 212°F (-40°C to 100°C) |
| DESIGN FACTOR | 4:1 |
| INDUSTRY STANDARDS | None applicable |
| APPLICATIONS | Hose loading arms in bottom loading applications at bulk distributing and refining facilities |
| VACUUM | Full |
| COMPARE TO | Peraflex BL-GGP Bottom Loading; Tift 901/401 Bottom Loading; Unichem Uni-BL; Wilcox 4124SS/4121SG |
| COUPLINGS | Permanently attached one-piece TTMA (Truck Trailer Manufacturers Association) flanges. |
| ASSEMBLIES | Per customer requirement; hydrostatically tested to 150% of the rated working pressure. |
Parker Bottom Loading Hose 4500 Details
Chemical Transfer Hose - 3100 Series
| | |
| --- | --- |
| INNER WIRE | Polyropylene-coated steel (P) |
| INNER LINER | Polypropylene fabric |
| HOSE WALL | Multiple layers of fabric/film/tubes |
| COVER | Black PVC-covered polyester |
| OUTER WIRE | Galvanized steel (G) |
| TEMPERATURE RANGE | -40°F to 212°F (-40°C to 100°C) |
| DESIGN FACTOR | 4:1 |
| INDUSTRY STANDARDS | None applicable |
| APPLICATIONS | Chemicals, inks, paints, plant processing, rail cards, tank trucks |
| VACUUM | Full |
| COMPARE TO | Apollo 1052P, Dantec Danchem PG/PS; Peraflex PGP Standard Chemical; Tift 951 PG/PS; Uni-Chem PG/PS; Wilcox 3091PG/3094PS |
| COUPLINGS | Permanently attached one-piece male pipe or flanged ends; cam and groove. |
| ASSEMBLIES | Per customer requirement; hydrostatically tested to 150% of the rated working pressure. |
Parker Chemical Transfer Hose 3100 Details
Aggressive Chemical Transfer Hose - 4100 Series
| | |
| --- | --- |
| INNER WIRE | Stainless steel (S) |
| INNER LINER | Polypropylene fabric |
| HOSE WALL | Multiple layers of fabric/film/tubes |
| COVER | Green PVC-covered polyester |
| OUTER WIRE | Stainless steel (S) |
| TEMPERATURE RANGE | -40°F to 212°F (-40°C to 100°C) |
| DESIGN FACTOR | 4:1 |
| INDUSTRY STANDARDS | None applicable |
| APPLICATIONS | Chemicals, inks, paints, plant processing, rail cards, tank trucks |
| VACUUM | Full |
| COMPARE TO | Apollo 1052P, Dantec Danchem SS/SG; Peraflex SSP/SGP Chemical; Tift 951 SS/SG; Uni-Chem SS/SG; Wilcox 4094SS/4091SG |
| COUPLINGS | Permanently attached one-piece male pipe or flanged ends; cam and groove. |
| ASSEMBLIES | Per customer requirement; hydrostatically tested to 150% of the rated working pressure. |
Parker Aggressive Chemical Transfer Hose 4100 Details
PTFE Chemical Transfer Hose - 5100 Series
| | |
| --- | --- |
| INNER WIRE | Stainless steel (S) |
| INNER LINER | Polytetrafluoroethylene (PTFE/Teflon®) fabric |
| HOSE WALL | Multiple layers of fabric/film/tubes |
| COVER | Red PVC-covered polyester |
| OUTER WIRE | Stainless steel (S) |
| TEMPERATURE RANGE | -40°F to 212°F (-40°C to 100°C) |
| DESIGN FACTOR | 4:1 |
| INDUSTRY STANDARDS | None applicable |
| APPLICATIONS | Chemicals, inks, paints, plant processing, rail cards, tank trucks |
| VACUUM | Full |
| COMPARE TO | Apollo 1052T, Dantec Danflon SS/SG; Peraflex SST/SGT Aggressive Chemical; Tift Tel-Flex 947 SS/SG; Uni-Chem SS/SG; Wilcox 4124SS/4121SG |
| COUPLINGS | Permanently attached one-piece male pipe or flanged ends; cam and groove. |
| ASSEMBLIES | Per customer requirement; hydrostatically tested to 150% of the rated working pressure. |
Parker PTFE Chemical Transfer Hose 5100 Details