Food & Beverage Industrial Hoses | Parker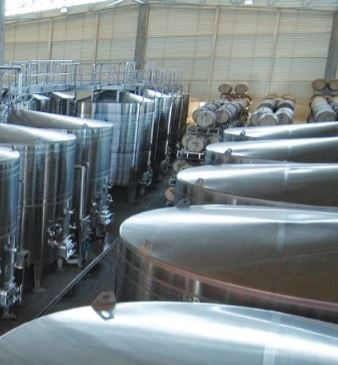 Parker Hannifin is a premier world-wide supplier of Industrial Hose for wide range of industrial applications. New hoses are continuously being developed for emerging and established industries alike. For special applications, custom hoses are also available.
Food & Beverage hoses are designed to deliver and transport food, beverages and potable water in a variety of applications. They often incorporate stainless steel mandrels for ultra-smooth tubing that does not impart taste or odor and is resistant to bacteria and microbes. The hoses are rated to FDA, USDA and 3-A standards.
TITANFLEX® - Food Suction Hose (Nitrile Tube) - SW640 Series
TUBE

White nitrile

REINFORCEMENT

Multiple textile plies with dual wire helix

COVER

Gray nitrile; wrapped finish

TEMPERATURE RANGE

-20°F to 225°F (-29°C to 107°C)

DESIGN FACTOR
4:1

INDUSTRY STANDARDS

FDA, PMO, USDA, 3-A

APPLICATIONS



Fatty and oily foods, liquids, milk, potable water, sanitary products

In-plant and tank transfer

Delivery, transport

VACUUM
Full

PACKAGING
Coils

Parker TITANFLEX® SW640 Hose Details
Food Suction Hose (Nitrile Tube) - SW430 Series
TUBE

White nitrile

REINFORCEMENT

Multiple textile plies with dual wire helix

COVER

Gray nitrile; wrapped finish

TEMPERATURE RANGE

-20°F to 225°F (-29°C to 107°C)

DESIGN FACTOR
4:1

INDUSTRY STANDARDS
FDA, PMO, USDA, 3-A

APPLICATIONS



Fatty and oily foods, liquids, milk, potable water, sanitary products

In-plant and tank transfer

Delivery, transport

VACUUM
Full

PACKAGING
Coils

Parker Food Suction SW430 Hose Details
Corrugated Food Suction Hose (Nitrile Tube) - SWC430 Series
TUBE

White nitrile

REINFORCEMENT

Multiple textile plies with dual wire helix

COVER

Gray nitrile; corrugated wrapped finish

TEMPERATURE RANGE

-20°F to 225°F (-29°C to 107°C)

DESIGN FACTOR
4:1

INDUSTRY STANDARDS
FDA, PMO, USDA, 3-A

APPLICATIONS



Fatty and oily foods, liquids, milk, potable water, sanitary products

In-plant and tank transfer

Delivery, transport

VACUUM
Full

PACKAGING
Coils

Parker Food Suction SWC430 Hose Details
Corrugated Food Suction Hose (Nitrile Tube) - SWC432 Series
TUBE

White nitrile

REINFORCEMENT

Multiple textile plies with dual wire helix

COVER

Gray nitrile; enhanced corrugated wrapped finish

TEMPERATURE RANGE

-20°F to 225°F (-29°C to 107°C)

DESIGN FACTOR
4:1

INDUSTRY STANDARDS
FDA, PMO, USDA, 3-A

APPLICATIONS



Fatty and oily foods, liquids, milk, potable water, sanitary products

In-plant and tank transfer

Delivery, transport

VACUUM
Full

PACKAGING
Coils

Parker Food Suction SWC432 Hose Details
Beverage & Potable Water Discharge Hose (Nitrile Tube) - SS290 Series
TUBE

White nitrile

REINFORCEMENT

Multiple textile plies

COVER

Gray natural rubber; wrapped finish

TEMPERATURE RANGE

-20°F to 225°F (-29°C to 107°C)

DESIGN FACTOR
4:1

INDUSTRY STANDARDS
FDA, PMO, USDA, 3-A

APPLICATIONS



Beverages, liquids, milk, potable water

In-plant and tank transfer

Delivery, transport

VACUUM
Not recommended

PACKAGING
Coils

Parker Beverage & Potable Water SS290 Hose Details
Food Suction Hose (Chlorobutyl Tube) - SW330 Series
TUBE

White chlorobutyl

REINFORCEMENT

Multiple textile plies with dual wire helix

COVER

Gray EPDM; wrapped finish

TEMPERATURE RANGE

-40°F to 225°F (-40°C to 107°C)

DESIGN FACTOR
4:1

INDUSTRY STANDARDS
FDA, PMO, USDA, 3-A

APPLICATIONS



Non-fatty and non-oily foods, liquids, milk, potable water, sanitary products


In-plant and tank transfer

Delivery, transport

VACUUM
Full

PACKAGING
Coils

Parker Food Suction SW330 Hose Details
TITANFLEX® Food Suction Hose (Chlorobutyl Tube) - SW630 Series
TUBE

White chlorobutyl

REINFORCEMENT

Multiple textile plies with dual wire helix

COVER

Gray EPDM; wrapped finish

TEMPERATURE RANGE

-40°F to 225°F (-40°C to 107°C)

DESIGN FACTOR
4:1

INDUSTRY STANDARDS
FDA, PMO, USDA, 3-A

APPLICATIONS



Non-fatty and non-oily foods, liquids, milk, potable water, sanitary products


In-plant and tank transfer

Delivery, transport

VACUUM
Full

PACKAGING
Coils

Parker TITANFLEX® SW630 Hose Details
HARVEST PLUS™ Food Suction Hose (Chlorobutyl Tube, Crush Resistant) - SM382 Series
TUBE

White chlorobutyl

REINFORCEMENT

Multiple textile plies with dual monofilament helix and dual static wire

COVER

Gray EPDM; wrapped finish

TEMPERATURE RANGE

-40°F to 225°F (-40°C to 107°C)

DESIGN FACTOR
4:1

INDUSTRY STANDARDS
FDA, PMO, USDA, 3-A

APPLICATIONS



Non-fatty and non-oily foods, liquids, milk, potable water, sanitary products


In-plant and tank transfer

Delivery, transport

VACUUM
Full (1-1/2" ID through 3" ID); 15" Hg (4" ID)

PACKAGING
Coils

Parker HARVEST PLUS™ SM382 Hose Details
LIGHT-N-BRIGHT™ Food Suction Hose (Chlorobutyl Tube, External PVC Helix) - SP330 Series - OBSOLETED
TUBE

White chlorobutyl

REINFORCEMENT

Multiple textile plies (with dual wire helix, 3" and 4" only)

COVER

Red synthetic rubber with external gray PVC helix

TEMPERATURE RANGE

-40°F to 225°F (-40°C to 107°C)

DESIGN FACTOR
4:1

INDUSTRY STANDARDS
FDA, PMO, USDA, 3-A

APPLICATIONS



Non-fatty and non-oily foods, liquids, milk, potable water, sanitary products


In-plant and tank transfer

Delivery, transport

VACUUM
Full (1-1/2" ID through 3" ID); 15" Hg (4" ID)

PACKAGING
Coils

COUPLINGS

Requires SP100 banding coils
Parker LIGHT-N-BRIGHT™ SP330 Hose Details
Brewers Discharge Hose (Chlorobutyl Tube) - SS200 Series
TUBE

White chlorobutyl

REINFORCEMENT

Multiple textile plies

COVER

Orange EPDM; wrapped finish

TEMPERATURE RANGE

-40°F to 180°F (-40°C to 82°C)

DESIGN FACTOR
4:1

INDUSTRY STANDARDS
FDA, PMO, USDA, 3-A

APPLICATIONS



Beer, wine, non-fatty and non-oily foods, liquids, milk, potable water, sanitary products


In-plant and tank transfer

Delivery, transport

VACUUM
Not recommended

PACKAGING
Coils

Parker Brewers Discharge SS200 Hose Details
Flour Hose (3/16" Natural Rubber Tube) - SW431 Series - OBSOLETED
TUBE
White natural rubber

REINFORCEMENT

Multiple textile plies with dual wire helix

COVER

Gray natural rubber; wrapped finish

TEMPERATURE RANGE

-20°F to 180°F (-29°C to 82°C)

DESIGN FACTOR
4:1

INDUSTRY STANDARDS
FDA, PMO, USDA, 3-A

APPLICATIONS



Flour, dry abrasive materials, grains, granules, pellets, powders, sugar

Non-fatty and non-oily foods, liquids, milk, potable water, sanitary products


In-plant and tank transfer, delivery, transport

VACUUM
Full

PACKAGING
Coils

Parker Flour SW431 Hose Details
Food Discharge Hose (Natural Rubber Tube) - SS231 Series
TUBE
White natural rubber

REINFORCEMENT

Multiple textile plies with dual static wire

COVER

Gray natural rubber; wrapped finish

TEMPERATURE RANGE

-40°F to 150°F (-40°C to 66°C)

DESIGN FACTOR
4:1

INDUSTRY STANDARDS
FDA, PMO, USDA, 3-A

APPLICATIONS



Flour, dry abrasive materials, grains, granules, pellets, powders, sugar

Non-fatty and non-oily foods, liquids, milk, potable water, sanitary products


In-plant and tank transfer, delivery, transport

VACUUM
Not recommended

PACKAGING
Coils

Parker Food Discharge SS231 Hose Details
Food Suction / Hot Air Blower Hose (EPDM Tube) - SW319 Series
<
TUBE
White EPDM

REINFORCEMENT

Multiple textile plies with dual wire helix

COVER

Gray EPDM; wrapped finish

TEMPERATURE RANGE

-20°F to 325°F [350°F intermittent] (-29°C to 163°C [177°C intermittent])

DESIGN FACTOR
4:1

INDUSTRY STANDARDS
FDA, PMO, USDA, 3-A

APPLICATIONS



Flour, dry abrasive materials, grains, granules, pellets, powders, sugar

Non-fatty and non-oily foods, liquids, milk, potable water, sanitary products


Hot air blower systems

In-plant and tank transfer, delivery, transport

VACUUM
Full

PACKAGING
Coils

Parker Food Suction SW319 Hose Details
EXACT-CHEM™ Modified XLPE Chemical & Food Suction Hose - SW383 Series
TUBE

Tan modified cross-linked polyethylene (MXLPE)

REINFORCEMENT

Multiple textile plies with dual wire helix

COVER

Blue EPDM; wrapped finish

TEMPERATURE RANGE

-40°F to 180°F (-40°C to 82°C)

DESIGN FACTOR
4:1

INDUSTRY STANDARDS
FDA, USDA, 3-A

APPLICATIONS



Non-fatty and non-oily foods and liquids, potable water, sanitary products

Acids, chemicals, solvents

In-plant and tank transfer

Delivery, transport

VACUUM
Full

COMPARE TO

Boston Panther Chemical Transfer; Gates Mustang 45HW; Veyance Blue Flexwing

PACKAGING
Coils

Parker EXACT-CHEM™ SW383 Hose Details
FEP Chemical & Food Suction Hose - SW373 Series
TUBE
White fluorinated ethylene propylene (FEP)

REINFORCEMENT

Multiple textile plies with dual wire helix

COVER

Yellow EPDM; wrapped finish

TEMPERATURE RANGE

-40°F to 300°F (-40°C to 149°C)

DESIGN FACTOR
4:1

INDUSTRY STANDARDS
FDA, USDA, 3-A

APPLICATIONS



Non-fatty and non-oily foods and liquids, potable water, sanitary products

Acids, chemicals, solvents

In-plant and tank transfer

Delivery, transport

VACUUM
Full

PACKAGING
Coils

Parker FEP SW373 Hose Details
TITANFLEX® FEP Chemical & Food Suction Hose - SW574 Series
TUBE
White fluorinated ethylene propylene (FEP)

REINFORCEMENT

Multiple textile plies with dual wire helix

COVER

Blue EPDM; wrapped finish

TEMPERATURE RANGE

-40°F to 300°F (-40°C to 149°C)

DESIGN FACTOR
4:1

INDUSTRY STANDARDS
FDA, USDA, 3-A

APPLICATIONS



Non-fatty and non-oily foods and liquids, potable water, sanitary products

Acids, chemicals, solvents

In-plant and tank transfer

Delivery, transport

VACUUM
Full

PACKAGING
Coils

Parker TITANFLEX® SW574 Hose Details
TITANFLEX® Corrugated Chemical & Food Suction Hose - SW693 Series
TUBE

Translucent ultra high molecular weight polyethylene (UHMWPE)

REINFORCEMENT

Multiple textile plies with dual wire helix

COVER

Green EPDM; corrugated wrapped finish

TEMPERATURE RANGE

-40°F to 250°F (-40°C to 121°C)

DESIGN FACTOR
4:1

INDUSTRY STANDARDS
FDA, USDA, 3-A

APPLICATIONS

Non-fatty and non-oily foods and liquids, potable water, sanitaryproducts

Acids, chemicals, solvents

In-plant and tank transfer, delivery, transport

VACUUM
Full

PACKAGING
Coils

Parker TITANFLEX® SW693 Hose Details