Oil Field Industrial Hoses | Parker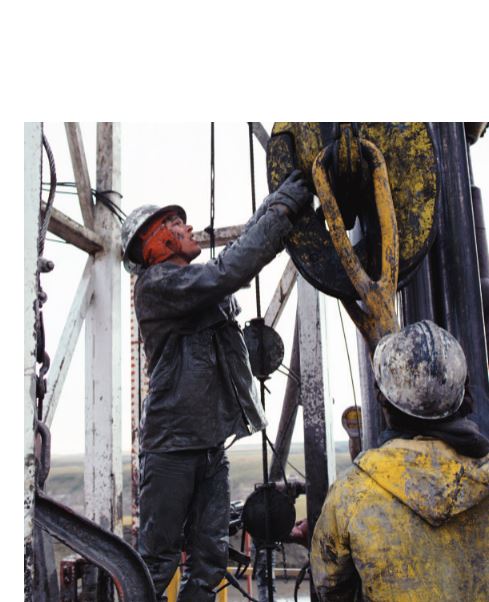 Parker Hannifin is a premier world-wide supplier of Industrial Hose for wide range of industrial applications. New hoses are continuously being developed for emerging and established industries alike. For special applications, custom hoses are also available.
Oil Field hoses are designed to handle crude oil, petroleum waste, slurries and other mediums found in the extreme conditions of oil field worksites. This category also includes high pressure jetting, frac tank and hot oiler hoses.
BS&W™ Oil Field Suction/Vacuum Hose - 7208E Series
TUBE

Black nitrile/SBR

REINFORCEMENT

Multiple textile plies with wire helix

COVER

Black nitrile/SBR; wrapped finish

TEMPERATURE RANGE

-22°F to 185°F (-30°C to 85°C)

INDUSTRY STANDARDS

None applicable

APPLICATIONS

Brine, crude oil, mild chemicals, petroleum waste, sediments, sludges, slurries, water

Oil field waste recovery, general industrial

VACUUM

Full

COMPARE TO:

Jason Tupelo 4677; Kuriyama T601AA; Texcel Tex-Vac; Veyance Flextra Oilfield

PACKAGING

Coils
Parker BS&W™ Oil Field Hose Details
BS&W™ Corrugated Oil Field Suction/Vacuum Hose - 7213E Series
TUBE

Black nitrile/SBR

REINFORCEMENT

Multiple textile plies with wire helix

COVER

Black nitrile/SBR; corrugated wrapped finish

TEMPERATURE RANGE

-22°F to 185°F (-30°C to 85°C)

INDUSTRY STANDARDS

None applicable

APPLICATIONS

Brine, crude oil, mild chemicals, petroleum waste, sediments, sludges, slurries, water

Oil field waste recovery, general industrial

VACUUM

Full

COMPARE TO:

Jason Tupelo 4677; Kuriyama T601AA; Texcel Tex-Vac; Veyance Flextra Oilfield

PACKAGING

Coils
Parker BS&W™ Corrugated Oil Field Hose Details
TITANFLEX® Corrugated Oil Field Suction/Vacuum Hose - SWC509 Series
TUBE

Black nitrile

REINFORCEMENT

Multiple textile plies with dual wire helix

COVER

Black SBR; corrugated wrapped finish

TEMPERATURE RANGE

-40°F to 160°F (-40°C to 71°C)

DESIGN FACTOR
4:1
INDUSTRY STANDARDS

None applicable

APPLICATIONS

Brine, crude oil, mild chemicals, petroleum waste, sediments, sludges, slurries, water

Oil field equipment and service trucks


VACUUM

Full

COMPARE TO:

Jason Tupelo 4677; Kuriyama T601AA; Texcel Tex-Vac; Veyance Flextra Oilfield

PACKAGING

Coils
Parker TITANFLEX® Hose Details
Corrugated Fracturing (Frac) Tank Hose -7307 Series
TUBE

Black nitrile/SBR

REINFORCEMENT

Multiple textile plies with wire helix

COVER

Black nitrile/SBR; corrugated wrapped finish

TEMPERATURE RANGE

-20°F to 180°F (-28°C to 82°C)

DESIGN FACTOR
3:1
INDUSTRY STANDARDS

None applicable

APPLICATIONS

Brine, crude oil, mild chemicals, petroleum waste, sediments, sludges, slurries, water

Frac tank transfer, oil field waste recovery, general industrial

VACUUM

Full

COMPARE TO:

Texcel SuperFrac

PACKAGING

Coils
Parker Corrugated Frac Tank Hose Details
High Pressure Jetting Hose - 7335 Series
TUBE

Black SBR

REINFORCEMENT

Multiple textile plies

COVER

Black SBR; wrapped finish

TEMPERATURE RANGE

-40°F to 180°F (-40°C to 82°C)

DESIGN FACTOR

4:1

INDUSTRY STANDARDS

None applicable

APPLICATIONS

Slurries, water

Cable cover, cleaning, stripping, washdown

Construction, general industrial, oil field, shipyards

VACUUM

Not recommended

PACKAGING

Coils
Parker High Pressure Jetting Hose Details
High Pressure Jetting Hose - SS111 Series
TUBE

Black SBR

REINFORCEMENT

Multiple textile plies

COVER

Black SBR; wrapped finish

TEMPERATURE RANGE

-40°F to 180°F (-40°C to 82°C)

DESIGN FACTOR

4:1

INDUSTRY STANDARDS

None applicable

APPLICATIONS

Slurries, water

Cable cover, cleaning, stripping, washdown

Construction, general industrial, oil field, shipyards

VACUUM

Not recommended

PACKAGING

Coils
Parker High Pressure Jetting Hose Details
Mud Discharge Hose - 7309 Series
TUBE

Black nitrile; ARPM Class A Oil resistance

REINFORCEMENT

Multiple textile plies with static wire

COVER

Black chloroprene; wrapped finish

TEMPERATURE RANGE

-20°F to 180°F (-28°C to 82°C)

DESIGN FACTOR

4:1

INDUSTRY STANDARDS

ARPM Class A oil resistant tube

APPLICATIONS

Drilling mud, mild chemicals, oil, water

General industrial, oil field

VACUUM

Not recommended

PACKAGING

Coils
Parker Mud Discharge Hose Details
Mud Suction Hose - TKW160 Series
TUBE

Black nitrile

REINFORCEMENT

Multiple textile plies with wire helix

COVER

Black synthetic rubber; wrapped finish

TEMPERATURE RANGE

-40°F to 180°F (-40°C to 82°C)

DESIGN FACTOR

4:1

INDUSTRY STANDARDS

None applicable

APPLICATIONS

Drilling mud, mild chemicals, oily water, sewage

General industrial, oil field

VACUUM

Full

COUPLINGS

Plain ends or ends per customer specification

PACKAGING

Coils; straight lengths in bales or slat packs
Parker Mud Suction Hose Details
WILDCATTER® Slim Hole Rotary Drill Hose - 7234 Series
TUBE

Black nitrile

REINFORCEMENT

Multiple wire plies

COVER

Black nitrile/PVC; wrapped finish

TEMPERATURE RANGE

-40°F to 200°F (-40°C to 93°C)

DESIGN FACTOR

3.3:1

INDUSTRY STANDARDS

None applicable

APPLICATIONS

Cement solutions, mild chemicals, oil, water

Portable drilling units, workover rigs

General industrial, oil field

VACUUM

Not recommended

COMPARE TO:

Gates Powerbraid Plus Slim Rotary Hole

PACKAGING

Coils
Parker WILDCATTER® Rotary Drill Hose Details
WILDCATTER® Hot Oiler Hose - 7301 Series
TUBE

Black chloroprene

REINFORCEMENT

Multiple wire braids

COVER

Black chloroprene; wrapped finish

TEMPERATURE RANGE

-40°F to 275°F/300°F (-40°C to 135°C/159°C)

DESIGN FACTOR

3:1

INDUSTRY STANDARDS

None applicable

APPLICATIONS

Hot asphalt, glue, tar, oil, wax

In-plant transfer, delivery trucks


Construction, general industrial, oil field

VACUUM

Not recommended

PACKAGING

Coils
Parker WILDCATTER® Hot Oiler Hose Details
WILDCATTER® Multipurpose Fracking Hose - 7331/7331XT Series
TUBE
Black nitrile; ARPA Class A oil resistant

REINFORCEMENT
Multiple textile plies with one wire helix

COVER

Black nitrile blend; 7331XT: sleek UHMWPE abrasion resistant finish


TEMPERATURE RANGE

-40°F to 200°F (-40°C to 93°C)

DESIGN FACTOR

4:1

INDUSTRY STANDARDS

None applicable

APPLICATIONS

Biodiesel (to B20 in dedicated service), diesel, ethanol, gasoline, oil


Brine, mild chemicals, fracking fluis, drilling mud, petroleum waste, slurries, water

General industrial

VACUUM
Full

PACKAGING

Coils