Petroleum (Aircraft) Industrial Hoses | Parker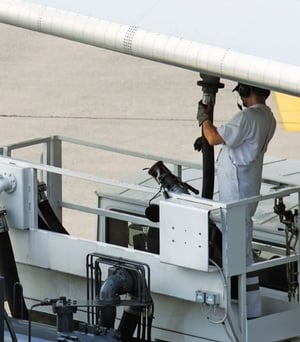 Parker Hannifin is a premier world-wide supplier of Industrial Hose for wide range of industrial applications. New hoses are continuously being developed for emerging and established industries alike. For special applications, custom hoses are also available.
Petroleum Aircraft hoses are designed for aircraft fueling applications. Premium nitrile tubing in Parker's aircraft fueling hoses reduce permeation and prevent contamination of the product, while pneumatic air hose systems prevent fuel spills and monitor pressure and flow.

GOLD LABEL® Aircraft Fueling Hose - 7775 Series
| | |
| --- | --- |
| TUBE | Black nitrile |
| REINFORCEMENT | Multiple textile plies |
| COVER | Static conductive black nitrile; wrapped finish |
| TEMPERATURE RANGE | -40°F to 180°F (-40°C to 82°C) |
| DESIGN FACTOR | 4:1 |
| INDUSTRY STANDARDS | API 1529:2005, Type C, Grade 1; NFPA 407:2007 |
| APPLICATIONS | Aircraft fueling with avgas and jet fuel |
| VACUUM | Not recommended |
| COMPARE TO: | Veyance Advantage |
| PACKAGING | Coils |
Parker GOLD LABEL® 7775 Hose Details
GOLD LABEL® Aircraft Fueling Hose - 7776 Series
| | |
| --- | --- |
| TUBE | Black nitrile |
| REINFORCEMENT | Multiple textile plies |
| COVER | Static conductive black nitrile; wrapped finish |
| TEMPERATURE RANGE | -40°F to 180°F (-40°C to 82°C) |
| DESIGN FACTOR | 4:1 |
| INDUSTRY STANDARDS | API 1529:2005, Type E, Grade 2; NFPA 407:2007; BS EN1361:2004 |
| APPLICATIONS | Aircraft fueling with avgas and jet fuel |
| VACUUM | To 8" Hg |
| COMPARE TO: | Contitech Elaflex HD-C; Veyance Jet Ranger & Wingcraft; Semperit 48137 TAPC |
| PACKAGING | Coils |
Parker GOLD LABEL® 7776 Hose Details
GOLD LABEL® Cold Temperature Aircraft Fueling Hose - 7776CT Series
| | |
| --- | --- |
| TUBE | Black nitrile |
| REINFORCEMENT | Multiple textile plies |
| COVER | Static conductive black nitrile; wrapped finish |
| TEMPERATURE RANGE | >-55°F to 180°F (-48°C to 82°C) |
| DESIGN FACTOR | 4:1 |
| INDUSTRY STANDARDS | API 1529:2005, Type C-CT, Grade 2; NFPA 407:2007 |
| APPLICATIONS | Aircraft fueling with avgas and jet fuel in cold temperature environments |
| VACUUM | To 8" Hg |
| COMPARE TO: | Contitech Elaflex HDLT-C |
| PACKAGING | Coils |
Parker GOLD LABEL® 7776CT Hose Details
GOLD LABEL® Jac-Riser Aircraft Fueling Hose - 7777 Series
| | |
| --- | --- |
| TUBE | Black nitrile |
| REINFORCEMENT | Multiple textile plies with dual wire helix |
| COVER | Static conductive black nitrile; wrapped finish |
| TEMPERATURE RANGE | -40°F to 180°F (-40°C to 82°C) |
| DESIGN FACTOR | 4:1 |
| INDUSTRY STANDARDS | API 1529:2005, Type E, Grade 2; NFPA 407:2007; BS EN1361:2004 |
| APPLICATIONS | Aircraft fueling and defueling/unloading with avgas and jet fuel |
| VACUUM | Full |
| COMPARE TO: | Contitech Elaflex TW; Eaton Carter 64405; Semperit 56132 TAPE |
| PACKAGING | Coils |
Parker GOLD LABEL® Jac-Riser 7777 Hose Details
Deadman Twin Sensing Hose - 7139 Series
| | |
| --- | --- |
| TUBE | Black nitrile |
| REINFORCEMENT | Multiple textile plies |
| COVER | Red and green chloroprene; smooth finish |
| TEMPERATURE RANGE | -30°F to 200°F (-34°C to 93°C) |
| DESIGN FACTOR | 4:1 |
| INDUSTRY STANDARDS | None applicable |
| APPLICATIONS | Air hose incorporated in pneumatic closed-circuit control systems associated with aircraft refueling operations |
| VACUUM | Not rated |
| COMPARE TO: | Carter 64406; Veyance Deadman Aircraft Refueling |
| PACKAGING | Reels |
Parker Deadman Twin Sensing Hose 7139 Details
Twin Sensing Hose - 7140 Series
| | |
| --- | --- |
| TUBE | Black nitrile |
| REINFORCEMENT | Multiple textile plies |
| COVER | Yellow and green chloroprene; smooth finish |
| TEMPERATURE RANGE | -30°F to 200°F (-34°C to 93°C) |
| DESIGN FACTOR | 4:1 |
| INDUSTRY STANDARDS | None applicable |
| APPLICATIONS | Air hose incorporated in pneumatic closed-circuit control systems associated with aircraft refueling operations |
| VACUUM | Not rated |
| COMPARE TO: | Carter 64407; Veyance Refueling Sensing |
| PACKAGING | Reels |
Parker Twin Sensing Hose 7140 Details