Petroleum Transport Industrial Hoses | Parker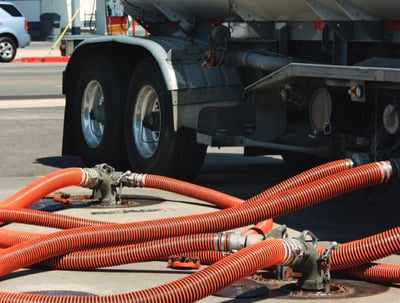 Parker Hannifin is a premier world-wide supplier of Industrial Hose for wide range of industrial applications. New hoses are continuously being developed for emerging and established industries alike. For special applications, custom hoses are also available.
Petroleum Transport hoses are designed for oil and fuel delivery/transport applications, with oil-resistant covers and electrical discharge paths that conduct static charge to the ground. These hoses can handle biodiesel, diesel, ethanol, gasoline and other petroluem-based mediums.
TRANSLITE® - Tank Truck Hose - 7216/7217 Series
TUBE

Black nitrile

REINFORCEMENT

Multiple textile plies with wire helix

COVER

7216: Black nitrile; wrapped finish

7217: Red chloroprene; wrapped finish

TEMPERATURE RANGE

-40°F to 180°F (-40°C to 82°C)

DESIGN FACTOR

4:1

INDUSTRY STANDARDS

None applicable

APPLICATIONS

Biodiesel (to B20 in dedicated service), diesel, ethanol, gasoline, oil

In-plant and storage tank transfer

Delivery, transport

VACUUM

Full

COMPARE TO:

Boston Puma; Gates Longhorn; Veyance Plicord Flexwing

PACKAGING

Coils
Parker TRANSLITE® Tank Truck Hose Details
TRANSLITE® - Tank Truck Hose - 7216E Series
TUBE

Black nitrile

REINFORCEMENT

Multiple textile plies with dual wire helix

COVER

Black synthetic rubber; wrapped finish

TEMPERATURE RANGE

-35°F to 180°F (-37°C to 82°C)

INDUSTRY STANDARDS

None applicable

APPLICATIONS

Biodiesel (to B20 in dedicated service), diesel, ethanol, gasoline, oil

In-plant and storage tank transfer

Delivery, transport

VACUUM

Full

COMPARE TO:

Boston Puma; Gates Longhorn; Kuriyama T605AA; Veyance Plicord Flexwing Petroleum

PACKAGING

Coils
Parker TRANSLITE Tank Truck Hose Details
Petroleum Suction and Discharge Hose - SW333 Series
TUBE

Black nitrile

REINFORCEMENT

Multiple textile plies with dual wire helix

COVER

Black nitrile; wrapped finish

TEMPERATURE RANGE

-40°F to 180°F (-40°C to 82°C)

DESIGN FACTOR

4:1

INDUSTRY STANDARDS

None applicable

APPLICATIONS

Biodiesel (to B100 in dedicated service), diesel, ethanol, gasoline, oil

High pressure in-plant and storage tank transfer

High pressure bulk loading/unloading rail cars and tank trucks, delivery, transport

VACUUM

Full

PACKAGING

Coils
Parker Petroleum Suction & Discharge Hose Details
Heavy Duty Tank Truck Hose - 7330 Series
TUBE

Black nitrile

REINFORCEMENT

Multiple textile plies with helix wire

COVER

Black chloroprene; wrapped finish

TEMPERATURE RANGE

-20°F to 180°F (-29°C to 82°C)

DESIGN FACTOR

4:1

INDUSTRY STANDARDS

None applicable

APPLICATIONS

Biodiesel (to B100 in dedicated service), diesel, ethanol, gasoline, oil

High pressure in-plant and storage tank transfer

High pressure bulk loading/unloading; delivery, transport

VACUUM

Full

COMPARE TO:

Veyance Plicord Super Black Flexwing

PACKAGING

Coils
Parker Heavy Duty Tank Truck Hose Details
TITANFLEX® Corrugated Tank Truck Hose - SWC609/SWC609R Series
TUBE

Black nitrile

REINFORCEMENT

Multiple textile plies with dual wire helix

COVER

SWC609: Black nitrile; corrugated wrapped finish

SWC609R: Red nitrile; corrugated wrapped finish

TEMPERATURE RANGE

-40°F to 180°F (-40°C to 82°C)

DESIGN FACTOR

4:1

INDUSTRY STANDARDS

None applicable

APPLICATIONS

Biodiesel (to B100 in dedicated service), diesel, ethanol, gasoline, oil

In-plant and storage tank transfer

Delivery, transport

VACUUM

Full

COMPARE TO:

Boston Bobcat; Gates Longhorn; Thermoid Transporter; Veyance Flextra

PACKAGING

Coils
Parker TITANFLEX® Corrugated Tank Truck Hose Details
PETROMAX® Corrugated Tank Truck Hose - SWC316/SWC316R Series
TUBE

Black nitrile

REINFORCEMENT

Multiple textile plies with dual wire helix

COVER

SWC316: Black nitrile; corrugated wrapped finish

SWC316R: Red nitrile; corrugated wrapped finish

TEMPERATURE RANGE

-40°F to 180°F (-40°C to 82°C)

DESIGN FACTOR

4:1

INDUSTRY STANDARDS

None applicable

APPLICATIONS

Biodiesel (to B100 in dedicated service), diesel, ethanol, gasoline, oil

In-plant and storage tank transfer

Delivery, transport

VACUUM

Full

COMPARE TO:

Boston Puma; Gates Longhorn; Kuriyama T605AA; Veyance Plicord Flexwing Petroleum

PACKAGING

Coils
Parker PETROMAX® Corrugated Tank Truck Hose Details
GREEN LABEL™ Corrugated Tank Truck Hose - 7705 Series
TUBE

Black nitrile

REINFORCEMENT

Multiple textile plies with dual helix wire

COVER

Black nitrile/PVC; corrugated wrapped finish

TEMPERATURE RANGE

-20°F to 180°F (-29°C to 82°C)

DESIGN FACTOR

4:1

INDUSTRY STANDARDS

None applicable

APPLICATIONS

Biodiesel (to B100 in dedicated service), diesel, ethanol, gasoline, oil

In-plant and storage tank transfer

Delivery, transport

VACUUM

Full

PACKAGING

Coils
GREEN LABEL Corrugated Tank Truck Hose Details
ARCTIC TRANSLITE® Low Temperature Corrugated Tank Truck Hose - SWC325 Series
TUBE

Black nitrile

REINFORCEMENT

Multiple textile plies with dual helix wire

COVER

Black nitrile; corrugated wrapped finish

TEMPERATURE RANGE

-67°F to 180°F (-55°C to 82°C)

DESIGN FACTOR

4:1

INDUSTRY STANDARDS

None applicable

APPLICATIONS

Biodiesel (to B100 in dedicated service), diesel, ethanol, gasoline, oil

Low temperature in-plant and storage tank transfer

Low temperature delivery, transport

VACUUM

Full

PACKAGING

Coils
Parker ARCTIC TRANSLITE® Low Temp Corrugated Tank Truck Hose Details
LIGHT-N-BRIGHT™ Plus Corrugated Petroleum Drop Hose - SP204 Series
TUBE

Black nitrile

REINFORCEMENT

Multiple textile plies with static wire

COVER

Black nitrile with external orange PVC helix

TEMPERATURE RANGE

-40°F to 150°F (-40°C to 65°C)

DESIGN FACTOR

4:1

INDUSTRY STANDARDS

None applicable

APPLICATIONS

Biodiesel (to B100 in dedicated service), diesel, ethanol, gasoline, oil

In-plant and storage tank transfer; transport, delivery


Drop/gravity flow service

VACUUM

Full

PACKAGING

Coils
Parker LIGHT-N-BRIGHT Plus Corrugated Petroleum Drop Hose Details
LIGHT-N-BRIGHT™ Corrugated Tank Truck Hose - SP353 Series - OBSOLETED
TUBE

Black nitrile

REINFORCEMENT

Multiple textile plies with static wire

COVER

Black nitrile with external red PVC helix

TEMPERATURE RANGE

-40°F to 150°F (-40°C to 65°C)

DESIGN FACTOR

4:1

INDUSTRY STANDARDS

None applicable

APPLICATIONS

Biodiesel (to B100 in dedicated service), diesel, ethanol, gasoline, oil

In-plant and storage tank transfer; transport, delivery


Drop/gravity flow; pump-off service

VACUUM

Full

PACKAGING

Coils
Parker LIGHT-N-BRIGHT® Corrugated Tank Truck Hose Details
Heavy Duty Tank Truck Hose - EW353 Series
TUBE

Black nitrile

REINFORCEMENT

Multiple textile plies with wire helix

COVER

Black nitrile; wrapped finish

TEMPERATURE RANGE

-40°F to 180°F (-40°C to 82°C)

DESIGN FACTOR

4:1

INDUSTRY STANDARDS

None applicable

APPLICATIONS

Biodiesel (to B100 in dedicated service), diesel, ethanol, gasoline, oil

In-plant and storage tank transfer

Bulk loading/unloading rail cars and tank trucks; delivery, transport

VACUUM

Full

PACKAGING

Straight lengths
Parker Heavy Duty Tank Truck Hose Details
Lightweight Petroleum Discharge Hose - SS107/SS107R Series
TUBE

Black nitrile

REINFORCEMENT

Multiple textile plies with static wire

COVER

SS107: Black nitrile; wrapped finish

SS107R: Red chloroprene; wrapped finish

TEMPERATURE RANGE

-40°F to 180°F (-40°C to 82°C)

DESIGN FACTOR

4:1

INDUSTRY STANDARDS

None applicable

APPLICATIONS

Biodiesel (to B100 in dedicated service), diesel, ethanol, gasoline, oil

In-plant and storage tank transfer

Delivery/transport discharge

VACUUM

Not recommended

COMPARE TO:

Gates Steer; Veyance Plicord Fuel Delivery

PACKAGING

Coils
Parker Lightweight Petroleum Discharge Hose Details
Heavy Duty Petroleum Discharge Hose - ES145 Series
TUBE

Black nitrile

REINFORCEMENT

Multiple textile plies with static wire

COVER

Black nitrile; wrapped finish

TEMPERATURE RANGE

-40°F to 180°F (-40°C to 82°C)

DESIGN FACTOR

4:1

INDUSTRY STANDARDS

None applicable

APPLICATIONS

Biodiesel (to B100 in dedicated service), diesel, ethanol, gasoline, oil

High pressure in-plant and storage tank transfer

High pressure bulk loading rail cars and tank trucks; delivery/transport discharge

VACUUM

Not recommended

PACKAGING

Coils
Parker Heavy Duty Petroleum Discharge Hose Details
Lightweight Petroleum Discharge Hose - SS254 Series
TUBE

Black nitrile

REINFORCEMENT

Multiple textile plies with static wire

COVER

Black nitrile; wrapped finish

TEMPERATURE RANGE

-40°F to 180°F (-40°C to 82°C)

DESIGN FACTOR

4:1

INDUSTRY STANDARDS

None applicable

APPLICATIONS

Biodiesel (to B100 in dedicated service), diesel, ethanol, gasoline, oil

In-plant and storage tank transfer/discharge

Delivery/transport discharge

VACUUM

Not recommended

PACKAGING

Coils
Parker Lightweight Petroleum Discharge Hose Details
MPW-1000® High Pressure Wire Braid Multipurpose Hose - 7204 Series
TUBE

Black nitrile

REINFORCEMENT

One wire braid

COVER

Black chloroprene; perforated wrapped finish

TEMPERATURE RANGE

Steam: -20°F to 368°F (-29°C to 187°C), saturated steam to 150 psi max WP

Other: -20°F to 300°F (-29C to 149°C)/ 350°°C) intermittent

DESIGN FACTOR

4:1 (10.1 Steam)

INDUSTRY STANDARDS

None applicable

APPLICATIONS

Air, mild chemicals, oil, water; hot asphalt, glue, tar and wax; biodiesel (to B20 in dedicated service), diesel, ethanol, gasoline

High pressure washdown; cleaning containment vessels and manufacturing equipment; cleaning and heating processing equipment

Construction, general industrial, refineries

VACUUM

Not recommended

COMPARE TO:

Boston Hot Tar Pumping; Gates 319MB Gold Master; Veyance Pyroflex

PACKAGING

Reels
Parker MPW-1000® High Pressure Wire Braid Multipurpose Hose Details
Hot Tar & Asphalt Hose - SW387 Series
TUBE

Black nitrile

REINFORCEMENT

Multiple textile plies with dual wire helix

COVER

Black nitrile; wrapped finish

TEMPERATURE RANGE

-40°F to 300°F (-40°C to 177°C)

DESIGN FACTOR

4:1

INDUSTRY STANDARDS

None applicable

APPLICATIONS

Hot asphalt, glue, oil, tar and wax; biodiesel (to B100 in dedicated service), diesel, ethanol, gasoline

In-plant and storage tank transfer

Delivery, transport applicator trucks

VACUUM

Full

COMPARE TO:

Boston Black Cat; Thermoid Transporter; Veyance Pyroflex

PACKAGING

Coils
Parker Hot Tar and Asphalt Hose Details
E-Z FORM™ MP Multipurpose Hose - 7219 Series
TUBE

Black nitrile

REINFORCEMENT

Multiple textile plies with wire helix

COVER

Black chloroprene; Greek corrugated finish

TEMPERATURE RANGE

-20°F to 200°F (-29°C to 93°C)

DESIGN FACTOR

4:1

INDUSTRY STANDARDS

None applicable

APPLICATIONS

Biodiesel (to B20 in dedicated and non-dedicated service), diesel, ethanol, gasoline, oil

Oil suction/return lines; vehicle fuel fill connector lines


Agricultural equipment, construction equipment, off-road equipment

VACUUM

Full

PACKAGING

Coils
Parker E-Z FORM™ MP Multipurpose Hose Details