Specialty Industrial Hoses | Parker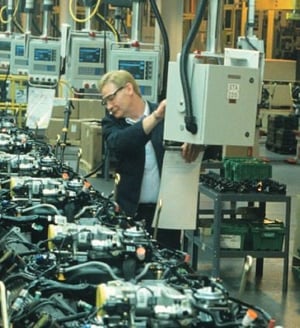 Parker Hannifin is a premier world-wide supplier of Industrial Hose for wide range of industrial applications. New hoses are continuously being developed for emerging and established industries alike. For special applications, custom hoses are also available.
Specialty industrial hoses are designed for specific tasks and applications with conditions that other industrial hoses can't meet. These specially formulated hoses can often handle higher temperatures with flame resistant materials, or have tougher barriers to prevent permeation and contamination.
E-Z FORM™ GS General Service Hose - 7395 Series
TUBE

Black EPDM

REINFORCEMENT

Multiple textile plies with wire helix

COVER

Black EPDM; Greek corrugated finish

TEMPERATURE RANGE

-40°F to +257°F (-40°C to +125°C)

DESIGN FACTOR

4:1

INDUSTRY STANDARDS

SAE J20R2-D1 performance

APPLICATIONS

Air, coolant, mild chemicals, water

Coolant systems, drain lines, vacuum service

SAE-performance in engine coolant service, general industrial

VACUUM

Full

PACKAGING

Coils
Parker E-Z FORM™ GS 7395 Hose Details
E-Z FORM™ MP Multipurpose Hose - 7219 Series
TUBE

Black nitrile

REINFORCEMENT

Multiple textile plies with wire helix

COVER

Black chlorophene; Greek corrugated finish

TEMPERATURE RANGE

-20°F to 200°F (-29°C to 93°C)

DESIGN FACTOR

4:1

INDUSTRY STANDARDS

None applicable

APPLICATIONS

Biodiesel (to B20 in dedicated and non-dedicated service), diesel, ethanol, gasoline, oil

Oil suction/return lines; vehicle fuel fill connector lines


Agricultural equipment, construction equipment, off-road equipment

VACUUM

Full

PACKAGING

Coils
Parker E-Z FORM™ MP 7219 Hose Details
SOFT-FLEX™ DEF Dispenser Hose - 7116M Series
TUBE

Black EPDM, peroxide cured

REINFORCEMENT
Multiple textile plies

COVER

Black EPDM; smooth finish

TEMPERATURE RANGE

-40°F to 212°F (-40°C to 100°C)

DESIGN FACTOR

4:1

INDUSTRY STANDARDS

None applicable

APPLICATIONS

DEF, urea


Dispensing for buses, trucks, mobile equipment

Agriculture, construction, transportation

VACUUM

Not recommended

COMPARE TO:

Flextral PE60; Veyance DEF Dispensing Hose

PACKAGING

Reels, cartons
Parker SOFT-FLEX™ 7116M Hose Details
CARBOBLUE™ DEF Suction Hose - 7215 Series
TUBE

Black EPDM, peroxide cured

REINFORCEMENT

Multiple textile plies with wire helix

COVER

Black EPDM; wrapped finish

TEMPERATURE RANGE

-40°F to 212°F (-40°C to 100°C)

DESIGN FACTOR
3:1
INDUSTRY STANDARDS

None applicable

APPLICATIONS

DEF, urea


Suction and transfer, tank to pump

Agriculture, construction, transportation

VACUUM

Full

PACKAGING
Coils, cartons

Parker CARBOBLUE™ 7215 Hose Details
SUPER-FLEX® FL-7 Barrier Fuel Line Hose - 389 Series
TUBE

Black nitrile and translucent THV barrier

REINFORCEMENT

Multiple aramid plies

COVER

Black CPE, smooth finish

TEMPERATURE RANGE

-40°F to 257°F (-40°C to 125°C)

DESIGN FACTOR

5:1

INDUSTRY STANDARDS

CARB 2006 SORE, EPA, SAE J30R7, SAE J30R14T2

APPLICATIONS

Low pressure fuel lines on blowers, grinders, mowers, off-road engines, pressure washers, saws


Biodiesel (to B20 in dedicated and non-dedicated service), diesel, ethanol, gasoline

Agricultural equipment, autos, buses, construction equipment, off-road equipment

VACUUM

24" Hg (3/16" through 3/8" ID); 10" Hg (1/2" through 3/4" ID)

PACKAGING

Reels
Parker SUPER-FLEX® FL-7 389 Hose Details
SUPER-FLEX FL Barrier Fuel Line Hose - 397 Series
TUBE

Black nitrile and translucent thermoplastic barrier

REINFORCEMENT

One textile braid or multiple textile plies

COVER

Black CPE, smooth finish

TEMPERATURE RANGE

-30°F to 257°F (-34°C to 125°C)

DESIGN FACTOR

5:1

INDUSTRY STANDARDS

CARB 2006 SORE, EPA, SAE J30R7 (performance)

APPLICATIONS

Low pressure fuel lines on blowers, grinders, mowers, off-road engines, pressure washers, saws


Biodiesel (to B100 in dedicated and non-dedicated service), diesel, ethanol, gasoline

Agricultural equipment, autos, buses, construction equipment, off-road equipment

VACUUM

24" Hg (3/16" through 3/8" ID); 10" Hg (1/2" through 3/4" ID)

COMPARE TO:

Avon Greenbar; Mark IV PermaSeal

PACKAGING

Reels
Parker SUPER-FLEX® FL 397 Hose Details
Fuel Line/Vapor Emission Hose - 395 Series
TUBE

Black nitrile

REINFORCEMENT
Multiple textile plies

COVER

Black chloroprene, smooth finish

TEMPERATURE RANGE

-40°F to 257°F (-40°C to 125°C)

DESIGN FACTOR

5:1

INDUSTRY STANDARDS

SAE J30R7

APPLICATIONS

Low pressure fuel lines, vapor emission service


Biodiesel (to B20 in dedicated and non-dedicated service), diesel, ethanol, gasoline

Agricultural equipment, autos, buses, construction equipment, off-road equipment

VACUUM

24" Hg (3/16" through 3/8" ID); 10" Hg (1/2" ID)

COMPARE TO:

Thermoid Fueling, Vapor Emission and Crankcase Ventilation SAE 30R7

PACKAGING

Coils
Parker Fuel Line/Vapor Emission 395 Hose Details
LP Gas Hose Stainless Steel Reinforced (Textile Cover) - 7243 Series
TUBE

Black nitrile

REINFORCEMENT

One stainless steel braid

COVER

Black chloroprene-impregnated textile braid

TEMPERATURE RANGE

-40°F to 180°F (-40°C to 82°C) (Note: The hose construction is capable of this rating, but LP gas should NEVER be conveyed over 140°F°C)

DESIGN FACTOR

5:1

INDUSTRY STANDARDS

UL21

APPLICATIONS

LP gas/propane


Fork lifts

VACUUM

Not recommended

COMPARE TO:

Gates Stainless Steel LPG

PACKAGING

Reels

COUPLINGS

Parker Series 20 reattachable
Parker LP Gas 7243 Hose Details
Heater Hose - 7181 Series
TUBE

Black EPDM

REINFORCEMENT
Multiple textile plies

COVER

Black EPDM, smooth finish

TEMPERATURE RANGE

-40°F to 257°F (-40°C to 125°C)

DESIGN FACTOR

4:1

INDUSTRY STANDARDS

SAE 20R3EC Class D2

APPLICATIONS

Coolant, hot water, mild chemicals


Industrial and vehicle coolant systems; low pressure drain lines

Agriculture, construction, general industrial, transportation

VACUUM

Not recommended

COMPARE TO

Gates Green Stripe, Veyance OEM

PACKAGING

Reels, cartons
Parker Heater 7181 Hose Details
Heater Hose - 7186 Series
FullÈ
TUBE

Black EPDM

REINFORCEMENT

Multiple textile plies

COVER

Black EPDM, smooth finish

TEMPERATURE RANGE

-40°F to 212°F (-40°C to 100°C)

DESIGN FACTOR

4:1

INDUSTRY STANDARDS

None applicable

APPLICATIONS

Coolant, hot water, mild chemicals


Industrial and vehicle coolant systems; low pressure drain lines

Agriculture, construction, general industrial, transportation

VACUUM

Not recommended

COMPARE TO

Thermoid Black Standard Heater

PACKAGING

Reels, cartons
Parker Heater 7186 Hose Details
Signal Call Tubing - 39521 Series
TUBE

Black EPDM

REINFORCEMENT

None

COVER

None

TEMPERATURE RANGE

-40°F to 180°F (-40°C to 82°C)

DESIGN FACTOR

4:1

INDUSTRY STANDARDS

None applicable

APPLICATIONS

Air, mild chemicals, water

Auto repair centers, garages, highway departments

VACUUM

Not recommended

COMPARE TO

Gates Signal Call Hose; Thermoid Driveway Signal Call Tubing

PACKAGING

Reels
Parker Signal Call Tubing 39521 Details
Oxygen Charging Hose - 7293 Series
TUBE

Black chloroprene

REINFORCEMENT
Multiple textile plies

COVER

Green chloroprene; wrapped finish

TEMPERATURE RANGE

-22°F to 176°F (-30°C to 80°C)

DESIGN FACTOR

4:1

INDUSTRY STANDARDS

None applicable

APPLICATIONS

High pressure oxygen

Lancing, scarfing


Foundries, steel mills

VACUUM

Not recommended

PACKAGING

Coils
Parker Oxygen Charging Hose 7293 Details
Softwall Furnace Door Coolant Hose - 7385 Series
TUBE

Black SBR

REINFORCEMENT

Multiple textile plies

COVER

Off-white aramid fabric, wrapped finish

TEMPERATURE RANGE

Internal: -20°F to 212°F (-40°C to 100°C)

External: to 572°F (300°C)

DESIGN FACTOR

4:1

INDUSTRY STANDARDS

None applicable

APPLICATIONS

Hot water


Furnaces and industrial cooling systems

Foundries, glassworks, steel mills

VACUUM

Not recommended

COMPARE TO

Kuriyama Furnace Door Coolant; Veyance Plicord Furnace Door

PACKAGING

Coils
Parker Softwall Furnace Door Coolant 7385 Hose Details
Hardwall Furnace Door Coolant Hose - 7386 Series
TUBE

Black SBR

REINFORCEMENT
Multiple textile plies with wire helix

COVER

Off-white aramid fabric, wrapped finish

TEMPERATURE RANGE

Internal:-20°F to 212°F (-40°C to 100°C)

External: to 572°F (300°C)

DESIGN FACTOR

4:1

INDUSTRY STANDARDS

None applicable

APPLICATIONS

Hot water


Furnaces and industrial cooling systems

Foundries, glassworks, steel mills

VACUUM

Full

COMPARE TO:

Thermoid Furnace Door

PACKAGING

Coils
Parker Hardwall Furnace Door Coolant 7386 Hose Details
Reinforced Conduit Hose - 7337 Series
TUBE

Black synthetic rubber

REINFORCEMENT

Multiple textile plies

COVER

Black synthetic rubber; wrapped finish

TEMPERATURE RANGE

-30°F to 180°F (-34°C to 82°C)

INDUSTRY STANDARDS

MSHA

APPLICATIONS

Conduit


Underground mining equipment

VACUUM

Not recommended

PACKAGING

Coils
Parker Reinforced Conduit 7337 Hose Details
Reinforced Conduit Hose - 7337M Series
TUBE

Black synthetic rubber

REINFORCEMENT
Multiple textile plies

COVER
Black synthetic rubber; smooth finish

TEMPERATURE RANGE

-30°F to 180°F (-34°C to 82°C)

INDUSTRY STANDARDS

MSHA

APPLICATIONS

Conduit


Underground mining equipment

VACUUM

Not recommended

PACKAGING

Coils
Parker Reinforced Conduit 7337M Hose Details
Nonreinforced Conduit Hose - 7338 Series
TUBE
Minimum 3/16" black synthetic rubber
REINFORCEMENT

None

COVER

None

TEMPERATURE RANGE

-30°F to 180°F (-34°C to 82°C)

INDUSTRY STANDARDS

MSHA

APPLICATIONS

Conduit


Underground mining equipment

VACUUM

Not recommended

PACKAGING

Coils
Parker Nonreinforced Conduit 7338 Hose Details
PVC Split Cable Guard - 7575 Series
TUBE

Translucent PVC; smooth

REINFORCEMENT

White PVC helix

COVER

Translucent PVC; corrugated

TEMPERATURE RANGE

14°F to 140°F (-10°C to 6°C)

INDUSTRY STANDARDS

MSHA

APPLICATIONS

Cable and hose bundle protection

Protective cover for mine supply lines

General industrial, mining

COMPARE TO:

Kuriyama CG-SL; Novaflex 143; Veyance Spiraflex

PACKAGING

Coils
Parker PVC Split Cable Guard 7575 Details
Fire Engine Suction and Discharge Hose - SW456 Series
TUBE

Black SBR

REINFORCEMENT

Multiple textile plies with dual wire helix

COVER
Black SBR; wrapped finish

TEMPERATURE RANGE

-40°F (-40°C to 82°C)

DESIGN FACTOR

4:1

INDUSTRY STANDARDS

None applicable

APPLICATIONS

Water supply connection; remote water removal


Fire suppression apparatus

VACUUM

Full

PACKAGING

Coils
Parker Fire Engine SW456 Hose Details
Heavy Duty Fire Engine Suction Hose - LW701 Series
TUBE

Black SBR

REINFORCEMENT

Multiple textile plies with wire helix

COVER

Black SBR; wrapped finish

TEMPERATURE RANGE

-40°F to 180°F (-40°C to 82°C)

DESIGN FACTOR

4:1

INDUSTRY STANDARDS

NFPA 1901, 1962

APPLICATIONS

Water supply connection; remote water removal


Fire suppression apparatus

VACUUM

Full

PACKAGING
Coils, lengths

COUPLINGS
Soft cuffs per customer specifications
Parker Heavy Duty Fire Engine LW701 Hose Details
Corrugated Heavy Duty Fire Engine Suction Hose - LW720 Series
TUBE

Black SBR

REINFORCEMENT

Multiple textile plies with dual wire helix

COVER

Black SBR; corrugated wrapped finish

TEMPERATURE RANGE

-40°F to 180°F (-40°C to 82°C)

DESIGN FACTOR

4:1

INDUSTRY STANDARDS

NFPA 1901, 1962

APPLICATIONS

Water supply connection; remote water removal


Fire suppression apparatus

VACUUM

Full

PACKAGING
Coils, lengths

COUPLINGS
Soft cuffs per customer specifications
Parker Corrugated Heavy Duty Fire Engine LW720 Hose Details
ARMADA® Marine Multipurpose, Fuel Fill/Vent & Hardwall Wet Exhaust Hose - SW569 Series
TUBE

Black nitrile

REINFORCEMENT

Multiple textile plies with dual wire helix

COVER

Black chloroprene; wrapped finish

TEMPERATURE RANGE

-20°F to 212°F (-29°C to 100°C)

DESIGN FACTOR

4:1

INDUSTRY STANDARDS

ABYC H-24; NMMA; SAE J1527 A1 and A2 Style R2; SAE J9142 Codes F, VW, NVW; SAE J2006 R2; SAE J20R2 B; SAE J20R4 B; SAE J2045 B; SAE J30R5; ISO 7840 A1; ISO 8469 B1; USCG

APPLICATIONS

Biodiesel (to B100 in dedicated service), diesel, ethanol, gasoline, oil


Hot exhaust fumes, nonpotable water

Marine coolant and fuel/vent systems, wet exhaust

VACUUM

Full

COMPARE TO

Thermoid 7910 Bellowsflex A

PACKAGING
Coils

Parker ARMADA® SW569 Hose Details
Marine Softwall Wet Exhaust Hose - SS269/ES269 Series
TUBE

Black nitrile

REINFORCEMENT
Multiple textile plies

COVER

Black nitrile; wrapped finish

TEMPERATURE RANGE

-40°F to 200°F (-40°C to 93°C)

DESIGN FACTOR

4:1

INDUSTRY STANDARDS

ABYC; USCG/SAE J2006R1

APPLICATIONS

Hot exhaust fumes; oil, nonpotable water

Marine coolant systems, wet exhaust

VACUUM

Not recommended

PACKAGING

Coils
Parker Marine Softwall Wet Exhaust Hose SS269/ES269 Details
WAVEMASTER™ Marine Barrier Fuel Line/Vent Hose - 7165 Series
TUBE

Translucent nylon

REINFORCEMENT

Multiple textile plies

COVER

Black nitrile/PVC; smooth finish

TEMPERATURE RANGE

-20°F to 212°F (-29°C to 100°C)

DESIGN FACTOR

4:1

INDUSTRY STANDARDS

ABYC, CARB, CE, EPA, ISO 7840 A1, NMMA, SAE J1527 A1-15, USCG A1

APPLICATIONS

Biodiesel (to B100 in dedicated and non-dedicated service), diesel, ethanol, gasoline, oil


Marine fuel/vent systems

VACUUM

Not recommended

PACKAGING

Reels

COUPLINGS
ABYC compliant
Parker WAVEMASTER™ Marine Barrier Fuel Line/Vent 7165 Hose Details