Steam Hoses | Parker |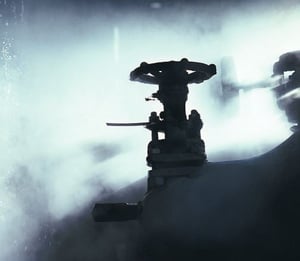 Parker Hannifin is a premier world-wide supplier of Industrial Hose for wide range of industrial applications. New hoses are continuously being developed for emerging and established industries alike. For special applications, custom hoses are also available.
Steam hoses are designed to withstand the high temperatures and moisture of saturated and superheated steam in steam service applications. The hoses incorporate a tube construction that resists heat and popcorning and covers that are resistant to cracking and hardening.

DRAGON BREATH® II Chlorobutyl Barber Pole Steam Hose (Non-Skive E-Z Crimp) - 7285 Series
TUBE

Black chlorobutyl

REINFORCEMENT

Multiple wire braids

COVER

Black and red EPDM in alternating spirals; perforated wrapped finish

TEMPERATURE RANGE

-40°F to 406°F saturated steam/450°F superheated steam (-40°C to 208°C saturated steam/232°C superheated steam)

DESIGN FACTOR

2

0:1

INDUSTRY STANDARDS
ISO 6134 Type 2

APPLICATIONS

Saturated and superheated steam


Cleaning containment vessels and manufacturing equipment; cleaning and heating process equipment

Manufacturing and processing plants, refineries

VACUUM
Not recommended

COMPARE TO:

Boston Concord Standard Steam - Spiral Stripe, Steam Slayer; Goodall N2711 Inferno Steam

PACKAGING
Cartons

Parker DRAGON BREATH® II 7285 Hose Details
STEAM-LANCE® 250 EPDM Compact Steam Hose (Non-Skive E-Z Crimp) - 7263C (Black) & 7264C (Red) Series
TUBE

Black EPDM

REINFORCEMENT

Multiple wire braids

COVER

Black or red EPDM; perforated wrapped finish

TEMPERATURE RANGE

-40°F to 406°F saturated steam/450F superheated steam (-40°C to 208°C saturated steam/232°C superheated steam)

DESIGN FACTOR

20:1

INDUSTRY STANDARDS
ISO 6134 Type 2

APPLICATIONS

Saturated and superheated steam


Cleaning containment vessels and manufacturing equipment; cleaning and heating process equipment

Manufacturing and processing plants, refineries

VACUUM

Not recommended

COMPARE TO:

Boston Concord 250; Gates 205MB Steam King; Goodall N2576 Thermoflex; Thermoid Bustproof Regular; Veyance Flexsteel 250 Steam

PACKAGING

Cartons
Parker STEAM-LANCE® 250 7263C & 7264C Hose Details
STEAM-LANCE® 250 EPDM Steam Hose - 7263(E) (Black) & 7264 (Red) Series
TUBE

Black nitrile

REINFORCEMENT

Multiple textile braids

COVER

Black or red EPDM; perforated wrapped finish

TEMPERATURE RANGE

-40°F to 406°F saturated steam/450F superheated steam (-40°C to 208°C saturated steam/232°C superheated steam)

DESIGN FACTOR
10:1 (20:1 for 1/2, 3/4 & 1 in)

INDUSTRY STANDARDS
ISO 6134 Type 2

APPLICATIONS

Saturated and superheated steam


Cleaning containment vessels and manufacturing equipment; cleaning and heating process equipment

Manufacturing and processing plants, refineries

VACUUM

Not recommended

COMPARE TO:

Boston Concord 250; Gates 205MB Steam King; Goodall N2576 Thermoflex; Thermoid Bustproof Regular; Veyance Flexsteel 250 Steam

PACKAGING

Cartons, reels
Parker STEAM-LANCE® 250 7263(E) & 7264 Hose Details
DRAGON BREATH® 250 Oil Resistant Steam Hose - 7288 Series
TUBE

Black EPDM

REINFORCEMENT

Multiple wire braids

COVER

ARPM Class B oil resistant red chloroprene

TEMPERATURE RANGE

-20°F to 406°F saturated steam/450°F superheated steam (-29°C to 208°C saturated steam/232°C superheated steam)

DESIGN FACTOR

20:1

INDUSTRY STANDARDS

ISO 6134 Type 2

;

ARPM Class B oil resistant cover

APPLICATIONS

Saturated and superheated steam


Cleaning containment vessels and manufacturing equipment; cleaning and heating process equipment

Manufacturing and processing plants, refineries

VACUUM

Not recommended

COMPARE TO

Boston Concord 250 OR; Gates 232MB Steam Queen; Thermoid Burstproof Oil Resistant; Veyance Flexsteel 250 ORS

PACKAGING

Cartons, reels
Parker DRAGON BREATH® 250 7288 Hose Details
DRAGON BREATH® Chlorobutyl Compact Steam Hose (Non-Skive E-Z Crimp) - 7286C Series
TUBE

Black chlorobutyl

REINFORCEMENT

Multiple wire braids

COVER

Black chlorobutyl; perforated wrapped finish

TEMPERATURE RANGE

-40°F to 406°F saturated steam/450°F superheated steam (-40°C to 208°C saturated steam/232°C superheated steam)

DESIGN FACTOR

20:1

INDUSTRY STANDARDS
ISO 6134 Type 2

APPLICATIONS

Saturated and superheated steam


Cleaning containment vessels and manufacturing equipment; cleaning and heating process equipment

Manufacturing and processing plants, refineries

VACUUM

Not recommended

PACKAGING

Cartons
Parker DRAGON BREATH® 7286C Hose Details
MPW-1000® High Pressure Wire Braid Multipurpose Hose (Oil Resistant Non-Skive E-Z Crimp) - 7204 Series
TUBE

Black nitrile

REINFORCEMENT

One wire braid

COVER

Black chloroprene; perforated wrapped finish

TEMPERATURE RANGE

Steam: -20°F to 368°F (-29°C to 187°C), saturated steam to 150 psi max WP

Other: -20°F to 300°F (-29°C to 149°C)/ 350°F (177°C) intermittent



DESIGN FACTOR

4:1 (10.1 Steam)

INDUSTRY STANDARDS

None applicable

APPLICATIONS

Air, mild chemicals, oil, water; hot asphalt, glue, tar and wax; biodiesel (to B20 in dedicated service), diesel, ethanol, gasoline

High pressure washdown; cleaning containment vessels and manufacturing equipment; cleaning and heating processing equipment

Construction, general industrial, refineries

VACUUM

Not recommended

COMPARE TO

Boston Hot Tar Pumping; Gates 319MB Gold Master; Veyance Pyroflex

PACKAGING

Reels
Parker MPW-1000® 7204 Hose Details
Hydrocarbon Drain Hose (Oil Resistant Non Skive E-Z Crimp) - 7200 Series
TUBE

Black nitrile

REINFORCEMENT

One wire braid

COVER

Blue chloroprene; wrapped finish

TEMPERATURE RANGE

-20°F to 300°F (-29C to 149°C)/350°F (177°C) intermittent

DESIGN FACTOR

4:1

INDUSTRY STANDARDS

None applicable

APPLICATIONS

NOT FOR STEAM SERVICE

Drainage of hot residue from steam cleaning operations

Manufacturing and processing plants, refineries

VACUUM

Not recommended

COMPARE TO

Boston Hydrocarbon Drain Hose

PACKAGING

Cartons
Parker Hydrocarbon Drain Hose 7200 Details
Large Bore Hydrocarbon Drain Hose (Oil Resistant Non Skive E-Z Crimp) - 7200LB Series
TUBE

Black nitrile

REINFORCEMENT

Multiple textile plies with static wire

COVER

Blue chloroprene

TEMPERATURE RANGE

-20°F to 300°F (-29C to 149°C)/350°F (177°C) intermittent

DESIGN FACTOR

3:1

INDUSTRY STANDARDS

None applicable

APPLICATIONS

NOT FOR STEAM SERVICE

Drainage of hot residue from steam cleaning operations

Manufacturing and processing plants, refineries

VACUUM

Not recommended

COMPARE TO

Boston Hydrocarbon Drain Hose

PACKAGING

Coil
Parker Large Bore Hydrocarbon Drain Hose 7200LB Details