Welding Hoses | Parker |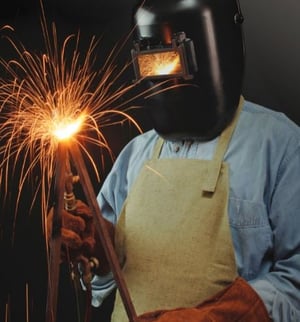 Parker Hannifin is a premier world-wide supplier of Industrial Hose for wide range of industrial applications. New hoses are continuously being developed for emerging and established industries alike. For special applications, custom hoses are also available.
Welding hoses are designed for oxy-fuel gas welding applications, with color-coded hoses in twin and single configurations for fuel gas (acetylene, hydrogen, natural gas, propane and propylene), oxygen and inert gases.

SIAMEEZ® Grade T Twin Line Welding Hose (Red - Fuel Gas Line; Green - Oxygen Line) - 7109 Series
TUBE
Black chloroprene

REINFORCEMENT

Multiple textile plies

COVER

Green (oxygen) or red (fuel) chloroprene; smooth finish

TEMPERATURE RANGE

-40°F to 200°F (-40°C to 93°C)

DESIGN FACTOR

4:1

INDUSTRY STANDARDS

CGA E-1; ARPM IP-7

APPLICATIONS

Red: Acetylene, hydrogen, natural gas, propane, propylene

Green: Oxygen

Bending, brazing, cutting, fabricating, gouging, joining, piercing, pre-heating, post-heating, severing, soldering, straightening, surfacing, trimming




Assembly and fabrication shops, construction, factories, foundries, mines, oil rigs, plumbing, rail yards, salvage, scrapyards, shipyards, steel mills

VACUUM
Not recommended

COMPARE TO:

Thermoid Tuline Grade T; Veyance Gemini Twinline Grade T

PACKAGING

Reels; fitted hose assemblies shrink-wrapped and labeled in master cartons
Parker SIAMEEZ® 7109 Hose Details
Grade T Single Line Welding Hose - 7141 (Red - Fuel Gas Line) & 7142 (Green - Oxygen Line) Series
TUBE
Black chloroprene

REINFORCEMENT

Multiple textile plies

COVER

Series 7141: Red chloroprene; ribbed finish (3/4" smooth finish)

>

<Series 7142: Green chloroprene; ribbed finish (3/4" smooth finish)

TEMPERATURE RANGE

-40°F to 200°F (-40°C to 93°C)

DESIGN FACTOR

4:1

INDUSTRY STANDARDS

CGA E-1; ARPM IP-7

APPLICATIONS

Series 7141 (red): Acetylene, hydrogen, natural gas, propane, propylene

Series 7142 (green): Oxygen

Bending, brazing, cutting, fabricating, gouging, joining, piercing, pre-heating, post-heating, severing, soldering, straightening, surfacing, trimming




Assembly and fabrication shops, construction, factories, foundries, mines, oil rigs, plumbing, rail yards, salvage, scrapyards, shipyards, steel mills

VACUUM

Not recommended

COMPARE TO:

Thermoid Single Line Corrugated Grade T Welding; Veyance Wingfoot Single Line Grade T

PACKAGING

Reels
Parker Grade T Single Line Welding Hose 7141/7142 Details
SIAMEEZ® Grade R Twin Line Welding Hose (Red - Acetylene Only; Green - Oxygen Line) - 7126 Series
TUBE

Black EPDM

REINFORCEMENT

Multiple textile plies

COVER

Red (acetylene) or green (oxygen) EPDM; smooth finish

TEMPERATURE RANGE

-40°F to 200°F (-40°C to 93°C)

DESIGN FACTOR

4:1

INDUSTRY STANDARDS

ARPM IP-7

APPLICATIONS

Red: Acetylene ONLY


Green: Oxygen

Bending, brazing, cutting, fabricating, gouging, joining, piercing, pre-heating, post-heating, severing, soldering, straightening, surfacing, trimming




Assembly and fabrication shops, construction, factories, foundries, mines, oil rigs, plumbing, rail yards, salvage, scrapyards, shipyards, steel mills

VACUUM

Not recommended

COMPARE TO:

Boston Concord 250; Gates 205MB Steam King; Goodall N2576 Thermoflex; Thermoid Bustproof Regular; Veyance Flexsteel 250 Steam

PACKAGING

Cartons, reels
Parker SIAMEEZ® 7126 Hose Details
Grade R Single Line Welding Hose - 7120 (Red - Acetylene Only), 7121/7031R (Green - Oxygen Line) Series
TUBE
Black EPDM

REINFORCEMENT

Multiple textile plies

COVER

Series 7120: Red (acetylene) EPDM; ribbed finish

Series 7121: Green (oxygen) EPDM; ribbed finish (7031R smooth finish)
TEMPERATURE RANGE

-40°F to 200°F (-40°C to 93°C)

DESIGN FACTOR

10:1

INDUSTRY STANDARDS

ARPM IP-7

APPLICATIONS

Series 7120 (red): Acetylene ONLY


Series 7121 (green): Oxygen

Bending, brazing, cutting, fabricating, gouging, joining, piercing, pre-heating, post-heating, severing, soldering, straightening, surfacing, trimming




Assembly and fabrication shops, construction, factories, foundries, mines, oil rigs, plumbing, rail yards, salvage, scrapyards, shipyards, steel mills

VACUUM

Not recommended

COMPARE TO

Thermoid Green GP/Oxygen

PACKAGING

Reels
Parker Grade R Single Line Welding Hose 7120/7121/7031R Details
SIAMEEZ® Grade RM Twin Line Welding Hose (Red - Acetylene Only; Green - Oxygen Line) - 7110 Series
TUBE

Black synthetic rubber

REINFORCEMENT

Multiple textile plies

COVER

Red (acetylene) or green (oxygen) synthetic rubber; smooth finish

TEMPERATURE RANGE

-40°F to 200°F (-40°C to 93°C)

DESIGN FACTOR

4:1

INDUSTRY STANDARDS

ARPM IP-7

APPLICATIONS

Red: Acetylene ONLY


Green: Oxygen

Bending, brazing, cutting, fabricating, gouging, joining, piercing, pre-heating, post-heating, severing, soldering, straightening, surfacing, trimming




Assembly and fabrication shops, construction, factories, foundries, mines, oil rigs, plumbing, rail yards, salvage, scrapyards, shipyards, steel mills

VACUUM

Not recommended

COMPARE TO

Thermoid Tuline Grade RM; Veyance Gemini Twinline Grade RM

PACKAGING

Reels; fitted hose assemblies shrink-wrapped and labeled in master cartons
Parker SIAMEEZ® 7110 Hose Details
Welding and Scarfing Hose (Grade T Performance) - 7228T (Red - Fuel Gas Line) and 7229T (Green - Oxygen Line) Series
TUBE

Black chloroprene<

REINFORCEMENT

Multiple textile braids

COVER

Series 7228T: Red chloroprene; smooth finish

Series 7121: Green chloroprene; smooth finish>
TEMPERATURE RANGE

>-40°F to 200°F (-40°C to 93°C)

DESIGN FACTOR
4:1

INDUSTRY STANDARDS

None applicable

APPLICATIONS

Series 7228T: Acetylene, hydrogen, natural gas, propane, propylene


Series 7229T: Oxygen

Scarfing/deseaming; burning defective areas on the surface of ingots or semi-finished products such as billets




Scarfing/tapering: forging the ends of two pieces to be joined to avoid an enlarged joint

VACUUM

Not recommended

COMPARE TO

Thermoid Green GP/Oxygen

PACKAGING

Reels
Parker Welding and Scarfing 7228T/7229T Hose Details
Inert Gas Hose - 7123 Series
TUBE

Black EPDM

REINFORCEMENT

Multiple textile plies

COVER

Black EPDM; ribbed finish

TEMPERATURE RANGE

-40°F to 200°F (-40°C to 93°C)

DESIGN FACTOR

4:1

INDUSTRY STANDARDS

CGA E-1 color requireents

APPLICATIONS

Air, argon, carbon dioxide, helium, nitrogen


Shield gas

Arc welding systems

VACUUM

Not recommended

PACKAGING

Reels
Parker Inert Gas Hose 7123 Details
Cable Cover Hose (Nonconductive) - 7172 Series
TUBE

Black nitrile/SBR blend<

REINFORCEMENT

Multiple textile plies

COVER

Black EPDM; smooth finish

TEMPERATURE RANGE

-20°F to 212°F (-29°C to 100°C)

DESIGN FACTOR

4:1

INDUSTRY STANDARDS

None applicable

APPLICATIONS

Air, water


Cable cover and coolant hose for arc welding systems

VACUUM

Not recommended

PACKAGING

Reels
Parker Cable Cover Hose 7172 Details