Quicker, Cleaner, Safer Oil Change for Truck, Bus and Heavy Equipment Engines | Parker QuickFitTM
If it needs an oil change, it needs Parker QuickFitTM
Cut your time to change oil in half, get rid of the mess entirely, and create a safer work place.
Great for Trucks, Heavy Construction Equipment, Power Generation Equipment and more.

SEE IT WORK

Get a list of parts needed to install QuickFitTM on your equipment. If you like, we can also come to your place of business and spec the system for you.
(Personal visits are only available in Northern California and Nevada.)
QuickFitTM: Quick, Clean & Safe

Typical oil change with Parker QuickFitTM system takes only 30 minutes.

Once the system is installed, it is virtually impossible to spill oil during an oil change. Less oil on the floor means less mess to clean up, and less potential for slip and fall injuries. Service personnel does not come in contact with hot oil, limiting the potential for burns.
Simple 3-Step Procedure
The procedure is the same for any engine equipped with QuickFitTM. All steps are performed using a conveniently located QuickFitTM valve (a single point of access). The valve can be located anywhere where it is easily accessible without bending or reaching, away from hot engine parts.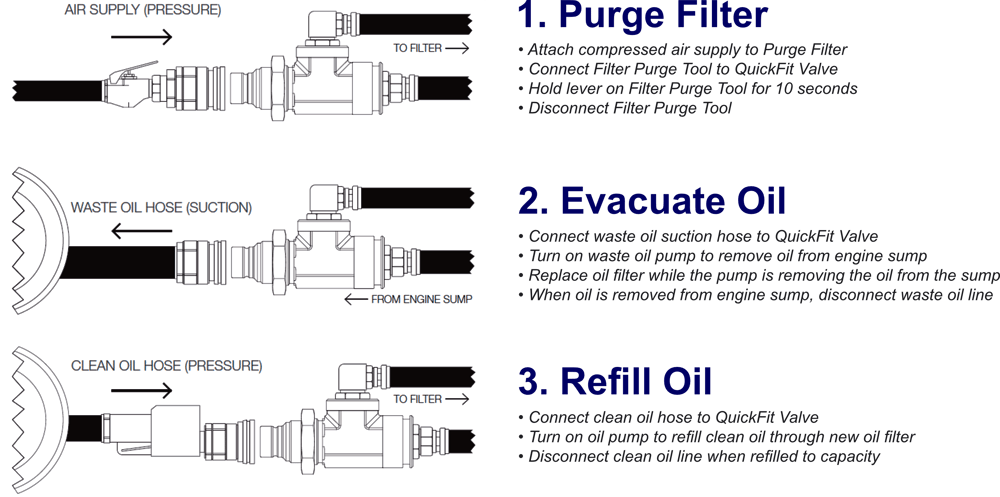 You probably already have most of what you need to get started in your shop

:
Air Compressor


Air Hose reel


Suction Pump



Refill Pump

Hose


Connectors


Quick Couplers (Parker FEM Series)



Air Nozzle
If It Needs an Oil Change, It Needs QuickFitTM