Parker Cylinders used in Hybrid Actuation Systems for Solar Tracking Applications | HAS-RDH
Parker HAS-RDH are hybrid (electromechanical and hydraulic) actuation systems specifically designed for solar tracking applications. They combine the fine control of electromechanical actuators with the power density, longer life, and resistive force of a traditional hydraulic system. They are well suited for both mobile and industrial linear motion applications.
HAS-RDH Cylinder Description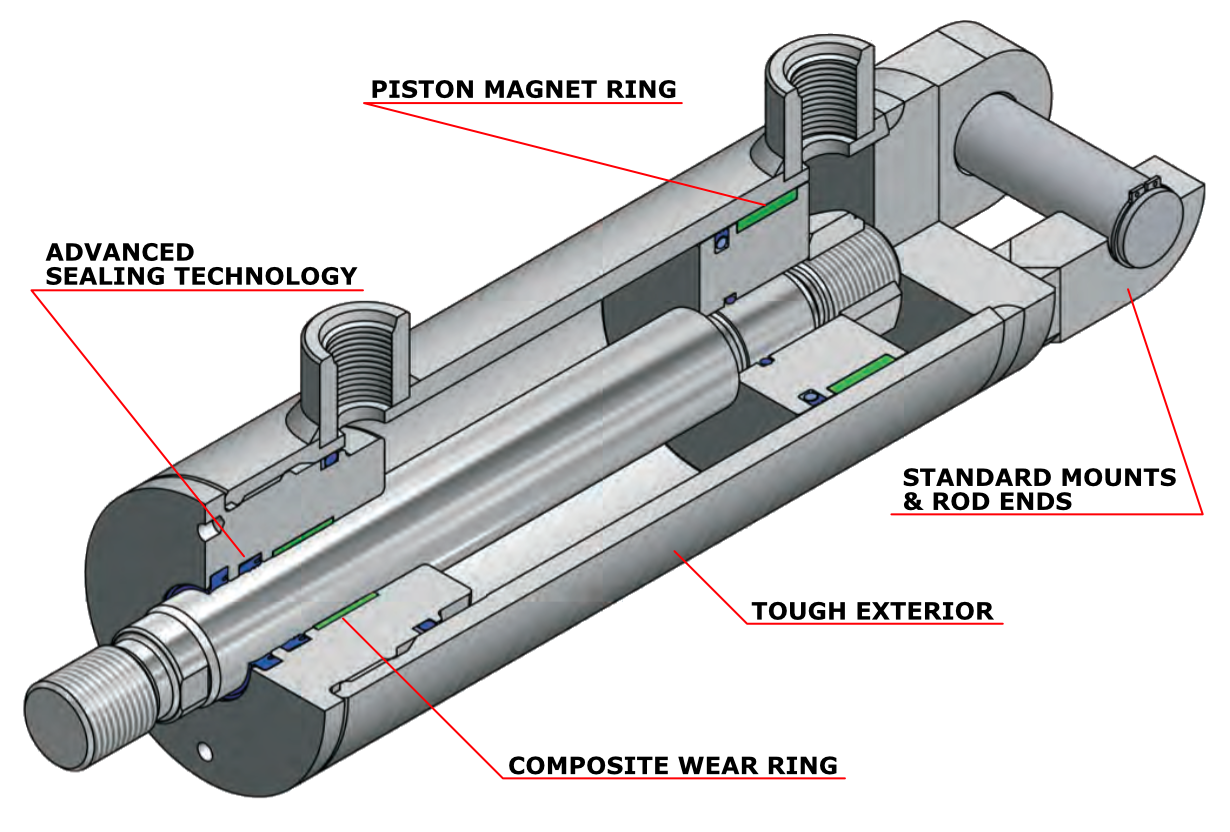 Piston Magnet Ring
Parker ALS switch ready with piston magnet ring. (Parker ALS switch is the lowest cost point feedback solution for carbon steel cylinders.)
Switches can be located anywhere along the stroke and in any orientation
Round body
Advanced Sealing Technology
Tri-lip rod seal (3 sealing edges!) and bi-directional piston seal feature proven leak-free performance
Durable polyurethane material is used to maximize seal life
Nitrile end seals and backup rings on a smooth bore of the cylinder body for optimal sealing and elimination of extrusion problems
Composite rod and piston wear rings are internally lubricated for reduced friction and formulated for heavy-duty, load-bearing applications
Standard rod material is case-hardened, hard chrome plated and polished to an optimum finish
And since we make our own seals, all seals have immediate availability in other popular compounds
Mounts & Rod Ends
Standard mounts and rod ends accommodate commercially-available NFPA accessories for easy installation.
Tough Exterior
Steel cap, cylinder body and ports for high-strength in rough environments
Case-hardened, hard chrome plated and polished carbon steel piston rod for damage resistance, long rod seal life and low friction
Outboard urethane rod wiper seal to remove external debris and adherents from the piston rod
High quality paint coating for interior or exterior applications.
Global Shield Corrosion Resistance Coating available for extreme environments
Composite Wear Ring
Heat stabilized and internally lubricated for low friction and maximum service life in any application
Strength characteristics meet or exceed most metals traditionally used in wear rings
Parker WearGard™ bearing materials are backed by over 30 years of manufacturing expertise

WARNING
:
These products can expose you to chemicals including lead and/or DEHP and/or carbon black, which are known to the State of California to cause cancer or birth defects or other reproductive harm. For more information go to
www.P65Warnings.ca.gov
More on Fluid Power and Fluid Connector Topics