Bin Stocking Service | Motion & Flow Control Products, Inc.
Motion & Flow Control Products, Inc.'s Bin Stocking Service is a valuable time saver for high volume customers. Parker crimpers are the easiest crimping machines to use in the industry. Their ease of use cuts down on set up time and greatly decreases operator errors.
Benefits - Bin Stocking Service
1. Bin Organization
Our representative will come to your shop and help organize your bins in the most logical, easy to find manner. This will keep you organized so when crunch time comes, you will know right where to go to get your parts.
2. Bin Labeling
Crimping your hose fittings just got easier - instead of using a crimp die selection chart, experienced users can refer to the bin label for selecting the correct crimp die. A Motion & Flow Control Products, Inc. Representative will come to your shop and label your part bins with our color labels, which feature:
Weatherproofing
Part Number / Description
Part Image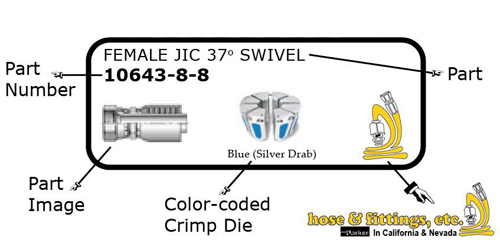 3. Personnel Training
We'll personally show your employees how to crimp a hose assembly using your Parker crimper, and how to identify the correct replacement hose and fittings. Don't learn the hard way, save time and money by learning from the pros!
4. Inventory Stocking
We'll setup a program to help keep the necessary parts on hand at all times. Whether it's weekly, biweekly, or monthly, we'll send a Motion & Flow Control Products, Inc. Representative out to do a stock check so you don't have to.
5. Inventory Evaluation Report
At your request, we'll run a report of the parts you've purchased over a desired length of time. This will help identify parts you rarely use, and help keep frequently used parts in stock. Save money by only stocking parts you actually use.