O-Ring Face Seal Tube Fittings | Parker Seal-LokTM
Overview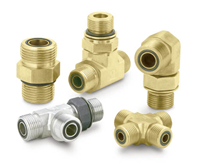 All tube fittings must perform two functions – they must seal the gas or liquid contained in the line and must mechanically hold the tubing in place against system pressure and external mechanical pull.
In the Seal-Lok fitting, mechanical holding power is achieved by either brazing the sleeve to the tube or using a Parflange machine to produce a flat-faced flange on the end of the tube.
Sealing is then achieved by the flat face of the sleeve or flange compressing an o-ring contained in a precision machined groove in the face of the fitting body.
6000 psi Pressure Rating
6000 psi pressure rating through 1" OD, 4000 psi for sizes above 1". Excellent for vacuum applications. All applications should be carefully tested through the range of conditions that may be encountered prior to use.
Make & Break Forever
Unlike flareless fittings which allow only 15 remakes, or flared fittings in which nose distortion eventually causes leaks, the "soft" seal of the o-ring allows unlimited remakes as long as some resilience is left in the rubber – a new, inexpensive o-ring makes a brand new joint.
Zero Tube Entry for Easy "Slip-in" Assembly
Flareless tube fittings require long tube entry into the fitting body making installation of some bent tube hard lines difficult. And even the short tube entry of the flared fitting is not free from tube entry hassles. The flat face joint of the Seal-Lok fitting allows true slip-in, slip-out assembly.
Reducer Sleeves Available
Reducer sleeves are available for easy step-down reductions allowing the creation of "in-house" specials. Hydraulic Hose Ends are also available. Design meets SAE J1453.
How it Works
The Seal-Lok fitting uses a high durometer rubber o-ring to effect a gasket-like soft seal. The o-ring nests in a special groove machined in the face of the fitting body. A flat-faced sleeve is easily silver brazed to the end of the tube after the fitting nut has been slipped over the tube. Alternatively, an orbital motion Parflange machine may be used to produce a flat-faced flange on the end of the tube. When the flat face of the sleeve or tube is brought into contact with the face of the fitting and the nut is tightened, the o-ring is compressed and a seal is achieved. Assembly is completed by tightening the nut until a sharp rise in wrench torque is felt. But it doesn't stop here! System pressure, acting on the already statically compressed o-ring, pushes the o-ring outward and temporarily deforms it, making the joint a pressure-sensitive dynamic seal.
We Want You to Understand The Products You Use
We're specialists in fluid connectors. If we have not answered your questions here, call us at 888.715.4673 or fill out the form below to get answers to your specific questions.
Related Pages
How Bite-Type Fittings Work

Parker EO - for Metric Tubing
Parker EO-2 for Metric Tubing with Elastomeric Seal