More Parker 43-Series Crimp Fittings Converting from Braze to Monoblok™
Written by
Marek Bobik
 | read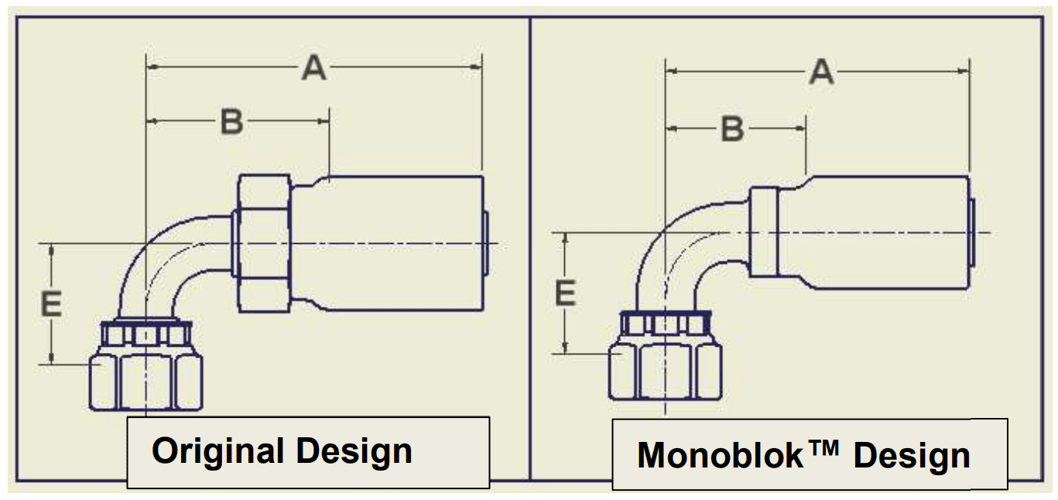 SOURCE: Parker Hose Division, August 11, 2021
Parker Hose Division announced that another batch of the 43-series 90˚ elbow fittings is joining a growing list of their Monoblok™ parts. Monoblok parts are machined from a single piece of metal instead of brazing parts together.
Machining fittings as a complete part eliminates the potential for leak paths and decreases the overall dimension, making hose assemblies a little easier to route through tight spots.

PLEASE BE ADVISED THAT YOU MAY RECEIVE BOTH VERSIONS OF THE FITTINGS. CONTACT YOUR MFCP REPRESENTATIVE IF YOU NEED TO MAKE ARRANGEMENTS TO ONLY RECEIVE ONE STYLE.

The change takes place immediately, but Parker will continue shipping the brazed fittings until they deplete their inventory. The Monoblok fittings will ship in a box with a bright yellow label, including the new cut-off factor. The part numbers will remain the same, and both versions comply with ISO standards.

You can easily tell the difference between the two versions. The new Monoblok fittings feature a round design, as opposed to the hex design of the brazed fittings. The dimensional changes include changes in drop dimension, overall fitting length, and cut-off factors on most fittings.
Difference Between Brazed and Monoblok 43-Series Fittings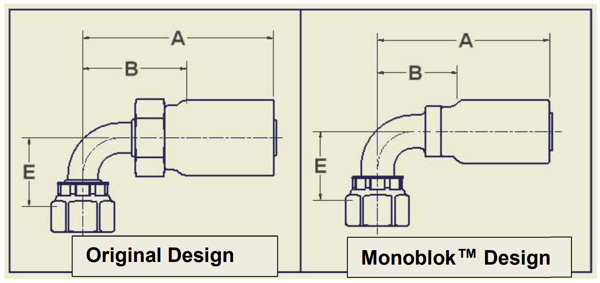 Differences in Dimensions between Monoblok and Brazed Style 43-Series Fittings

(Dimension A is unchanged)

PART NUMBER

NEWS STYLE - MONOBLOK

OLD STYLE - BRAZED

DIFFERENCE

B




Cutoff

E




Drop

B




Cutoff

E




Drop

Cutoff

Drop

1J543-6-4
1.41
1.28
1.41
1.28
0.00
0.00
1J543-6-4-ZJ
1.41
1.28
1.41
1.28
0.00
0.00
11943-32-32
5.18
5.43
4.97
4.48
0.21
0.95
11943-24-24
4.35
4.09
4.13
3.12
0.22
0.97
11943-24-24-ZJ
4.35
4.09
4.13
3.12
0.22
0.97
11743-16-12
2.30
1.02
2.41
0.98
-0.11
0.04
11743-32-32
5.77
2.21
5.45
1.98
0.32
0.23
11743-32-32-ZJ
5.77
2.21
5.45
1.98
0.32
0.23
12643-12-12
2.49
0.63
2.46
0.59
0.03
0.04
12743-12-12
2.97
1.46
2.72
1.43
0.25
0.03
1J743-16-12
2.20
0.94
2.59
0.90
-0.39
0.04
1J743-16-12-SM
2.20
0.94
2.59
0.90
-0.39
0.04
1J743-16-12-ZJ
2.20
0.94
2.59
0.90
-0.39
0.04
1J743-12-10
2.08
0.83
2.18
0.82
-0.10
0.01
1J743-12-10-SM
2.08
0.83
2.02
0.82
0.06
0.01
1J943-12-8
1.85
1.89
1.95
1.88
-0.10
0.01
1J943-12-8
1.85
1.89
1.95
1.88
-0.10
0.01
1J943-12-8-SM
1.85
1.89
1.63
1.88
0.22
0.01
1J943-12-8-ZJ
1.85
1.89
1.63
1.88
0.22
0.01
13943-16-12
2.19
2.20
2.05
2.00
0.14
0.20
13943-16-12-SM
2.19
2.20
2.05
2.00
0.14
0.20
13943-16-12-ZJ
2.19
2.20
2.05
2.00
0.14
0.20
1J943-16-12
2.52
2.21
2.62
2.21
-0.10
0.00
1J943-16-12-ZJ
2.52
2.21
2.64
2.21
-0.12
0.00
1J943-10-12
1.67
1.26
1.64
1.27
0.03
-0.01
1J943-10-12-SM
1.67
1.26
1.64
1.27
0.03
-0.01
1J943-10-12-ZJ
1.67
1.26
1.64
1.27
0.03
-0.01
1J943-20-16
2.54
2.52
3.02
2.51
-0.48
0.01
1J943-20-16-SM
2.54
2.52
3.02
2.51
-0.48
0.01
1J943-20-16-ZJ
2.54
2.52
3.02
2.51
-0.48
0.01
1J543-10-8
1.60
1.85
1.48
1.88
0.12
-0.03
1J743-12-8
2.20
0.82
2.31
0.82
-0.11
0.00
1J743-12-8-SM
2.20
0.82
2.31
0.82
-0.11
0.00
11643-16-16
2.66
0.43
2.66
0.44
0.00
-0.01
1J743-12-16
2.25
0.83
2.05
0.81
0.20
0.02
1J743-12-16-SM
2.25
0.83
2.05
0.81
0.20
0.02
13743-16-12
2.49
0.94
2.27
0.79
0.22
0.15
13743-16-12-ZJ
2.49
0.94
2.27
0.79
0.22
0.15
1J943-12-16
2.26
1.89
2.26
1.85
0.00
0.04
1J943-12-16-SM
2.26
1.89
2.26
1.85
0.00
0.04
1J943-12-16-ZJ
2.26
1.89
2.36
1.85
-0.10
0.04
12743-16-16
3.75
1.73
2.83
1.50
0.92
0.23
1J543-10-12
1.73
1.85
1.68
1.88
0.05
-0.03
1J543-10-12-SM
1.73
1.85
1.68
1.88
0.05
-0.03
1J543-10-12-ZJ
1.73
1.85
1.68
1.88
0.05
-0.03
1J743-20-16
2.64
0.98
2.93
1.00
-0.29
-0.02
1J143-16-12
2.05
4.49
2.63
4.50
-0.58
-0.01
1L943-12-12
2.05
2.28
2.05
2.28
0.00
0.00
1J743-20-20
1.00
3.09
1.00
3.09
0.00
0.00
1J743-20-20-SM
1.00
3.09
1.00
3.09
0.00
0.00
Published
Fri, Aug 13, 2021 @ 07:41 AM