SensoControl Service Master Easy has Moved
SensoControl Service Master Easy | Parker SCM-340-2-02
Service Master Easy - Digital Diagnostic Meter | Part # SCM-340-2-02
The Parker Service Master Easy is a rugged, portable diagnostic tool. It is an excellent alternative to conventional mechanical pressure gauges.

---
The Service Master Easy meters can be purchased individually or in kits. For Service Master Easy kit, please see the bottom of this page. Other Senso Control meters and gauges are available, please go to SensoControl Meter Selection to compare different SensoControl meters.

User Manuals:


Service Master Easy Bedienungsanleitung

Service Master Easy Mode d'emploi

Service Master Easy Gebruiksaanwijzing

Service Master Easy Istruzioni per l'uso

Capabilities:

Handheld diagnostic meter

Measure and Display:

Pressure

Flow

RPM (rotations per minute)

Temperature

Features:

Intuitive Operation

4 Sensor Inputs

4-Line Numerical Display

Calculated Channels

Store Data on Device

Store Data on PC

1-ms Scan Rate

0.25-ms Burst Scan Rate
Connection Diagram | Service Master Easy SCM-340-2-02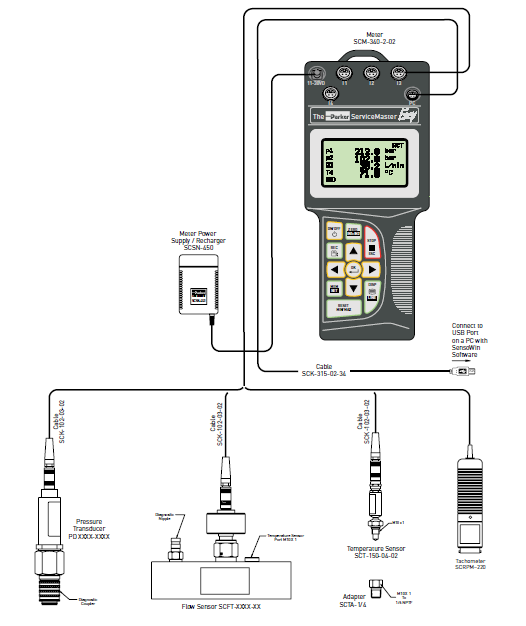 SensoControl Service Master Easy Kit
Service Master Easy Kit Contents

Case (SCC-690)
Serviceman meter (SCM-340-2-02)
2 Transducers (see below)
2 Cables, 3 m (SCK-102-03-02)
Power Supply (SCSN-450)
SensoWin Software 6.0 (SC-CD 4082)
USB PC Cable
Instructions Manual

Code for Ordering Service Master Easy Kits

PDSME-34-C-TT-TT

C

- Coupling style:

2 = PD style
4 = PDP style
6 = EMA 3 style (female)

TT

- Transducer pressure range (psi)
(Order either one or two)

01 = -14.5 - +235 (Blue)
06 = 0 - 870 (Green)
15 = 0 - 2175 (Yellow)
40 = 0 - 5800 (Orange)
60 = 0 - 8700 (Red)
SensoControl Service Master Easy Support
Motion & Flow Control Products, Inc. supports its customers during and after the purchase of SensoControl Service Master meters. Our in-house expert is available to train your mechanics at your location (anywhere in Northern California and North-Western Nevada). If you prefer, training can also be arranged in Motion & Flow Control Products, Inc. West Sacramento headquarters.
TECHNICAL DATA
Service Master Easy
SCM-340-2-02
METER
Digital LCD Text Display

128x64 px
72x40 mm Screen
6 mm Character Height

Displays: pressure, temperature, flow and rotational speed

Pressure - PSI and Bar
Temp. - °F and °C
Flow - GPM and l/min
Speed - RPM

Differential Value Mesaurement
Min/Max Memory
Online Data Transfer
Batery Level Indicator
Power Calculation (Display Only)
Flow Run-Out (Display Only)
Auto Power-Off
INPUTS
Four 5-pin Push/Pull Inputs
12-bit A/D Convertor (4096 Steps)
Auto-Sensor Recognition
Selectable Scanning Rate in 1 ms intervals
0.25 ms Burst Mode (Input 1)
OUTPUT
POWER

9V Rechargeable Ni-MH Battery
8-Hour Battery Life
3-Hour Charge Time
Recharge Circuit for Use with External Power supply
Excitation Voltage: 12-30 V (DC)
AMBIENT CONDITIONS
Operating Temperature 32°F - 122°F
Storing Temperature -4°F - 140°F
HOUSING
Glass Reinforced Polamide
EMC Protection: DIN/EN 50081, Part 1
Immunity to Emitted Interference: DIN/EN 50082, Part 2
DIMENSIONS
9.25 x 4.19 x 2.09 in
235 x 106 x 52 mm
1.2 lb
700 g