SensoControl Serviceman | Parker SCM-152-2-02
Serviceman - Digital Diagnostic Meter | Part # SCM-152-2-02
The Parker SensoControl Serviceman was a rugged, portable diagnostic tool. It was an excellent alternative to conventional mechancal pressure gauges, until it was replaced by Serviceman Plus in Fall of 2013. Serviceman Plus offers additional functionality, 1 ms scan rate, larger screan, and comes in analog or CAN version.

---
The Serviceman meters can be purchased individually or in kits. For a Serviceman kit, please see the bottom of this page. Other SensoControl meters and gauges are available, please go to SensoControl Meter Selection to compare different SensoControl meters.

User Manuals:


Serviceman Bedienungsanleitung
Serviceman Mode d'emploi
Serviceman Gebruiksaanwijzing
Serviceman Istruzioni per l'uso




Capabilities:

Hand held diagnostic meter




Measure and Display:

Pressure
Flow
RPM (rotations per minute)
Temperature




Features:

Intuitive Operation
2 Sensor Inputs
Auto-Sensor Recognition
Min/Max Memory
2-ms Scan Rate
Store Data on PC
Connection Diagram | Serviceman SCM-152-2-02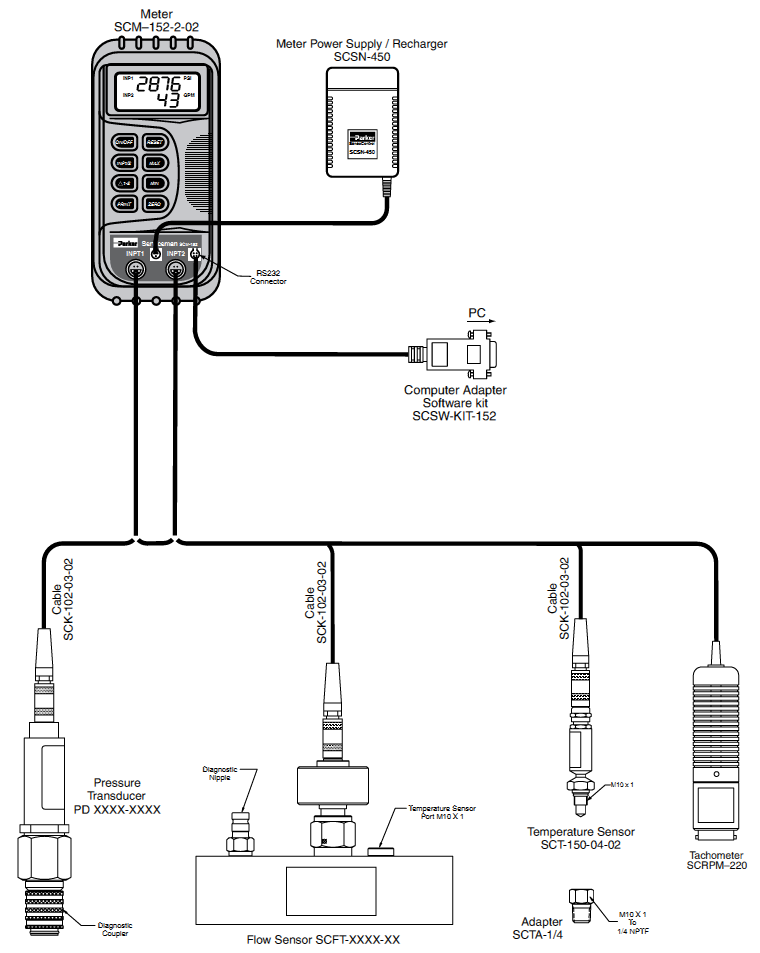 SensoControl Serviceman Kit
Serviceman Kit Contents

Case (SCC-150)
Serviceman meter (SCM-152-2-02)
Transducers (one or two, different options available, see below)
Cable - one or two, 3 m (SCK-102-03-02)
Power Supply (SCSN-450)
Instructions Manual (SCM-152-TM)

Code for Ordering Serviceman Kits

PDS-3-C-TT-TT

C

- Coupling style:

2 = PD style
4 = PDP style
6 = EMA 3 style (female)

TT

- Transducer pressure range (psi)
(Order either one or two)

01 = -14.5 - +235 (Blue)
06 = 0 - 870 (Green)
15 = 0 - 2175 (Yellow)
40 = 0 - 5800 (Orange)
60 = 0 - 8700 (Red)
SensoControl Accessories
SensoControl Serviceman Support
Motion & Flow Control Products, Inc. supports its customers during and after the purchase of SensoControl Serviceman meters. Our in-house expert is available to train your mechanics at your location (anywhere in Northern California and North-Western Nevada). If you prefer, training can also be arranged in Motion & Flow Control Products, Inc.'s West Sacramento headquarters.
TECHNICAL DATA
Serviceman SCM-152-2-02
METER
2-line display shows both inputs
4 digital LCD text display
Displays: pressure, temperature, flow and rotational speed
INPUTS
Two 5-pin push/pull inputs
0-3V
12-bit A/D convertor
Auto-sensor recognition
2 ms scanning rate
OUTPUT
RS232 PC interference
(Requires SCSW-KIT-152 software & adaptor)
POWER REQUIREMENTS
9V rechargeable Ni-MH battery
5-hour battery life
AMBIENT CONDITIONS
Operating Temperature 32°F - 122°F
Storing Temperature -4°F - 140°F
HOUSING
ABS plastic case
Protective rubber cover
Carrying strap
Integral stand
3 Early Warnings of Hydraulic System Troubles:
Excerpt from one of our blogs...
---
Slow Operation
Increased Noise
Elevated Temperature
1. Slow Operation
Longer cycle times are often the first symptom that there is something wrong with a hydraulic system. Decreased speed of hydraulic actuators (such as cylinders) points to decreased flow through the system. [Go to Article]
2. Increased Noise
Knocking, loud whining, or screeching often indicates aeration or cavitation. Aeration means air inclusion in the hydraulic fluid, cavitation is the presence of vaporized hydraulic fluid in the system. [Go to Article]
3. Elevated Temperature
Excessive temperature of hydraulic fluid (generally above 180°F), reduces its working life and damages seals in the system. In addition, viscosity of hydraulic fluid decreases with increasing temperature, which in turn results in inadequate lubrication and increased wear of the system's components.
Temperature alarms should be utilized to prevent damage caused by excessive hydraulic fluid temperatures. [Go to Article]
---
Read more about the early warnings of hydraulic system failure on our blog.