SensoControl Serviceman | Parker SCM-152-2-02
Serviceman - Digital Diagnostic Meter | Part # SCM-152-2-02
The Parker SensoControl Serviceman was a rugged, portable diagnostic tool. It was an excellent alternative to conventional mechancal pressure gauges, until it was replaced by Serviceman Plus in Fall of 2013. Serviceman Plus offers additional functionality, 1 ms scan rate, larger screan, and comes in analog or CAN version.

---
The Serviceman meters can be purchased individually or in kits. For a
Serviceman kit
, please see the bottom of this page. Other SensoControl meters and gauges are available, please go to
SensoControl Meter Selection
to compare different SensoControl meters.
User Manuals:


Serviceman Bedienungsanleitung

Serviceman Mode d'emploi

Serviceman Gebruiksaanwijzing

Serviceman Istruzioni per l'uso

Capabilities:

Hand held diagnostic meter

Measure and Display:

Pressure

Flow

RPM (rotations per minute)

Temperature

Features:

Intuitive Operation

2 Sensor Inputs

Auto-Sensor Recognition

Min/Max Memory

2-ms Scan Rate

Store Data on PC
Connection Diagram | Serviceman SCM-152-2-02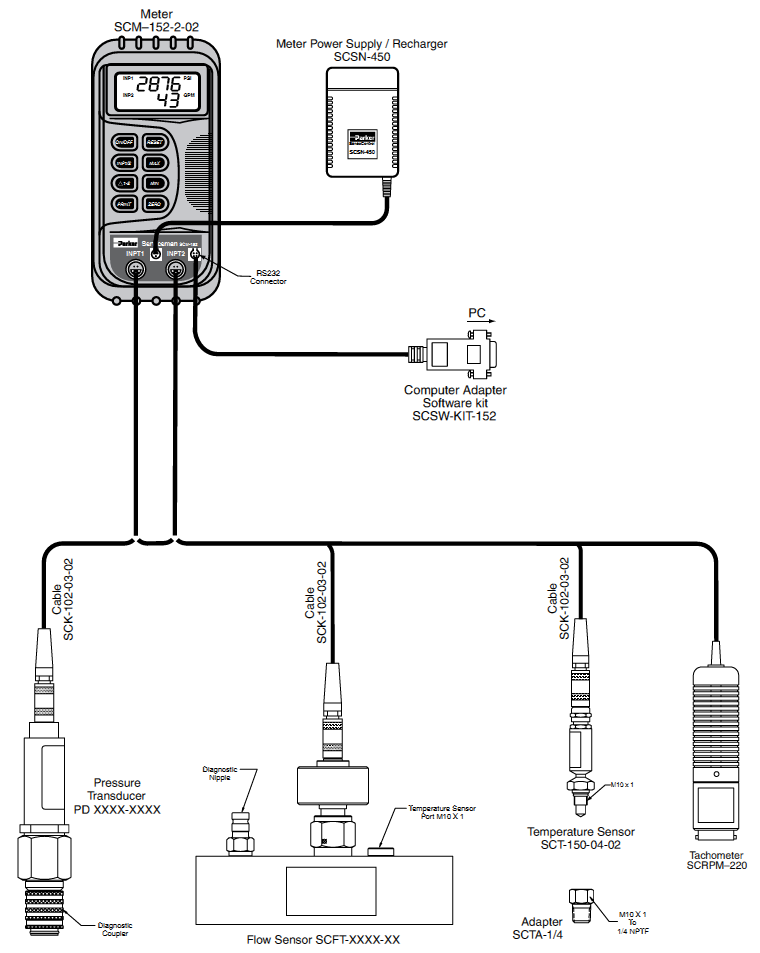 SensoControl Serviceman Kit
Serviceman Kit Contents

Case (SCC-150)
Serviceman meter (SCM-152-2-02)
Transducers (one or two, different options available, see below)
Cable - one or two, 3 m (SCK-102-03-02)
Power Supply (SCSN-450)
Instructions Manual (SCM-152-TM)

Code for Ordering Serviceman Kits

PDS-3-C-TT-TT

C

- Coupling style:

2 = PD style
4 = PDP style
6 = EMA 3 style (female)

TT

- Transducer pressure range (psi)
(Order either one or two)

01 = -14.5 - +235 (Blue)
06 = 0 - 870 (Green)
15 = 0 - 2175 (Yellow)
40 = 0 - 5800 (Orange)
60 = 0 - 8700 (Red)
SensoControl Accessories
SensoControl Serviceman Support
Motion & Flow Control Products, Inc. supports its customers during and after the purchase of SensoControl Serviceman meters. Our in-house expert is available to train your mechanics at your location (anywhere in Northern California and North-Western Nevada). If you prefer, training can also be arranged in Motion & Flow Control Products, Inc.'s West Sacramento headquarters.