Pipe Systems for Compressed Air, Vacuum & Inert Gas | Parker Transair
Parker Transair is a fast, adaptable, and easy to modify aluminum pipe system for compressed air applications. Transair is also suitable for vacuum and inert gas applications.

Quick connections eliminate the need to thread or solder pipe. The lightweight aluminum pipe is easy to handle and safe to work with on elevated platforms.

Transair offers significant savings on installation, maintenance and operating costs, making it the most cost effective and efficient pipe system for compressed air, vacuum, and inert gases.
Suitable Fluids

Compressed Air:

Dry Compressed Air
Wet Compressed Air
Lubricated Compressed Air

Vacuum: 97% (29.6" Hg)
Inert Gases
Contact us for other fluids

Working Pressure

Except 6" Diameter:

232 PSI (-4°F to +115°F)
188 PSI (-4°F to +140°F)

6" Diameter: 188 PSI

Temperature Range

Max Working: -4°F to +140°F
Storage: -40°F to 176°F
Transair Connections | Optimum Connection for Every Pipe Size
Connections for Ø 16.5 mm, Ø 25 mm & Ø 40 mm Piping
| | |
| --- | --- |
| | Pipe-to-pipe and male connectors in 16.5 mm (1/2"), 25 mm (7/8"), and 40 mm (1-1/2") sizes can be immediately connected to Transair pipe by simply pushing the pipe into the connector up to the connection mark. The gripping ring of each fitting is then automatically secured and the connection is completed. |
Connections for Ø 63 mm Piping
| | |
| --- | --- |
| | Pipe-to-pipe and male connectors in 63 mm (2-1/2") size can be quickly connected to Transair aluminum pipe by means of a double clamp ring. This secures the connection between the nut and the pipe. Tightening of the nuts secures the final assembly. |
Connections for Ø 76 mm, Ø 100 mm & Ø 168 mm Piping
| | |
| --- | --- |
| | Pipe-to-pipe and male connectors in 76 mm (3"), 100 mm (4") and 168 mm (6") can be quickly connected to Transair aluminum pipe by using the Transair cartridge and clamp. Position the pipes to be connected within the Transair cartridge, then close and tighten the Transair clamp. |
Transair Piping System | Most Cost Effective Piping System for Air & Inert Gas
Clean Air
Transair's aluminum pipe ensures a total absence of corrosion. With no formation of rust on the inside of piping, the Transair inner pipe surface consistently delivers clean compressed air. The rust particle free air prevents problems caused by rust, thus increasing working life of system components and tools. Maintenance costs are reduced by less frequent replacement of tools and components, as well as less frequent changes of filtration elements.

Optimal Flow Rate
The "full bore" design of Transair's components, the low friction coeficient of the aluminum pipe, and the sealing characteristics of the system ensure optimal and constant flow throughout the system. The Transair innovative technology provides better performance both in terms of improved flow and reduced pressure drop.
Ideal for Aggressive Environments
Dust and outdoor installations widely accelerate the deterioration of compressed air systems. To combat these elements, Transair piping is made from aluminum, which is naturally resistant to corrosion. To further enhance mechanical, physical and chemical properties (and the resistance to degradation as a result of industrial environment), the outside of Transair piping is specifically powder coated. The result is a lightweight piping system, resistant to corrosion, aggressive environments, mechanical shocks, thermal variations, mineral compressor oils, synthetic compressor oils, compressor oil carry over, and ultraviolet (UV) rays - all of which ensures extended longevity of your equipment and can help to avoid frequent changes of filter elements.
Eco-Friendly Product Design
The material used to manufacture Transair pipe and fittings are 100% recyclable, and meet the requirements set by the U.S. Green Building Council for Leadership in Energy and Environmental Design (LEED) certification credits.

Transair piping systems have been specifically designed to ensure a lower impact on the environment with a low carbon footprint, when compared to traditional piping systems. In a life cycle analysis, from production of raw materials to end of product life, the use of a six inch Transair pipe system is five times less harmful to the environment than a traditional steel pipe system.
Quick Connect Technology/Adaptability
Transair is the most versatile compressed air piping system available. The Transair connections are simply pushed or bolted together. Therefore, Transair can be easily disassembled when required (unlike other connection technologies that are permanently crimped or welded). Furthermore, the individual Transair components can be reused to modify an existing piping system – or to build a new one.

With Transair's reusable and interchangeable components, manufacturing plant personnel can implement many layout changes within minutes, instead of hours. This ease of use minimizes downtime, and increases plant productivity and efficiency. Download Assembly Guide

Pipe System Part Selection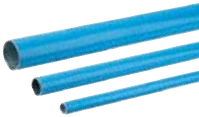 Transair Rigid Aluminum Piping
ALSO AVAILABLE