Air Savers | Freequently Asked Questions
What is an Air Saver?
It is an air valve that converts constant flow of air to pulsating air - a pulsating or pulsing air valve.

Essentially, it is a switch for compressed air, which turns the air flow on and off in a predetermined frequency. Both the time the valve will be turned on and the time it will be turned off are adjustable so the performance can be fine-tuned to your application.
How do Air Savers work?
As noted above, the Air Savers convert the constant flow of air to pulsating air. During the time the valve is turned off, the application does not consume any compressed air. Watch Video.
How can using an Air Saver save my company money?
The savings are realized by reducing the compressed air consumption. An online savings calculator is available to give you an idea about how much your company can save by installing an Air Saver.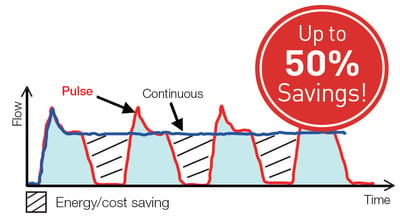 What is an open-ended pneumatic system?
It an application that uses any kind of nozzle or blower to perform a job such as cleaning off parts, assisting blow to move parts along a production line or using compressed air to agitate. It is a non-actuating application - one that does NOT use pneumatic cylinders or other actuators.
Air Savers cannot be used with pneumatic cylinders and other actuators because those types of applications require volume as well as pressure to work. Air Savers cut the volume of air usage by up to 50% while maintaining the pressure.
What qualities make Air Saver so environmentally friendly?
Air Savers can greatly reduce CO2 emissions and energy usage at your facility. When the blow setting is OFF between pulses, no energy is being used and no emissions are being created.
What applications could benefit most from Air Saver installation?
Many applications in manufacturing plants that use compressed air can benefit from Air Saver installation, including cleaning with blasts of pulsed air and assisting conveyance through the production line. Utilizing pulsed air can make each pulse more effective for particle removal when compared to continuous blow.
How can I find out how much my company can save by using an Air Saver?
An online savings calculator is available to give you an idea about how much your company can save by installing an Air Saver. This tool allows you to input the the specifications of your equipment and the time that it spends blowing compressed air to determine a personalized cost-benefit analysis.
Why is pulsed air better/more effective than a continuous blow? (What are the advantages?)
Besides the cost reductions and benefits for the environment, pulsed air is also a more mechanically effective system for many compressed air applications. Each pulse delivers an equally forceful amount of initial blow or agitation that helps to remove particles and move items more effectively, an effect that is often diluted by continuous blow. Watch video of a test - agitation application.
How do I figure out which Air Saver would be the best fit for a specific application?
To determine the best Air Saver for your specific application, please consult the Air Saver Unit Selection Chart. This chart determines projected air consumption based on system pressure (PSI) and nozzle specifications. The chart is color-coded to correspond to the recommended Air Saver for each level of consumption.
What if I have a technical question about using Air Savers in my application?
How Do I Buy an Air Saver?

WARNING
:
This product can expose you to chemicals including lead and/or DEHP and/or carbon black, which are known to the State of California to cause cancer or birth defects or other reproductive harm. For more information go to
www.P65Warnings.ca.gov