Parker 30 Series Pneumatic Couplings | General Purpose - Push-to-Connect
Parker 30 Series couplers are designed for rigid mounting that allows a simple push-to-connect operation.

Constructed of a solid brass body and steel valve, 30 series couplers are noted for their high flow capability, reliability, and rugged design.

Parker 30 series couplers accept industrial interchange nipples.

Standard seals are Nitrile. Optional materials are available - contact us with questions.

30 Series QC Dimensions & Specifications:

---

Choose another GP - Push-To-Connect QC
Choose another Pneumatic QC
Go back to Product Overview
Parker 30 Series has a locking mechanism that consists of pawls (or pins) which act directly on the sleeve, thereby causing the sleeve to automatically retract when the mating nipple is inserted.

30 Series couplings are push type Single Shut-Off couplings and mate with industrial interchange design nipples. .

Common applications: compressed air, water, grease, paint, limited vacuum and limited gases.


Parker 30 Series Couplings Specifications & Performance
Body Size (in.)

1/4

1/4
3/8
1/2
3/4
Rated Pressure (PSI)
300
300
300
300
Temperature Range (Std. seals)*
-40° to +250° F.
Locking Device
3 pawls
4 pawls
5 pawls
6 pawls
Vacuum Data (inches Hg)

Disconnected (coupler only)

Connected


Not recommended
27.4
27.4
27.4
27.4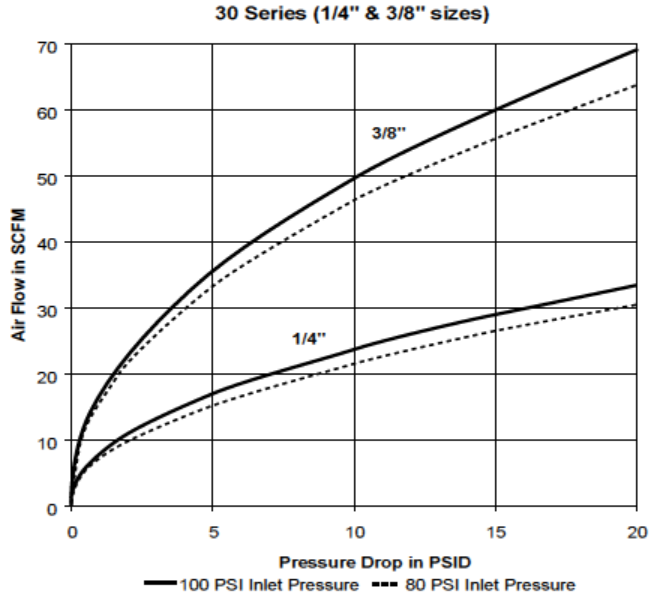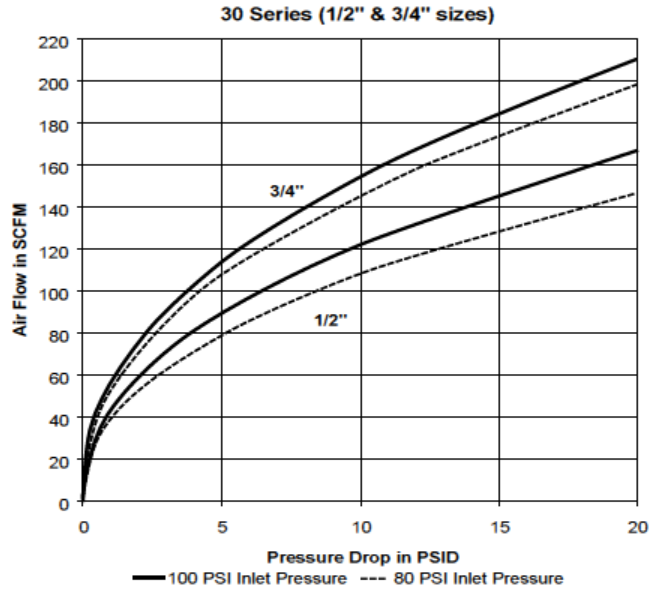 Parker General Purpose Pneumatic Coupling Repair Kits
The repair kits below are for Parker 10, 20, 30, 50, 70, & TL Series Pneumatic Couplings.
Body


Size

Seal


Material

Part


No.

1/4
Nitrile
21K
1/4
Ethylene Propylene
21KW
1/4
Fluorocarbon
21KY
3/8
Nitrile
14K
3/8
Ethylene Propylene
14KW
3/8
Fluorocarbon
14KY
1/2
Nitrile
16K
1/2
Ethylene Propylene
16KW
1/2
Fluorocarbon
16KY
3/4
Nitrile
38K
3/4
Ethylene Propylene
38KW
3/4
Fluorocarbon
38KY
30 Series Couplings Options
Add the suffix "N" as well as the "B" prefix to order an all brass coupler with stainless steel locking balls and springs, Example: B33N.
All-brass 30 Series Couplings should be used to avoid corrosion from moisture. Contact us for specific recommendations.
SLEEVE-LOK
All sizes of 10, 20, 30, 50, and 70 Series couplers can be furnished with Locking Sleeves, as illustrated.
Place suffix letters -"SL" (Sleeve-Lok) after regular catalog number. Example: B33-SL.
Orders & Quotes
When ordering quick couplers, consider the following:
Functional requirements of the coupling
Maximum working pressure of the application
Coupler seal & body material compatibility with the system's fluid
Is the application static or dynamic?
Size of coupler & hose
Maximum allowable pressure drop
Requirement to connect & disconnect under pressure
Media temperature
Ambient temperature
End configuration requirements
Need for industrial interchange QC
Effects of air inclusion & fluid loss