Parker HF Series Pneumatic Couplings | General Purpose - Push-to-Connect
Parker HF Series couplings are a slimmer alternative to traditional industrial interchange couplers. HF series has the the quality and durability of a 20 Series coupler, and is combined with a slim profile and push-to-connect design.

HF Series couplers feature sleeve guards to protect against accidental disconnection. Standard coupelrs feature solid brass construction, high flow valving, corrosion resistant valves, and stainless steel locking balls and valve spring.

HF Couplers accept industrial interchange nipples.

Standard seals are Nitrile. Optional materials are available - contact us with questions.

HF Series QC Dimensions & Specifications:

---

Choose another GP - Push-To-Connect QC
Choose another Pneumatic QC
Go back to Product Overview
Sleeve type couplings, such as Parker HF Series, are widely used to connect air lines. Parker HF Series Couplings can also be used with low pressure fluids.

HF Series couplings mate with industrial interchange design nipples. HF series is a push-to-connect design which permits one-handed connection when the coupler half is rigidly mounted.

The benefits of the HF Series couplings to the end user are increased tool efficiency, and decreased air costs.

Common applications: compressed air, water, grease, paint, limited vacuum and limited gases.


Parker HF Series Couplings Specifications & Performance
Body Size (in.)
1/8
1/4
3/8
1/2
Rated Pressure (psi)
250
300
300
300
Temperature Range (Std. seals)
-40° to +250°F
Locking Device
5 balls
4 balls
6 balls
8 balls
Vacuum Data (inches Hg)

Disconnected (coupler only)

Connected


Not Recommended
-
27.4
27.4
27.4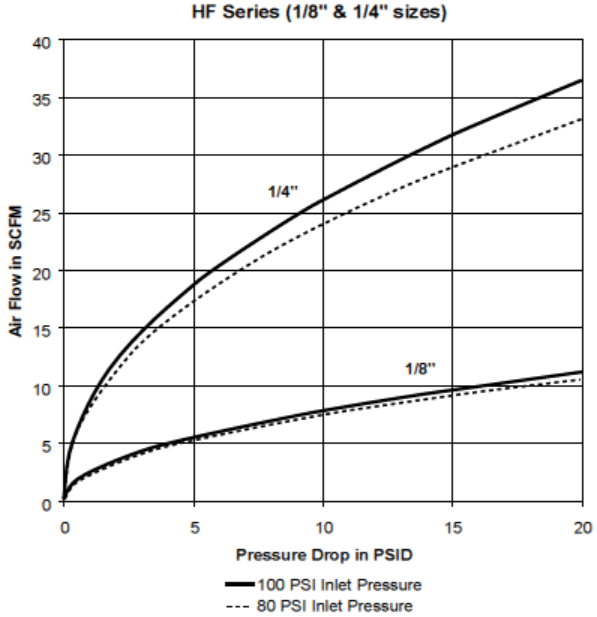 Orders & Quotes
When ordering quick couplers, consider the following:
Functional requirements of the coupling
Maximum working pressure of the application
Coupler seal & body material compatibility with the system's fluid
Is the application static or dynamic?
Size of coupler & hose
Maximum allowable pressure drop
Requirement to connect & disconnect under pressure
Media temperature
Ambient temperature
End configuration requirements
Need for industrial interchange QC
Effects of air inclusion & fluid loss